IT'S THE BUZZ BUZZ BUZZ IN THE DRUM OF THE EAR
Doug stepped out into the sunlight, blinking. His dressing gown lolled open, exposing his paunch. Tina's vest top, pulled on accidentally in his rush to get outside barely covered it and the thick black hair on his belly poked out obscenely. In one hand he held a spatula; the other reached reflexively into the dressing gown pocket for the lighter he knew wasn't there. Last night's beer emanated from his stale mouth and he rubbed his tongue across his teeth. He wanted to belch but found he couldn't. Taking his eyes from the sky for a moment he glanced to his left. Kathy was stood on her front lawn, gazing upward with her mouth hanging slackly open. Her two year old hung at her legs, pulling on her arm sleeve whining in a low, insistent tone. Across the road the Petersons crowded around their camper van, all staring up.
The vast alien structure that hovered high above them was still humming it's deep bass tone and rotating slowly. The bone like growths that sprouted from it creaked as they slowly undulated. The noise was awful, too much, too loud for Sunday morning. Doug couldn't take his eyes from it, but his brain had already started to hanker for a Bloody Mary. Just as he was trying to remember if the tomato juice was still okay to drink, a jagged split opened up in the base of the structure. And that's when it really began.
<ITEM> There's a fresh crop of admin, waiting to be picked, with nosey bouquets of Sponsorship and more Christopher Walken than you can shake a (Walken) stick at. It's time for a new SILENCE! the only podcast that predates the discovery of the moon. Seasoned pod jockeys The Beast Must Die and gary Lactus are joined by new season recruit Bobsy, and the fun flows like lava,
<ITEM> Grab your loved ones, batten down the hatches and hope for the best…here comes the Reviewniverse! And it's a humdinger, packed full of nutritious good stuff, such as Martian Manhunter, Dr Fate, Black Canary, Robin: Son of Batman, we Are Robin, Doomed, JLA, Batgirl, Alan Moore, Berlin, Adventures of Tad Martin, The Amateurs, Airboy, 8House: Arclight, Zero, Annihilator, 18 Days, Kaptara, Crossed: Badlands, The Spire, Mythic, Fantasy Sports, Fury, World War Z, Channing Tatum, Tom Hardy, Lost Property, Material, Surface, Wicked & Divine and somehow even more…
<ITEM> Bobsy sings!
Click to download SILENCE!#148
Contact us:
@silencepod
@frasergeesin
@thebeastmustdie
@bobsymindless
This edition of SILENCE! is proudly sponsored by the greatest comics shop on the planet, DAVE'S COMICS of Brighton. It's also sponsored the greatest comics shop on the planet GOSH! Comics of London.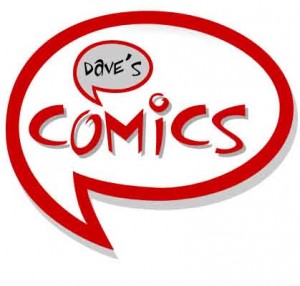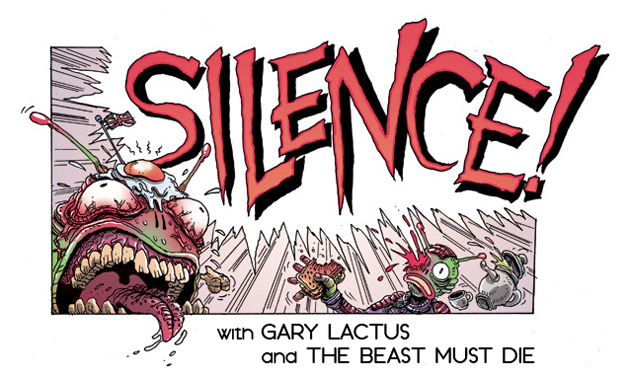 HELLO? IS ANYBODY HOME? WELL YOU DON'T KNOW ME, BUT I KNOW YOU.
Please Disembodied Narratorbot X-15735 don't hurt 'em! Sorry fleshy ones I cannot promise this. Let's just say that for the duration of this blurb I promise not to burn out your retinas or strip-mine your DNA. 'Kay? Kay.
So everyone put down your pens/phones/rail guns and point your ears towards the internet, and listen to those animal men Gary Lactus and The Beast Must Die,  as we circle the drain that is…SILENCE!
<ITEM> The SILENCE! News has some VERY SERIOUS matters of which you need to pay attention – the future of SILENCE! depends on it. With those greasy capitalist hams Gary Lactenberg & Danny Beastman.
<ITEM> Full fathom five, as we plunge neck, teeth and hips first into the Reviewniverse as the pair tackle Timewarp, East of West, Age of Ultron, BPRD: Vampire, Batman Inc, FF, Wolverine & The X-Men, Uncanny Avengers, Young Avengers, Fury, Guardians Of The Galaxy, Hawkman, Crossed: Badlands, Fatale and Mr X. With added digressions over the M-Word, VHS Rental shops and Lucio Fulci.
<ITEM> Well isn't that a treat fleshy ones? Aren't you glad you stopped looking at pornography to read this? (Personally Disembodied Narratorbot X-15735 finds the sight of meatsacks bashing against each other immensely settling. The sensual curve of a sine wave is far more erotic. Or a ZX-Spectrum in suspenders.
click to download SILENCE!#56 .
SILENCE! is proudly sponsored by the two greatest comics shops on the planet, DAVE'S COMICS of Brighton and GOSH COMICS of London.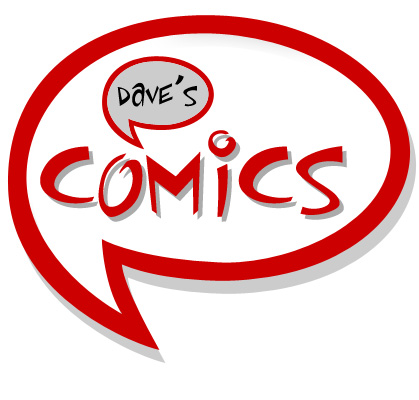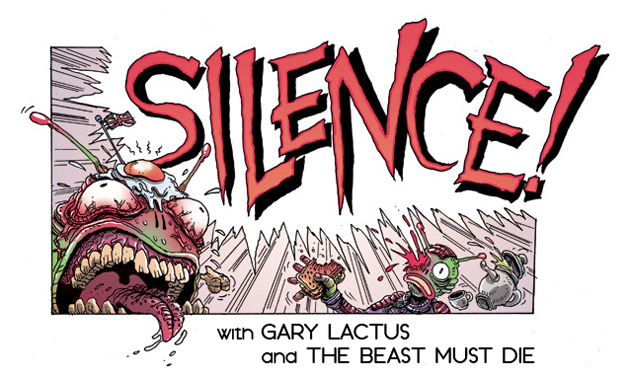 WHERE THE HELL'S THE RZA??

SILENCE! no.34 is upon you. Gladness….oh what's the point? Sometimes being an omnipresent disembodied narrator just isn't enough y'know? I mean, I had dreams when I was younger – what happened to them? I wanted to be a dancer. I have thighs like a f*cking gazelle…and here I am making up a bunch of lies, to tell some degenerates in arrested development about a show featuring two egotistical blowhards and their half-baked opinions about one of the least respected art-forms in the universe…but since I owe Gary Lactus a kidney, and The Beast Must Die has those photos of me….
So there's the usual scheisse with the Silence! News and then there's a verbal tsunami of comics reviews: Axe Cop, Dial H, Daredevil: End of Days, Action Comics, Legends of the Dark Knight, Fashion Beast, Crossed: Badlands, Animal Man, Swamp Thing, Tank Girl, Non-Humans (oh and there's a discussion of headsocks, and the SILENCE! rules of comics are established).
Man Vs Comics makes it to the finish line with AVX, AVX: VS, and Uncanny X-Men and boy-howdy is he thrilled.
The SILENT! Question comes from Detective Chimp, and the answer involves a musical octopus amongst other things.
Add in Fuff #0 from uber-talented Jeffrey Lewis, and Lose #2 from sickeningly talented Michael DeForge in The Smallest Press, and you have an hour and a half of…of…oh god, that's it I don't care anymore. If you need me I'll be out back crying with a gun in my mouth. WRITE YOUR OWN DAMN BLURB YOU PAIR OF HACKS!
SILENCE! is proudly sponsored by the two greatest comics shops on the planet, DAVE'S COMICS of Brighton and GOSH COMICS of London.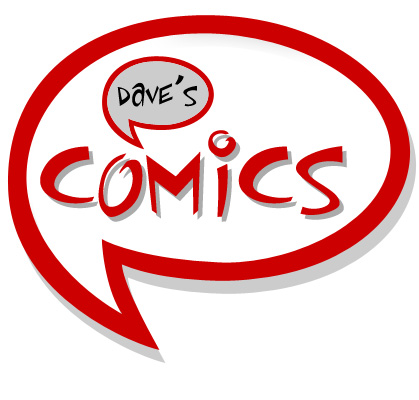 Click below for some Jeffrey Lewis images in the SILENCE! GALLERY… Read the rest of this entry »