"SOME LIKE IT SCOTT!"
With The Family Beast still busy chewing on cigars with the big boys of Amazon "Optimus" Prime, mere minutes away from negotiating a deal that will see them broadcast into living rooms and pockets across the world, Gary Lactus is forced to do the one thing he didn't want to do…. negotiate with the Skype-inept monsters of Mindless North for a second episode running.
Despite the usual technical problems that occur when North and South try to get together – blame Nicola Sturgeon for nationalising Scottish Skype in a better reality! – Gary Lactus is joined by Illogical Volume and Mister Attack, their shirts wet with rain, their bellies full of macaroni and rage.
<ITEM!> Who sponsors Gary Lactus? Some guy called Dave.  Who sponsors the sponsemen?  Fuck it, I dunno, Geoff Johns probably.
<ITEM!> The gang discuss the recent Small Press Day, the life changing/band forming dangers of encountering strange works by shifty creators in darkened rooms and the explosive properties of turtles.
<ITEM!> Shifting effortlessly out of the classical forms he has already mastered and into the new realm of Perhaps, R. Gary R.R.R. Lactus presents his new science fiction masterpiece: A Westworld.
<ITEM! > The question of who the nicest Mindless One is raised again.  Will Illogical Volume prove that he is actually a callow, cynical monster whose whole existence is a lie perpetrated against human decency by actually holding a twitter poll to determine whether people think he is nicer than Mister Attack?  Only time will tell.
<ITEM!> In SILENCE!…Because The Film Has Started, Gary Lactus is surprised by Spider-Man: Homecoming, and the Scottish are grumpy about Marvel movies and enthusiastic about gingers and ants.
<ITEM!> With all the relevant admin taken care of, the trio dive arse-first into the Reviewniverse for purposeful wallow in the  inky pleasures of comics.  John Allison's Giant Days, new non-hierarchical/anonymous arts project SLAB, Al Ewing, Dan Brown and Travel Foreman's Ultimates 2 (which Illogical Volume has finally started to read!), Craig Collins' Oubliette, Hot Trash Dimension and Ross Geller Fanzine, the cosy era of the Justice League, Gumby comics, and the wonderful info-comics produced by the University of Glasgow's Wellcome Centre for Molecular Parasitology.
After making a speedy exit from the Reviewniverse, the team take a brief detour through the pages of Show Call…
…and tolerate Illogical Volume promoting Cut-Out Witch (drawn by the wonderful Lynne Henderson), Looking Glass Heights and Living Rent before heading off in search of more dinner.
You can support us using
Patreon
if you like.
This edition of SILENCE! is proudly sponsored by the greatest comics shop on the planet, DAVE'S COMICS of Brighton. It's also sponsored the greatest comics shop on the planet GOSH! Comics of London.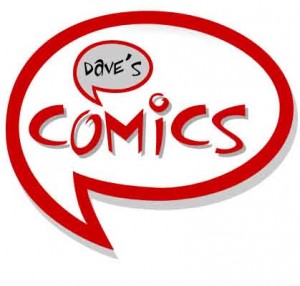 Share on Facebook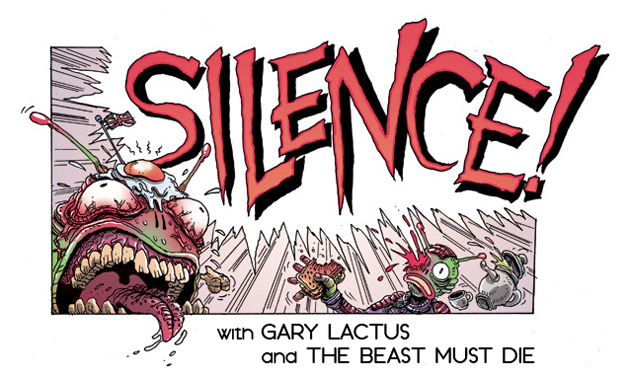 I hope the junkyard a few blocks from here someday burns down, and I hope the rising black smoke carries me far away and I never come back to this town again…
OH CHEER UP CHARLIE CHUCKLES!
Ladies and Gentlemen, it's SILENCE! no.27. That's right it's been 27 years since SILENCE! started. The internet was sepia and comics were carved on the side of cave walls!
So grab your best gal pal or guy puy, and let's burrow snout first into a big ol' pile of comics hoo-hah. After a fist-pumping ballad in honor of gas-mask steroid commie Bane, and a healthy dollop of SILENCE! News (covering Bob Burden's Pussy Riot solidarity), Gary Lactus brings us a dramatic undercover expose into Comics Vs Cocaine! the Beast and Lactus get busy with the fizzy  with Butcher Baker from Casey and Huddlestone, Saga no.6, and Shade no.11. Then it;s a walloping great chunk of Man V Comics covering AVX, AVX: Avengers, Daredevil, Walking Dead, Fatale, Saucer County, Hellblazer, Everybody Loves Tank Girl, and Wonder Woman. Phew. Rather him than us, right readers??????????
But it doesn't end there. Then he takes on ALL of the Before Watchmen comics, in Who Reads The Watchmen?
Then it's a quick swim in the mildewey waters of the Beast's Bargain Basement with Doc Frankenstein and more hot Barry M Freeman nuggets uncovered. Plus an interview with Barney Farmer! Finish it off with a quick big-up of Joe Dante's underrated love letter to 1950′s monster movies Matinee, and you have an hour and a half of delicious comics tapioca for all the family. That's right it's SILENCE!
Check below for the amazing Barry M Freeman appreciation area:
Share on Facebook