The cult film podcast with Mat Colegate (aka Lord Nuneaton Savage) & Dan White (aka The Beast Must Die).
The Savage Beast – Halloween Special

A special episode wherein The Beast Must Die has curated a programme of freaky treats for a perfect Halloween night film marathon. Spookies discussed include
Tales From The Crypt : All Through The House  (Robert Zemeckis, 1989)
The Hole (Joe Dante, 2009)

Apaches (John MacKenzie, 1977)
Ghostwatch (Lesley Manning, 1992)
Dumbland (David Lynch, 2002)
Sleepaway Camp (Robert Hiltzik, 1983)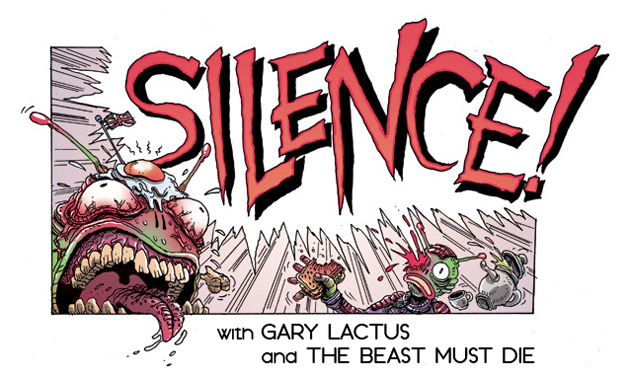 DO NOT FEED THIS PODCAST AFTER MIDNIGHT!
What so never feed it at all?
It's always after midnight!
Who feeds podcasts anyway you chump?
WELL???
Hi there, and welcome to the sole justification for electricity, SILENCE no.28! And what a time you chose to stop by. It's a veritable cornucopia of comics bull$hit! A very poorly Beast and Lactus drag themselves from their sickbeds to deliver a particularly rambling SILENCE! News, covering super-smoochies and the return of Dr Who. Then it's a hop, skip and jump into the weekly comics, includifying Batman Inc no.3, Dan The Unharmable (with a stomach churning digression into The Walking Dead 100 in which the pair compare injuries like that scene in Jaws – no, not the one with Roy Scheider and the kid you moron!), Rocketeer: Cargo of Doom from Waid 'n' Samnee, the sad end of the line for Dave Sim's Glamourpuss, AVX: Uncanny X-Men, and the 50th anniversary of Amazing Spiderman. Booyah.
There's a SILENT question from no-one's favourite Robin, Tim Drake, and the answers include Power Pack and Hobbes (and the Beast manages to criticise charity comics, the mean-spirited, heartless bastard)  Then he takes us wading into the recesses of the Beast's Bargain Basement with a retrospective of lost 1970's horror publishers Skywald. Add in a recommendation to check out Joe Dante's wonderful Trailers From Hell website for notcomics and you have a plucky edition of SILENCE! that manages to overcome adversity and become a champion in it's field. Go SILENCE! Don't forget to check below for some lovely Skywald images in the SILENCE Gallery….
(As always, thanks to James Stokoe for his wonderful SILENCE! banner)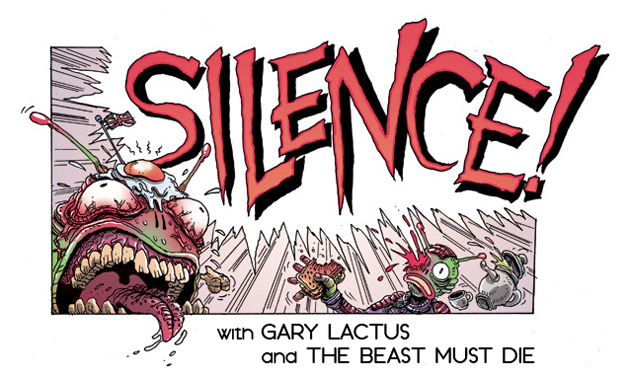 I hope the junkyard a few blocks from here someday burns down, and I hope the rising black smoke carries me far away and I never come back to this town again…
OH CHEER UP CHARLIE CHUCKLES!
Ladies and Gentlemen, it's SILENCE! no.27. That's right it's been 27 years since SILENCE! started. The internet was sepia and comics were carved on the side of cave walls!
So grab your best gal pal or guy puy, and let's burrow snout first into a big ol' pile of comics hoo-hah. After a fist-pumping ballad in honor of gas-mask steroid commie Bane, and a healthy dollop of SILENCE! News (covering Bob Burden's Pussy Riot solidarity), Gary Lactus brings us a dramatic undercover expose into Comics Vs Cocaine! the Beast and Lactus get busy with the fizzy  with Butcher Baker from Casey and Huddlestone, Saga no.6, and Shade no.11. Then it;s a walloping great chunk of Man V Comics covering AVX, AVX: Avengers, Daredevil, Walking Dead, Fatale, Saucer County, Hellblazer, Everybody Loves Tank Girl, and Wonder Woman. Phew. Rather him than us, right readers??????????
But it doesn't end there. Then he takes on ALL of the Before Watchmen comics, in Who Reads The Watchmen?
Then it's a quick swim in the mildewey waters of the Beast's Bargain Basement with Doc Frankenstein and more hot Barry M Freeman nuggets uncovered. Plus an interview with Barney Farmer! Finish it off with a quick big-up of Joe Dante's underrated love letter to 1950's monster movies Matinee, and you have an hour and a half of delicious comics tapioca for all the family. That's right it's SILENCE!
Check below for the amazing Barry M Freeman appreciation area: