BILLY THE KID DID WHAT HE DID AND HE DIED

Boy did you see that? That was something wasn't it? It sure was something. What do you mean what was it? I have no idea. I just know it was something. Yes sir, it sure was. Something, that is. Couldn't say for sure exactly what, but let me tell you I know that it was *something*. I know what it wasn't though. It sure wasn't a BLURB.
<ITEM> New Year, New SILENCE! New Year, New Podcast! New Year same old sad sacks of mince Gary Lactus & The Beast Must Die!
<ITEM> It's a packed episode, designed to fill the howling voids of uncertainty in your brains. First up SILENCE! Cos I'm Watching The Telly! wherein the Beast talks up the myriad pleasures of the Doom Patrol TV show. Then the pair have a good old natter about Feels Good Man, the strange and depressing descent of Pepe The Frog.
<ITEM> Take a hop, skip, slip and plunge into the Reviewniverse. Happy talky talky happy talk, talk about  things you like to read….The Far Side, Calvin & Hobbes, Midnight Men, Howard Chaykin Bingo, Pirate Corp$, 2000AD Xmas special, Judge Dredd: Book Of The Dead, World Judges and a lot (not much) more
<ITEM> I'm tired. Go away please.
<ITEM> Just kidding, I kiss.
@frasergeesin
@thebeastmustdie
You can support us using
Patreon
if you like.
This edition of SILENCE! is proudly sponsored by the greatest comics shop on the planet, DAVE'S COMICS of Brighton. It's also sponsored the greatest comics shop on the planet GOSH! Comics of London.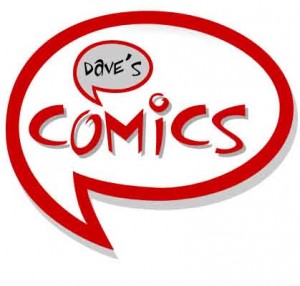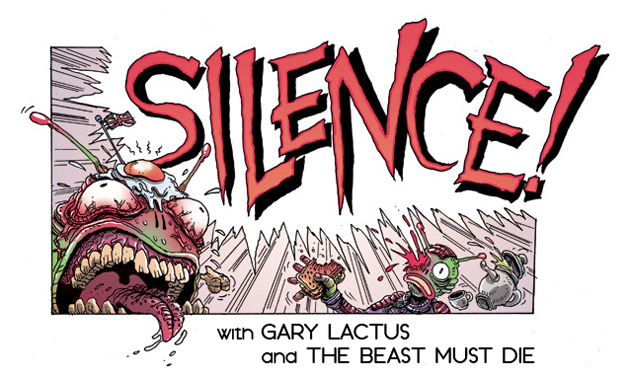 DO NOT FEED THIS PODCAST AFTER MIDNIGHT!
What so never feed it at all?
It's always after midnight!
Who feeds podcasts anyway you chump?
WELL???
Hi there, and welcome to the sole justification for electricity, SILENCE no.28! And what a time you chose to stop by. It's a veritable cornucopia of comics bull$hit! A very poorly Beast and Lactus drag themselves from their sickbeds to deliver a particularly rambling SILENCE! News, covering super-smoochies and the return of Dr Who. Then it's a hop, skip and jump into the weekly comics, includifying Batman Inc no.3, Dan The Unharmable (with a stomach churning digression into The Walking Dead 100 in which the pair compare injuries like that scene in Jaws – no, not the one with Roy Scheider and the kid you moron!), Rocketeer: Cargo of Doom from Waid 'n' Samnee, the sad end of the line for Dave Sim's Glamourpuss, AVX: Uncanny X-Men, and the 50th anniversary of Amazing Spiderman. Booyah.
There's a SILENT question from no-one's favourite Robin, Tim Drake, and the answers include Power Pack and Hobbes (and the Beast manages to criticise charity comics, the mean-spirited, heartless bastard)  Then he takes us wading into the recesses of the Beast's Bargain Basement with a retrospective of lost 1970's horror publishers Skywald. Add in a recommendation to check out Joe Dante's wonderful Trailers From Hell website for notcomics and you have a plucky edition of SILENCE! that manages to overcome adversity and become a champion in it's field. Go SILENCE! Don't forget to check below for some lovely Skywald images in the SILENCE Gallery….
(As always, thanks to James Stokoe for his wonderful SILENCE! banner)