WELL IF YOU'D LIKE TO KNOW WHAT POP STARS HAVE FOR TEA, ASK JOHNNY DEE
Welcome acolytes. Disembodied Narratorbot X-15735 has been to the top of the mountain. Spent much tme amongst the clouds. The silence. Enlightenment followed. Shhh, no noise. Too much noise. Learn to switch off. Disembodied Narratorbot X-15735 switched offfffffff….
Also downloaded hot new Haiku app. Hot results. Sweetness follows.Reaching quiet.
Listen:
1)
Don't surrender,
oblivion, boredom,
Must comics.
2)
From fully to manchild
The spandex, the oblivion
To the oblivion. Psteve.
3)
Imaginary the graphic
Beast, poo manchild in irritant
with no Gary to spandex
<ITEM>It's all here: Sponsorshambles, Gladmin, EXXXtreme stand up, Letter Chat, Number Chat, Gaz Top, Fred Dineage, Helen Bonham-Carter, Olive-theft, Gladiators, Alan Rickman, 1994, Clare Danes, Injury, You've Been Framed, Fellini, the onset of time and by thunder a whole lot more time-wasting! Love, sex, intelligence Gary Lactus & The Beast Must Die coming on like the Seventh Seal -wait is that right?
<ITEM> Like sneaking into a strangers house, trying on their wedding dress and sitting in a bath in it (D-bot loves ya Morello!), the pair sneak in to the Reviewniverse, talking up Supreme Blue Rose, Batman, artistic injuries, Zero, Starlight, Comicbook Confidential, Alan Moore, Reality Bites, Emily Carroll Through The Woods, GI Robot, then Gary Races Through The Rest: Astro City, Moon Knight, Hulk v Iron Man, All New X-Men, Avengers Undercover, Amazing Spiderman, Original Sin, Walking Dead,
<ITEM> Just enough time for a digression about the return of the Aphex Twin before James Stokoe's ne favourite regular feature SILENCE!…Because My Mouth Is Full (Of Delicious Food!) with Gourmet Lactus and The Beast Must Dine!
Now clear out pests! Enlightenment has passed. Turns out it was just wind.
Click to download SILENCE!#111
Contact us:
[email protected]
@silencepod
@frasergeesin
@thebeastmustdie
This edition of SILENCE! is proudly sponsored by the greatest comics shop on the planet, DAVE'S COMICS of Brighton.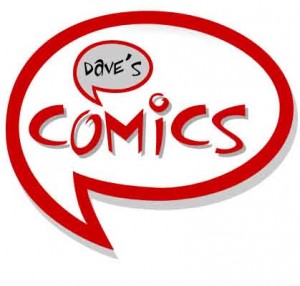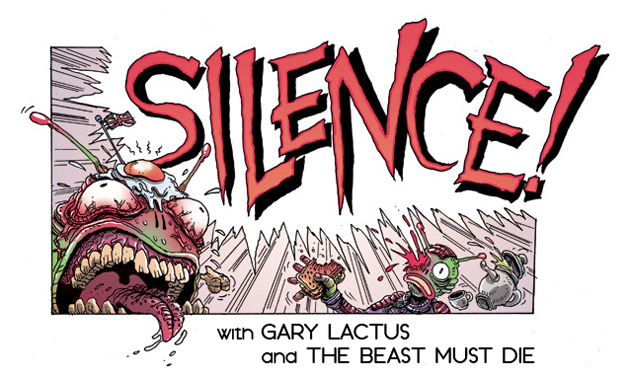 FOXHEADS STALK THIS LAND...
Disembodied Narratorbot X-15735….LIVES!!
Wakey-wakey fleshy ones! It's time for your weekly comics suppository, SILENCE! After their blazing tour of ONE comics convention, Gary and The Beast settle into their respective grooves, cheeks a-quiver. Thank you yes,
After the ritual disappointment that is the SILENCE! News (with added Alan Rickman), the pair clamber aboard the slow-moving, wheezy old comics steam engine. Poop Poop! The Reviewniverse features top opinion nano-cloudforms about..
<ITEM> the new AMERICAN JUDGE DREDD COMIC…why I oughtta…
<ITEM> Captain America in Dimension Z (X actually), Inexhaustible Hulk from Waid and Yu (no, not you, YU! HA HA), Daredevil (hole is goal, yes), Hawkeye (no A-Ha jokes sadly), Clone, Comeback (what begins with C?), Conqueror Worm from Boobs Corben, Frankenstein Alive! Alive (o)! from comics sexform Bernie Wrightson, Dark Horse Presents (Dark Horse presence?), Number 13, Wonder Woman (it's a punderful life HA HA), Justice League (hunt the Super Sausage), Spiderman and Iron Gland, Wolverine & The X-Men, Rocketeer and Steed & Ms Peel…phew! Disembodied Narratorbot X-15735's conceptual head is spinning. He is going to be sick and it will be a 4-coloured yawn.
The Silent Question comes from Archie & The Punisher, and the answers include Seth, Modulok and Death's Head.
All this plus nothing more!
Except for James Lawrence's Dangerine
Thank you fleshy ones. Hello. Hello. It's good to be back, it's good to be back. Hello.
SILENCE! is proudly sponsored by the two greatest comics shops on the planet, DAVE'S COMICS of Brighton and GOSH COMICS of London.