ITEM HEY BOY MAN, YOU LOOK LIKE YOU'VE DRAGGED YOUR WAY HERE FROM UNDER SIX FEET OF SHIT, GET THAT STENCH OUT OF MY ATRIUM AND WIPE YOUR NINNY FEET ON THE BEAR'S HEAD
ITEM WHAT'S THAT MILKY BOY KID? TIRED OF MUMMY'S GREENS? WANT TO GO WHERE THE REAL CHAT IS FOUND? THE HARD CHAT? THE GREASY CHAT? THE COMICS CHAT?SILENCE, YOU FUCKING MUDDLE, SILEEEENCE!!!
ITEM OH THAT'S NEW, OH THAT'S SPECIAL, SILENCE! SIX BILLION, YOU WANT A CUNTING MEDAL OR THE CHEST TO PIN IT ON, CHICKEN LEGS?
ITEM WHAT THE FUCK IS THIS? SOME GRIPPER PISSING HIS INITIALS INTO THE MANTLE OF THE BEAST? WANTS TO BE THE MAIN COCK? WANTS TO PARADE HIS BROILING BULK? LORD NUNEATON FUCKING SAVAGE IS IT? HARDLY A MAIN ATTRACTION, HARDLY A HARD ANYTHING, LOOK AT HIM CHATTING UP GARY LACTUS, MAKES YOU FUCKING SICK
ITEM ADMIN! SPONSORSHIP! SILENCE! THE FILM'S STARTED WITH LACTUS BANGING FIT TO BURST ON THAT FUCKING FULL TIME CARD TRICKSTER JODOROWSKY AND HIS ART SHOW RODEO BAKE OFF. CUNT.
ITEM BALLY HAI WHAT A SURPRISE, AS THIS FUCKING COBBLING TEAM FROM THE DEEP DEEP DEPTHS OF ONY-FUCKNUTS-CARE-A-SHIT DELVE INTO FUNNY BOOKS LIKE FROGMEN THROUGH BOILING PISS: KAMANDI CHALLENGE! SAGA! DOOM PATROL! HOOKJAW! THE RAY! VIXEN! KILLER FUCKING FROST! DR STRANGE AND HIS BROKEN HANDYCLAMPS! MOOK KNIGHT! ISLAND! GIVE ME FUCKING STRENGTH
ITEM YOU LOOKING BACK AND REALISING YOU BEGGED FOR EVERY COB OF THIS SHIT
​

@silencepod
@frasergeesin
@thebeastmustdie
@bobsymindless
@theQuietusFilm
[email protected]
You can support us using
Patreon
if you like.
This edition of SILENCE! is proudly sponsored by the greatest comics shop on the planet, DAVE'S COMICS of Brighton. It's also sponsored the greatest comics shop on the planet GOSH! Comics of London.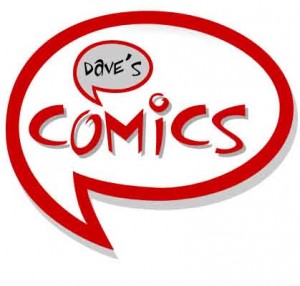 These will be irregular posts (aren't they all) about some of my favourite film posters. Not necessarily my favourite films, but the images used to promote them that I find alluring, striking and resonant.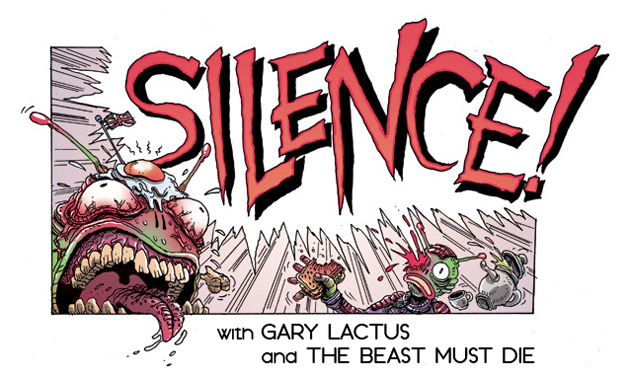 THIS IS NOT AN EXIT
Of course it isn't silly! It's a gaping entrance! An entrance into the world of SILENCE!!!
In this episode the pair who go together like strawberries and cream, millionaires and wards, and 'interesting' facial hair and threats of violence get down on their knees and pray for a rain of comics…and they get it!
After a heartfelt piece of Dylan-esque balladry about Man-Thing from The Beast, and a baggy edition of the SILENCE! news, there's a twelve car pile-up of comics foolchat, covering:
the revamped Glory, Peter Bagge's Reset, Paul Chadwick's Concrete (and 'Moving A Big Rock'), Saga (both the comic and the pensioner's holiday scheme), Hanging with DB Cooper from Brian Churillo, Mind MGMT, Hellblazer and the recent hilarious Inkstuds Biz interview, Daredevil, The Shadow, JLA and an Infernal Man-Thing freestyle… oh, and Lactus takes on all the AVX related bizzo, in Man Vs Comics.
But let's not forget the brand new feature The Silent Question in which the pair answer a Celebrity! Question! The Beast talks up Hookjaw and Lactus takes on Chester Brown and Canadian masturbation in general…
And there's an appreciation of lost Brit comics genius Barry M Freeman.
Dear me, I've just wet me knickers! It's all too much…let's hope your undercrackers can handle the truth! It's all wrapped up in the brain-burp that is…SILENCE!  
And don't forget to check below as well for the Silence Gallery…