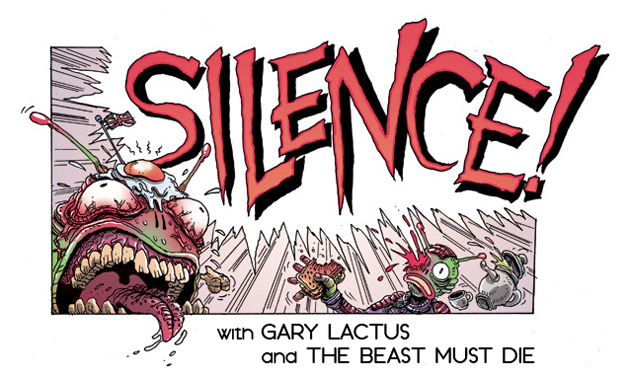 THIS IS NOT AN EXIT
Of course it isn't silly! It's a gaping entrance! An entrance into the world of SILENCE!!!
In this episode the pair who go together like strawberries and cream, millionaires and wards, and 'interesting' facial hair and threats of violence get down on their knees and pray for a rain of comics…and they get it!
After a heartfelt piece of Dylan-esque balladry about Man-Thing from The Beast, and a baggy edition of the SILENCE! news, there's a twelve car pile-up of comics foolchat, covering:
the revamped Glory, Peter Bagge's Reset, Paul Chadwick's Concrete (and 'Moving A Big Rock'), Saga (both the comic and the pensioner's holiday scheme), Hanging with DB Cooper from Brian Churillo, Mind MGMT, Hellblazer and the recent hilarious Inkstuds Biz interview, Daredevil, The Shadow, JLA and an Infernal Man-Thing freestyle… oh, and Lactus takes on all the AVX related bizzo, in Man Vs Comics.
But let's not forget the brand new feature The Silent Question in which the pair answer a Celebrity! Question! The Beast talks up Hookjaw and Lactus takes on Chester Brown and Canadian masturbation in general…
And there's an appreciation of lost Brit comics genius Barry M Freeman.
Dear me, I've just wet me knickers! It's all too much…let's hope your undercrackers can handle the truth! It's all wrapped up in the brain-burp that is…SILENCE!  
And don't forget to check below as well for the Silence Gallery…