Maid of Nails: Before we get into the Punisher, I think we should let people know how XTREME his fans are.
Botswana Beast: Should I read the letter?
[To paraphrase Keats: beauty is truth, truth beauty, and this letter is both]
MoN: So that is what we're dealing with.
BB: It doesn't ever mention race, that letter, but it's fairly indicative of what a lot of early Punisher comics were, which is shooting "street toughs" of undetermined race —
MoN: Were any of these "street toughs" ever named Tyrone or Leroy?
BB: They may have been. Or Hector. So yeah, the Punisher's origins are as a Spider-Man villain-cum-antihero who is hired by — possibly the Chameleon, I can't remember, to take out Spider-Man under some false pretext. I think that was 1973, and his debut series was actually a decade later. At that point he became a leading character, shooting largely mafiosi and, as I say, street toughs (that's not entirely fair characterization; Mike Baron's a good writer — well, he's written some exciting action comics), until 1999/2000, when Garth Ennis, the infamous Irishman, took over and really redefined the character.
MoN: A lot more mafia and organized crime, and a lot fewer street toughs.
BB: He does still shoot quite a lot of black people, but —
MoN: There's a lot fewer story arcs devoted to him shooting black people. Except for Barracuda and John James Toomey (RIP), who gets shot in a setup that the Punisher coerces one of Toomey's crew into. And then the guy from his crew is yelling at John James Toomey like, "Who's gonna get your fuckin' fried chicken now?" DUDE. A lot of people like fried chicken, but I find it odd that Garth Ennis went there.
BB: What really came to define him — and I think they are among the best, if not the best comics ever published, then certainly the best researched — is the adult imprint stuff from Marvel MAX.
MoN: Stuff with more war.
BB: Another favourite topic of Garth Ennis. Anyway, it began in 2003 with the prelude miniseries Born.
MoN: Let's tell the readers: what is Born about?
BB: It's about the Vietnam War, of course — because that is the sort of defining thing about Frank Castle, although it's kind of difficult now; I don't think Marvel can really sell a character who fought in the Vietnam War, because he would be 65 or something. So Garth Ennis does enjoy a war story, and Frank Castle, prior to any of this, was a guest star in issue #7 of Marvel's The 'Nam comic, where he appears as a young man. And it sort of nicely counterpoints him against Captain America because you have someone who fought in a good war and was treated extremely well on returning, and then you have someone who returned from an unjust, shitty piece of American interventionism.
MoN: I'm curious to see how they're going to handle this, because with Vietnam, it quite quickly started to occupy this symbolic space in the popular American imagination. It was, yes, American interventionism biting America in the ass — you know, you have all these movies about people going to Vietnam: manly men sticking together but, surprise, everything is terrible and everyone is cynical.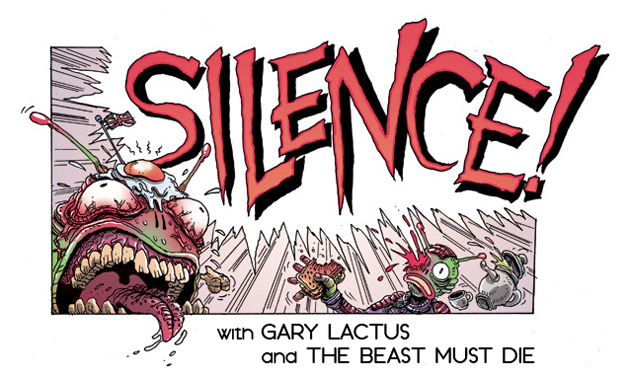 AIM FOR THE FLAT TOP!
GET SOME! BRAKKABRAKKABRAKKA! GET SOME!
Get some what? Get some Disembodied Narratorbot X-15735 up in your grill, please. Back from interviewing the comicsphere's glitterati.
Well if it isn't my favourite fleshy ones, come crawling back from your sexy, rich upmarket Narratorbots who work on the podcasts from the fancy parts of the webisphere…well you know who has the good stuff don't you? <ANSWER: Disembodied Narratorbot X-15735>
<ITEM> SILENCE! News with hot East Coast event coverage from newsthrobs Gary Lactenberg and Danny Beastman.
<ITEM> Follow the rabbit down the rabbithole into the Reviewniverse with triple hottt xxx opiniongasms about Young Avengers, Todd The Ugliest Kid In The World, The Answer!, Prophet, Mars Attacks The Real Ghostbusters, Battlefields, Wolverine & The X-Men, Wonder Woman, Avengers, Uncanny X-Force, FF, Dan The Unharmable, Judge Dredd and Zooniverse.
Now tell me that doesn't make you want to haemorrhage with excitement? So grab your partner by the hand, swing 'em round, you're looking grand, and let's SILENCE! together.
SILENCE! is proudly sponsored by the two greatest comics shops on the planet, DAVE'S COMICS of Brighton and GOSH COMICS of London.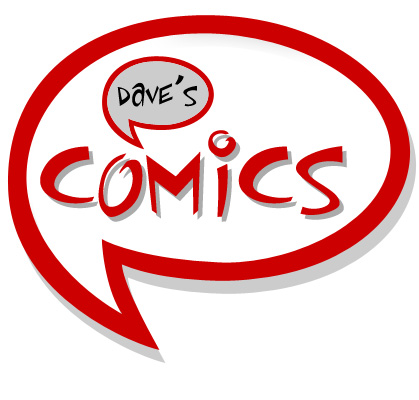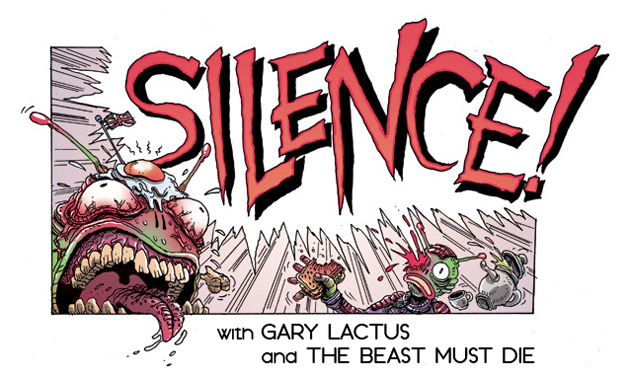 I SAID RIP IT UP AND START AGAIN
Hellohellohello and a merry festive jingle bell to all the fleshy ones, from Disembodied Narratorbot X-15735! It's that time of year when I like to upgrade my log fire app, hang the nano-tinsel on the synthi-tree 3000 and raise a luke warm glass of cyber-nog to all of you as we ring in the season with this festive XXXMAZZ-tacular edition of the only podcast that knows whether you've been naughty or nice but simply doesn't care…it's SILENCE! [HO HO HO etc]
<ITEM> There's a very busy pre-end of the world edition of the SILENCE News, with live reports from the ongoing Mozzer/Moore Magickal War and the hot breaking story Avengers Vs X-Mas…hold onto your hats please. thank you.
<ITEM> Special variety yuletide theme continues with musical interlude recounting time that Gary and The Beast hung out with Iggy & The Stooges. Of course.
<ITEM> Grab my hand, Snowman-style and we will walk air-wards into the Reviewniverse. And in doing so will hear merryfestive tales of…Change, Walking Dead, Justice League, Jennifer Blood, Batman, Winter Soldier, Popeye, Caligula, Battlefields, Saucer Country, Iron Gland, Fantastic Four, Minute Men and the Christmas miracle that is Prison Pit.
So why don't you throw Grandma on the fire, spark up the ol' pipe, shovel sweets down your gullets like seagulls swallowing fish heads and check your ears into the comics podcast of the 1977 Morecambe and Wise Christmas special…SILENCE!!
Disembodied Narratorbot X-15735 wishes you all a very glitch-free Christmas and an ugraded New Year.
SILENCE! is proudly sponsored by the two greatest comics shops on the planet, DAVE'S COMICS of Brighton and GOSH COMICS of London.