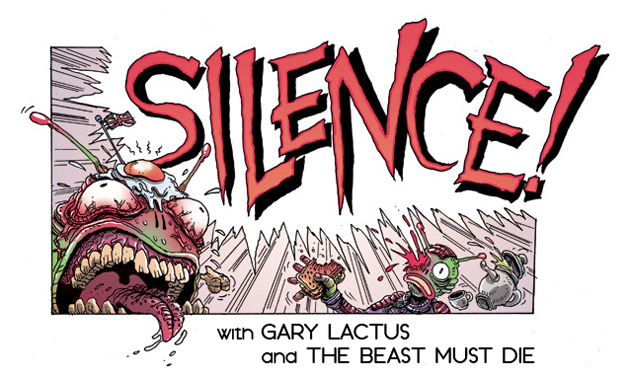 AIM FOR THE FLAT TOP!
GET SOME! BRAKKABRAKKABRAKKA! GET SOME!
Get some what? Get some Disembodied Narratorbot X-15735 up in your grill, please. Back from interviewing the comicsphere's glitterati.
Well if it isn't my favourite fleshy ones, come crawling back from your sexy, rich upmarket Narratorbots who work on the podcasts from the fancy parts of the webisphere…well you know who has the good stuff don't you? <ANSWER: Disembodied Narratorbot X-15735>
<ITEM> SILENCE! News with hot East Coast event coverage from newsthrobs Gary Lactenberg and Danny Beastman.
<ITEM> Follow the rabbit down the rabbithole into the Reviewniverse with triple hottt xxx opiniongasms about Young Avengers, Todd The Ugliest Kid In The World, The Answer!, Prophet, Mars Attacks The Real Ghostbusters, Battlefields, Wolverine & The X-Men, Wonder Woman, Avengers, Uncanny X-Force, FF, Dan The Unharmable, Judge Dredd and Zooniverse.
Now tell me that doesn't make you want to haemorrhage with excitement? So grab your partner by the hand, swing 'em round, you're looking grand, and let's SILENCE! together.
SILENCE! is proudly sponsored by the two greatest comics shops on the planet, DAVE'S COMICS of Brighton and GOSH COMICS of London.