YOUR CIGARETTE STILL BURNS, YOUR MESSED UP WORLD WILL THRILL ME
Who loves you, and who do you love? SILENCE! that's who. SILENCE! loves you like a pig loves lemonade. What do you mean pigs don't love lemonade? What the eff do you even know about pigs anyway? I tell you, if you go to a shop and ask it to pick out a can of fizzy pop, it won't pick out Cola, it won't pick out Ginger Beer and it sure as sh*t won't pick out got-tamned Cherryade! Whuddya even know 'bout pigs…come round here tellin' ME about pigs willya??
So, like a pig loves lemonade, SILENCE! loves you. And what more could you want from a comics podcast hmmmmmmmmmmmmm?
<ITEM> Who's that I hear outside, scratching to get in? Why it's only special guest presenter Clark Burscough, aka Clark T-Bubz! He joins The Beast Must Die and Gary Lactus in their latest traipse around the 4-colour wastelands. And what a touch of class he brings!
<ITEM> Sponsorship, RAW, the Truth Behind Thought Bubble and Gary's Vegan Adventure? It's all here true believers!
<ITEM> A Reviewniverse three-way? You betcha! The boyzzz talk up Ben Marra's Blades & Lazers, Tango & Cash, All New X-Men, DKIII: The Master Race, Star Wars: Chewbacca, Star Wars: Lando, Batman: Mitefall, New Avengers, Venture Bros, Batman: Brave & The Bold, Degrassi Junior High, Saved By The Bell and Ian Beale: Martian Manhunter…oh man, even I want to listen to it now and I'm just …. DISEMBODIED NARRATORBOT X-1575! HA HA HA HA AND YOU THOUGHT I WAS DEAD!!!
Ta ta!
click to download SILENCE!#178
@silencepod
@frasergeesin
@thebeastmustdie
@bobsymindless
You can support us using Patreon if you like.
This edition of SILENCE! is proudly sponsored by the greatest comics shop on the planet, DAVE'S COMICS of Brighton. It's also sponsored the greatest comics shop on the planet GOSH! Comics of London.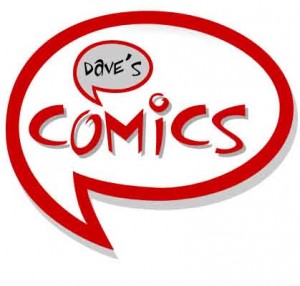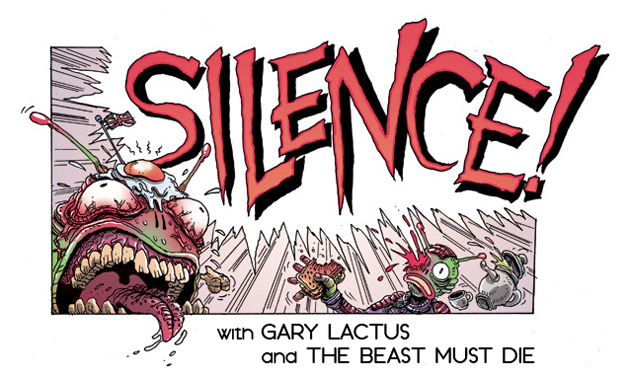 "TELL THEM ABOUT THE TWINKIE…"
"WHAT ABOUT THE TWINKIE?"
YO HO HO and a bottle of meths – it's time for SILENCE!, the rough podcast, its hour come round at last, that slouches towards Bethlehem! Yaaay! I knew that English Degree would come in useful…
The Beast and Gary Lactus bring you all the usual half-baked treats straight from the dutch oven…treats such as: The SILENCE! News (featuring insight!), and Lactus pathetically pleads with Dear Listener to look at his stupid film. Then there's full and hearty discussions of such 4-colour wonders like Fraction and A-Ha's Hawkeye no.2, Action no.0, Dial H no.0, Animal Man no.0, Dan the Unharmable, Fashion Beast (with a brief detour into McLaren's Ghosts of Oxford Street and Grant Morrison's Sick Buildings), Sweet Tooth, and Amazing Spiderman. Grand!
The SILENT Question comes from robotic miseryguts The Vision, and the answer involves Lockjaw, Aquaman and tangentially the absolutely wonderful Batman: Brave & The Bold cartoon.
Then Lactus takes us to the movies (and tries to fondle us in the back seat) and reviews DREDD! 3D!
Finally The Beast directs us to the great blog Suggested For Mature Readers, and recalls Miracleman: The Golden Age, Gaiman's finest hour. Oh and tells you to pick up the Prophet and Glory trades, quick smart!
Uptown, top ranking!