Über #0-10, by Kieron Gillen, Caanan White, Joseph Silver, Kurt Hathaway and Digicore Studios
Kieron Gillen let the mask slip a little at the start, when he positioned this comic as the anti-ASS, as a refutation of Superman's central place in 20th Century history, in a spiel designed to mark Über out as being a comic free of the sort of self-commentary that defines so many modern superhero comics.  "It's probably the least ironic book I've ever written," he said:
It has nothing to say about superhero comics. In fact, its utter negation of that genre-criticism may be the closest it comes to commentary. I've read many books which seem to labour under the delusion that the conception of Superman was the most important moment in the 1930s. This isn't one of them.  My only interest is in how I can use this genre's conceit to create metaphors to explores aspects of WW2…
This comment, buried as it was in the mix of metatextual soul searching and historical gamesmanship of Über #0's backmatter, provides the key to understanding the uncanny dynamics of this comic.  In attempting to ward off irony and meta-commentary, Gillen negated any possibility of this comic escaping the superhero meta-conversation. Which, it turns out, is actually quite fitting in the end.  Carefully researched as Über might be, with everything from troop movements to weather conditions having been taken into account, this WW2 with superheroes fantasy is still a superhero fantasy, and as such it manages the odd trick of destroying both history and genre conventions and reinforcing them at the same time.
In contrast to the carefully composed alternate reality of All Star Superman – with its suggestion of a world where greed, imperialism and mortal panic exist but are never the only options – Gillen and White present an alt-modernity in which the foundational horrors of the mid 20th Century era are all there but louder.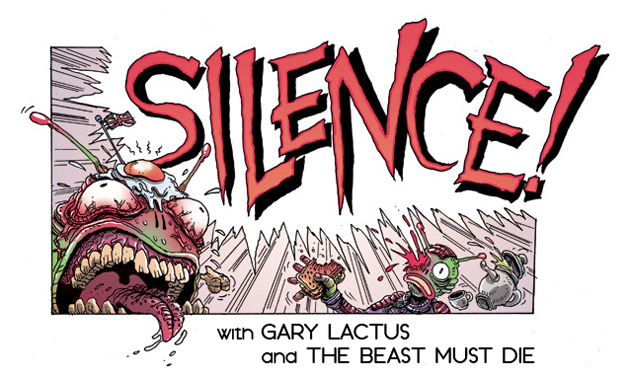 I'M PICKING OUT A THERMOS FOR YOU!
Happy Birthday to us, Happy Birthday to us, Happy Birthday dear SILENCE!, Happy birthday to us.
Yes, that is correct fleshy ones. It is one year since your life was free of SILENCE! The world's 243rd most favourite comics podcast* is one year old today. Disembodied Narratorbot X-15735 of course does not have a birthday as he merely came into sentience, in one of the data-spore RAM-wombs, sluicing in the nano-placenta, along with the other 980,457,002 Disembodied Narratorbots (X Class). All this  cake and cards business as alien as the concepts of love, giving and Michael Bolton.
*unconfirmed
But nonetheless Disembodied Narratorbot X-15735 will turn on his celebrato-function, and pretend to merry it the f*ck up with those two self-important featherweights of the internet opinionsphere, Gary Lactus & The Beast Must Die.
<ITEM> In this special anniversary edition there are special guest appearances from comics celebrities like Al Ewing, Frank Miller, James Stokoe, Alan Moore, Neil Gaiman, Brandon Graham, Dan Didio, Little Kieron Gillen, Geoff Johns and none other than Stan Lee!
<ITEM> The SILENCE! News features a live satellite link up with Danny Beastman and Gary Lactenberg, live from the capital city of America, New York
<ITEM> The Sponsorship Boys cover Hawkeye, Behind Watchmen: Dollar Bill, Flash, Batman Inc, Mind MGMT, Journey Into Mystery, Superior Spiderman, Hickman's Avengers, Silver Surfer: Parable, and the very sensual and manly  X-Treme XXXMen.
<ITEM> The Beast talks up design godhead Saul Bass, and Phase IV in notcomics, while Lactus sheds a teenage mope for Hugo Tate.
<ITEM> SO much more, including a discussion of the Green Lantern Emotional Colour Paint Range, Golden Girls, Happy Days, Birthday Suits, Poltergeists and the longest goodbye in this podcasts shonky career…
So Annie, get your gun, the rest of you get your listening devices, and Disembodied Narratorbot X-15735 will get all of your private data and sell it to the Martians, and then we'll all have a NICE BIG LISTEN TO SILENCE!
SILENCE! is proudly sponsored by the two greatest comics shops on the planet, DAVE'S COMICS of Brighton and GOSH COMICS of London.