You might not know it, but you gamble every time you pick up an issue of Dial H: the ink in which this comic is printed contains a rare sort of toxin, exposure to which dials up one of three parallel universes.  Before your eyes make contact with the page, you know that any given episode has a 33.333333333% chance of being: (A) a sloppy pastiche of the Morrison/Case Doom Patrol run, (B) a snazzy pastiche of a good proto-Vertigo comic (like the Morrison/Case Doom Patrol run, for example) or (C) a genuinely effective post Alan Moore/Grant Morrison superhero comic.
If Dial H #12 saw China Mieville, Alberto Ponticelli and co rolling (dialing) the reader into a hopeless tangled version of their own story in which none of the lines (whether in the art, plot or dialogue) connected meaningfully, then issue #13 (which is now only the second most recent issue due to my Mindless incompetence) provided a clear and direct line to the best of all possible worlds(/comics).
Comics being a collaborative medium, Alberto Ponticelli's pencils tighten up with Mieville's script, and the unstable environments of issue #12 are forgotten in favour of an information-dense two-layered landscape.  Ably assisted by inker Dan Green and colourists Tanya and Richard Horie, Ponticelli works for maximum accessibility at every turn, framing our regular cast as pedestrian browsers walking through a block in which comics sprawl on every wall, always making sure that we're able to read over their shoulders:
It might seem strange that an issue that takes a break to recap the plot of the previous few issues should be better than anything being recapped, but Dial H is that rare superhero comic that actively thrives on exposition.  Try to remember that other standout issues in this series have explained where the powers Nelson and co dial up actually come from (#0, #11), and explored the difficulties that arise from contact with unreconstructed racist fantasies (no not Game of Thrones, issue #6):
Dial H is at its best when explains its own mechanics because theme is built into the design of this revamp more clearly than it expressed by any of the action on the page, a quirk (or fault, depending on your tolerance for this sort of thing) that only strengthens the book's Karen Berger-edited pedigree.
Just think of the many walking tours through authorial interests that characterised that first flush of post-Alan Moore, British invasion comics, all those scary strolls through the green, trips out into blue forgotten worlds, the evening walks that lead you right underneath the Pentagon and straight on into the heart of the American scream…
The walking tour we get in Dial H #13 is made possible by pleasantly mixed metonyms, by a double act made of dual purpose characters, Open Window Man and his new friend, a young boy in a world of chalk.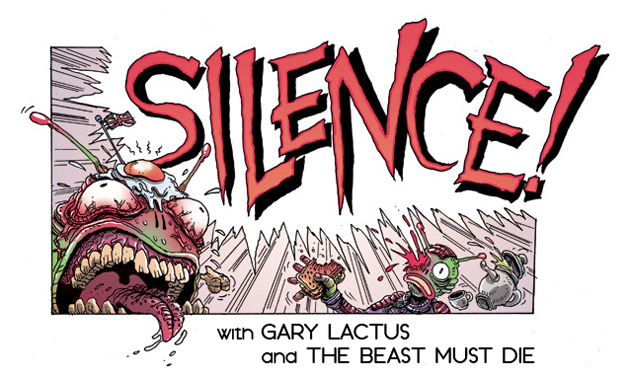 THEY ALL FLOAT DOWN HERE…AND WHEN YOU'RE DOWN HERE WITH US, YOU'LL FLOAT TOO!
Hah hooh hah!
It's that time of the week boys and girls, and Gary Lactus and The Beast Must Die are here to bring the melonfarming ruckus! Duck and cover for SILENCE! no.25
After an Olympic Pool-sized edition of SILENCE! News, the boyce let rip with some lovingly hand-crafted comics reviews. INCLUDING: Fraction and Aja's Hawkeye no.1, Dial H from Mieville and co, Beasts of Burden from Dorkin and Thompson, Action Comics, Daredevil, Animal Man and Lactus has a diet-sized portion of Man V Comics with AVX.
There's a special SILENT Question from Batroc Zee Leepair (with the answer including Bob of the Black Lodge and Pennywise the Dancing Clown).
Then there's a meaty discussion of Nolan's The Dark Knight Rises aka Occupy Gotham (currently showing in magic lantern shows around the country.
Add in a vital clue in the ongoing saga to discover 'lost' Brit comics genius Barry M Freeman (Woodward & Bernstein get f*cked) and you have a meaty, beaty, big & bouncy edition of SILENCE!
BACK ONCE AGAIN WITH THE RENEGADE MASTER
D4 DAMAGER POWER TO THE PEOPLE
BACK ONCE AGAIN WITH THE RENEGADE MASTER
D4 DAMAGER WITH THE ILL BEHAVIOUR
WITH THE ILL BEHAVIOUR
WITH THE ILL BEHAVIOUR
WITH THE ILL BEHAVIOUR
WITH THE ILL BEHAVIOUR
And they're back. The internet's favourite fancy boys are back from Lactus' cosmic stag do, with at least an hour and a half of girdle-shattering comic chatter to shake the very firmament! So there! After the usual smart-alecky back and forth, the pericombombulating pair rip through the Silence! News like a couple of Tyrannosaurs on their way home to tea.
And then!
COOOOOOOOOOOMMMMMMIIIIIIICCCCCCSSSSS!!!!!
So let's get down to brass tacks. They talk about the following things in a highly animated fashion:
China Mieville's (wait, the guy who wrote Moby Dick?) Dial H, Cindy & Biscuit no.2, David Lapham's Dan the Unharmable from Avatar, Earth 2, Shiny Hake's Bulletproof Coffin cut-up issue, Daredevil, FF, Andi Watson's delightful Skeleton Key, GI Combat, Ennis' Fury, Action Comics, Roger Langridge's Popeye, Hulk Smash Avengers, and there's a brief mention of Essential Black Panther (with more to come). But the best bit is when Lactus is forced, like a squirming bug under a magnifying glass, to wade through all the crossover filth he's been luxuriating in in Crossover Classix with Gary Lactus. Covered are AVX, Wolverine and the X-Men, Spidey/Punny/Daredy's Omega Dinner, and of course Owlfight in Gotham.
Then, in a special notcomics section those lovable rogues take some time to discuss their recent adventure to Portmeirion (setting of the Prisoner).
So grab your big boy pants, pull your ears out reaaaal far and chow down on this gourmet edition of SILENCE! Hoo HAH!