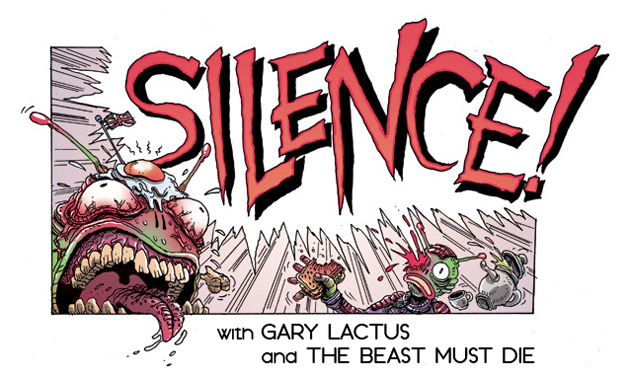 THEY ALL FLOAT DOWN HERE…AND WHEN YOU'RE DOWN HERE WITH US, YOU'LL FLOAT TOO!
Hah hooh hah!
It's that time of the week boys and girls, and Gary Lactus and The Beast Must Die are here to bring the melonfarming ruckus! Duck and cover for SILENCE! no.25
After an Olympic Pool-sized edition of SILENCE! News, the boyce let rip with some lovingly hand-crafted comics reviews. INCLUDING: Fraction and Aja's Hawkeye no.1, Dial H from Mieville and co, Beasts of Burden from Dorkin and Thompson, Action Comics, Daredevil, Animal Man and Lactus has a diet-sized portion of Man V Comics with AVX.
There's a special SILENT Question from Batroc Zee Leepair (with the answer including Bob of the Black Lodge and Pennywise the Dancing Clown).
Then there's a meaty discussion of Nolan's The Dark Knight Rises aka Occupy Gotham (currently showing in magic lantern shows around the country.
Add in a vital clue in the ongoing saga to discover 'lost' Brit comics genius Barry M Freeman (Woodward & Bernstein get f*cked) and you have a meaty, beaty, big & bouncy edition of SILENCE!