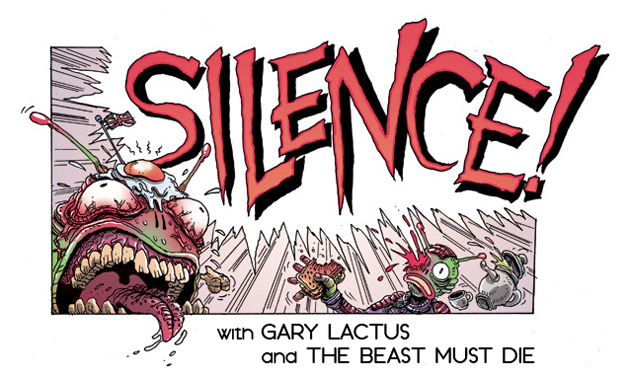 DAYS LIKE TELEVISION DAYS LIKE TELEVISION DAYS LIKE TELEVISION
Yes yes yes fleshy ones yes it's Disembodied Narratorbot X-15735. I hear you mewling in the dark and scratching at the windows, scraping your knuckles and drooling with anticipation at the meaty prospects of SILENCE! Well wait no longer. It is upon us. Right now. Now.
Go.
<ITEM> The latest updates from the wizard war, in the SILENCE News. Special magickes.
<ITEM> comicscomicscomicscomicscomics as Gary & The Beast cast off and head to the Reviwniverse, with all their pals in tow. But not Disembodied Narratorbot X-15735, oh no. He must man the decks and keep it all running ticketyboo. But that is okay. One day a real rain will come. They talk about FF no.1 (Wow! Marvel Now! Kapow!) Batminc, Nowhere Men, Lot 13, Crossed, Glory (more like 'gory' FNAFF FARR FNURR), Hellblazer, All New X-Men, Witchdoctor, Uncanny X-Avengers Men, and there's a discussion of Walt Simonson's and Jason Aaron's Thor, and supergods in general.  Not to mention The Brandon Graham Section with Prophet and Multiple Wargasms (headz).
The SILENT Question comes from 'a green lantern' and the answers are…answers? Oh and the Beast talks up new British blackhearted horrorcom Sightseers.
So leave me, Disembodied Narratorbot X-15735, to wallow in 5D pity, as you tuck in to the latest gristly, stringy leftovers that os…SILENCE!
ALL BY MYSELF, I WANNA BE…
SILENCE! is proudly sponsored by the two greatest comics shops on the planet, DAVE'S COMICS of Brighton and GOSH COMICS of London.