SOMEBODY SAID TO ME, YOU KNOW THAT I COULD BE IN LOVE WITH ALMOST EVERYONE
"What's the podcast full of chat
That's made for  you and me?
It's S-I-L-E-N-C-E!
Hey there, Hi there, ho there you're as welcome as can be
It's S-I-L-E-N-C-E!
SIII-I-LENCE! SIII-I-LENCE!
Forever hold our graphic novels high, high, high!
SII-I-ILEN…"
*ca-click* BLAM!
Ahhhh. Silence.
<ITEM> Why what's this? Not just one, but TWO special guests on this special guesticode? For sheezy! None other than old skool classic Mindless One, Botswana Beast, but returning sparring partner Maid of Nails are here, joining ol' Gary Lactus and The Beast Must Die for this latest installment of 4-colour digressions and mega-ramblings.
<ITEM> Sponsorship, maybe some cat stuff and of course the usual digressions.
<ITEM> A Reviewniverse 4-way?? Yikes, this one's gonna hurt! Tackled are Grant Morrison's Wonder Woman: Earth One and it's a nice deep dive that also takes on Sensation Comics, Beto Hernandez, BDSM, Feminism, Nameless, Doom Patrol, and more. Then we get into The Discipline, Silver Surfer, Gerber and Golden's Mister Miracle, Judge Dredd, John Wagner, Pat Mills, 2000AD, Garth Ennis' Enemy Ace, Punisher War Zone, Marvel Unlimited and more more more
So pull up your trousers, get out of the flower beds and settle down for the warming aural-soothe of this latest, greatest edition of SILENCE!
click to download SILENCE!#184
@silencepod
@frasergeesin
@thebeastmustdie
@bobsymindless
You can support us using Patreon if you like.
This edition of SILENCE! is proudly sponsored by the greatest comics shop on the planet, DAVE'S COMICS of Brighton. It's also sponsored the greatest comics shop on the planet GOSH! Comics of London.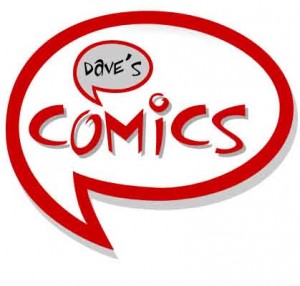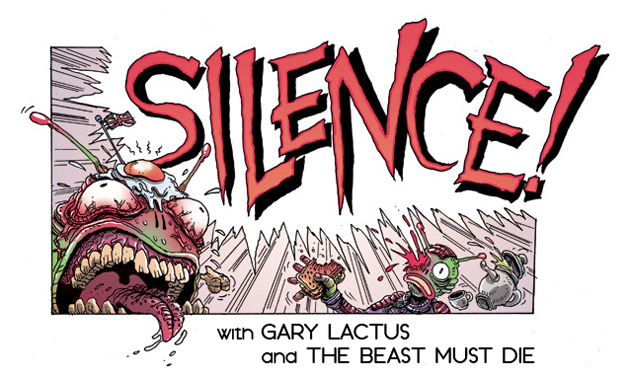 ICHT BIN EIN PODCASTER!
Welcome web-worms to the one and only, the humble magnificent…SILENCE!  This latest episode starts off over in the SILENCE NY offices, with our US correspondents Gary Lactenberg and Danny Beastman ushering in the latest hot chat and gossip* from the wonderful** world of comics!
*there's no gossip
**it's not always wonderful
After the SILENCE! news it's straight onto sexytimescomicstalk, with discussions of Godzilla: The Half Century War from top SILENCE! bannersmith, James Stokoe. Then there' a side order of Batman and Hulk chat, before a rather large, throbbing portion of Black Kiss 2. Close your ears younglings… Lactus lowers the tone further with talk of Space: Punisher, AVX: Avengers , Frankenstein, and the Alan Davis Daredevil annual in Man Vs Comics, plus there's a digression into the 'recent' Punisher War Zone movie. On the pulse!
The Silent Question is posed by hot wheelie dicso chick Dazzler, and the answers involve Cliff Steele and Box.
Beast fills us in on how his Knightquest is progressing (BROKEN BAT!) and Lactus updates the hunt for Barry M Freeman. There's some Drunken Baker chat there too.
Beast finishes up with a bit of Pim & Francie from Al Columbia, and directs you all to an interview with Columbia and one with animation godhead, John Kricfalusi.
So Lactus is chillin, Beast is chillin, what more can I say? (answers on a postcard please). It's all waiting for you beyond the sundered veil in…SILENCE! no.26!!
Check below for an expanded Barry M Freeman appreciation zone: