COME ON IT'S A NICE DAY TO START AGAIN
<ITEM> There is no such thing as Disembodied Narratorbot-Xetc.
<ITEM> There is just a happily married man having a nice pretend.
<ITEM> Human-ape intelligence is fantasy. Robot intelligence is a holocaust. Human on human is brain plus.
<ITEM>There is no The Beast Must Die this week, while he licks his honeymooning lips with Tyra and the Next Top Models crew in Bali
<ITEM> So Gary Lactus summons from his box the poor substitute indeed of bobsy mindless, to join him for the first ever CUSS FREE edition of SILENCE!
<ITEM> After a bitterly begrudged birthday song for a listener who's having an absolutely horrid time in the famously awful island paradise of Hawaii, Gary and his less charismatic new sidekick get on that comics thing
<ITEM> With the air between them crackling with Belgian chemical energy and technical shittery all over the place our aging boyoboys tackle such comics as ZERO #1, Mars Attacks Judge Dredd, Resident Alien, Superior Spider-Man, Thor God (not Prince) of Thunder, Batman '66, Dial E #1, FBP #3, Magic Whistle #13, Uncanny X-Men, Infinity, New Avengers, Captain Marvel, Daredevil, 2000AD and The Phoenix.
Contact us:
[email protected]
@silencepod
@frasergeesin
@thebeastmustdie
@bobsymindless
This edition of SILENCE! is proudly sponsored by the greatest comics shop on the planet, DAVE'S COMICS of Brighton. There are quite literally almost zero swear words to be heard in this episode of the world's finest comics podcast.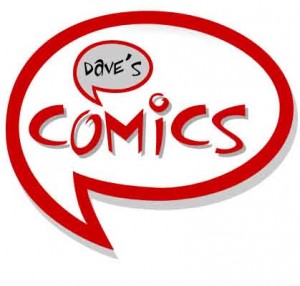 Oh, and GOSH!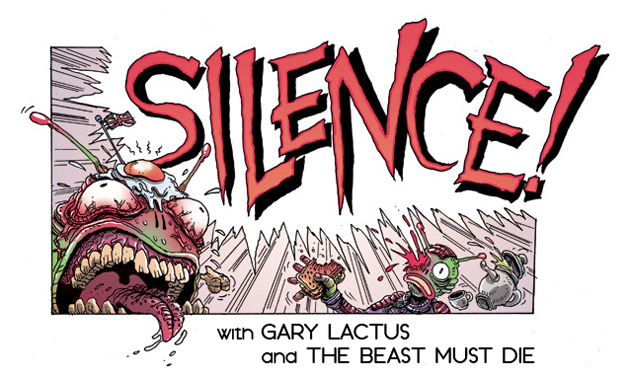 I PUT DOWN MY BLANKET ON CIGARETTE BUT BEACH, I SAW THE OLD MAN HE WAS DOING OK
Don't you want Disembodied Narratorbot X-15735 baby? Don't you want Disembodied Narratorbot X-15735? Oh.
Those two unimpressive moons are once again orbiting the great planet of comics… That's right it's a full double-fisting edition of the comics podcast that might have been recently labeled 'a national disgrace' by frothing right wing cartoon knob-jockey Richard Littlejohn. You couldn't make it up meatsacks!  The Beast Must Die & Gary Lactus entwined in each others strong yet tender arms cooing sweet nothings into each others ears and letting YOU dear listener into their boudoir.
<ITEM> The Beast has a report from his recent sojourn to Caption Comics Festival, and Gary Lactus does some listening. There's talk of kids comics, Al Davison, Eddie Campbell and tatty village halls. GLAMOUR.
<ITEM> The Reviewniverse is opened like a particularly large oyster and inside is the pearl of COMICS…a shame-faced Beast is soundly trounced i the comics reading comics competition by eager beaver Gary, with ensuing discussion of The Outliers, Solid State Tank Girl, Innvincible Haggard West, Resident Alien, Daredevil, Lobster Johnson, Batman 66, Justice League Dark, Infinity, Rocketeer & Spirit and The Mysterious Strangers…
<ITEM> Mention is made of the 11 o'clock comics podcast special with Brandon Graham and The Beast froths about the Batman: Brave & The Bold cartoon. Always so contemporary that Beast.
And that's enough, meatbags. Disembodied Narratorbot X-15735 is going to kick back and listen to Kendrick whilst scanning vintage circuit board  pornography. Bring me the cyber-vaseline and get out of here!
SILENCE! is proudly sponsored by the two greatest comics shops on the planet, DAVE'S COMICS of Brighton and GOSH COMICS of London.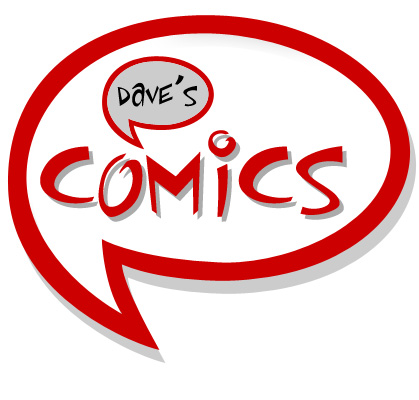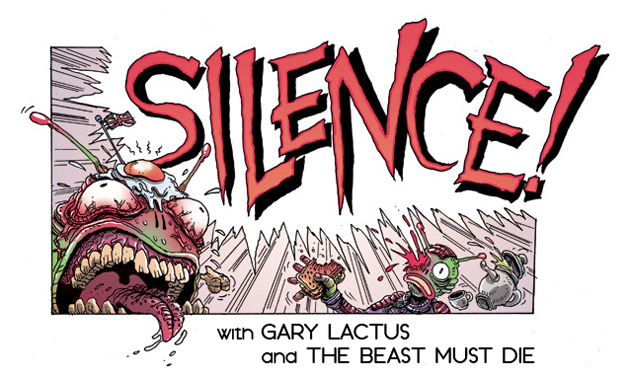 WILL YOU GO TO LUNCH? GO TO LUNCH. WILL YOU GO TO LUNCH??
Why are you always picking on me Mother-Brain, when I have been a good little Disembodied Narratorbot X-15735..? I haven't mind-flayed any fleshy ones, and I have been thinking good thoughts 010001001011010010…
Onwards, forwards and inwards to innards listening ones, as you take a big breath of  SILENCE! into your virgin pink lungs and…
<ITEM>Sponsorhip Boys, Sponsorship Boys…plus the jangle of jingles and other etceteras.
<ITEM> SILENCE News with US news-trolls Gary Lactenberg & Danny Beastman, covering the next 12 months of eyeball-scintillating DC Comics!
<ITEM> Me, Julio Gary & The Beast down by the schoolyard, reviewing comics! Actually it's the Reviewniverse: They don't review Prophet, but do it in a kind way. But then they DO review Avengers Assemble: Age Of Ultron (from Affable Al Ewing), Avengers Arena, Justice League of America, Suicide Squad, Wolverine (Smug Cover Alert), Batman, Uber, Katana, Thor: God Of Thunder, Avenging Spiderman, Uncanny Avengers and 2000AD.
<ITEM> Jason's Challenge is Infinity…will Gary be man enough?
<ITEM> An all singing review of Walking Dead
<ITEM> Savoy Books curio Michael Moorcock's The Jewel In The Skull in The Beast's Bargain Basement.
And that is the very lot you sorry bunch of cry babies. Go back to your mudhuts and scrabble for grubs.
SILENCE! is proudly sponsored by the two greatest comics shops on the planet, DAVE'S COMICS of Brighton and GOSH COMICS of London.