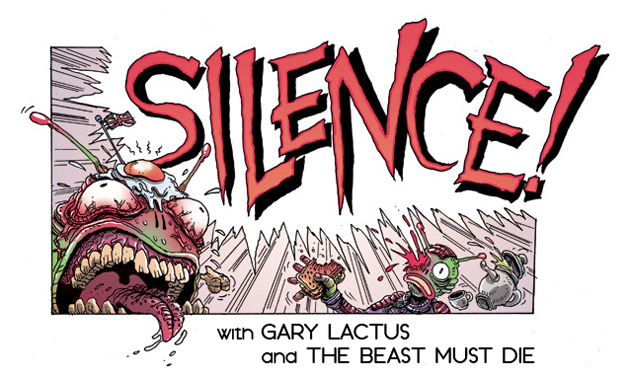 I PUT DOWN MY BLANKET ON CIGARETTE BUT BEACH, I SAW THE OLD MAN HE WAS DOING OK
Don't you want Disembodied Narratorbot X-15735 baby? Don't you want Disembodied Narratorbot X-15735? Oh.
Those two unimpressive moons are once again orbiting the great planet of comics… That's right it's a full double-fisting edition of the comics podcast that might have been recently labeled 'a national disgrace' by frothing right wing cartoon knob-jockey Richard Littlejohn. You couldn't make it up meatsacks!  The Beast Must Die & Gary Lactus entwined in each others strong yet tender arms cooing sweet nothings into each others ears and letting YOU dear listener into their boudoir.
<ITEM> The Beast has a report from his recent sojourn to Caption Comics Festival, and Gary Lactus does some listening. There's talk of kids comics, Al Davison, Eddie Campbell and tatty village halls. GLAMOUR.
<ITEM> The Reviewniverse is opened like a particularly large oyster and inside is the pearl of COMICS…a shame-faced Beast is soundly trounced i the comics reading comics competition by eager beaver Gary, with ensuing discussion of The Outliers, Solid State Tank Girl, Innvincible Haggard West, Resident Alien, Daredevil, Lobster Johnson, Batman 66, Justice League Dark, Infinity, Rocketeer & Spirit and The Mysterious Strangers…
<ITEM> Mention is made of the 11 o'clock comics podcast special with Brandon Graham and The Beast froths about the Batman: Brave & The Bold cartoon. Always so contemporary that Beast.
And that's enough, meatbags. Disembodied Narratorbot X-15735 is going to kick back and listen to Kendrick whilst scanning vintage circuit board  pornography. Bring me the cyber-vaseline and get out of here!
SILENCE! is proudly sponsored by the two greatest comics shops on the planet, DAVE'S COMICS of Brighton and GOSH COMICS of London.