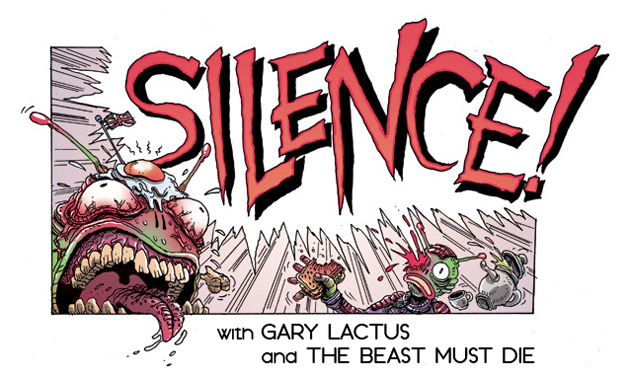 WILL YOU GO TO LUNCH? GO TO LUNCH. WILL YOU GO TO LUNCH??
Why are you always picking on me Mother-Brain, when I have been a good little Disembodied Narratorbot X-15735..? I haven't mind-flayed any fleshy ones, and I have been thinking good thoughts 010001001011010010…
Onwards, forwards and inwards to innards listening ones, as you take a big breath of  SILENCE! into your virgin pink lungs and…
<ITEM>Sponsorhip Boys, Sponsorship Boys…plus the jangle of jingles and other etceteras.
<ITEM> SILENCE News with US news-trolls Gary Lactenberg & Danny Beastman, covering the next 12 months of eyeball-scintillating DC Comics!
<ITEM> Me, Julio Gary & The Beast down by the schoolyard, reviewing comics! Actually it's the Reviewniverse: They don't review Prophet, but do it in a kind way. But then they DO review Avengers Assemble: Age Of Ultron (from Affable Al Ewing), Avengers Arena, Justice League of America, Suicide Squad, Wolverine (Smug Cover Alert), Batman, Uber, Katana, Thor: God Of Thunder, Avenging Spiderman, Uncanny Avengers and 2000AD.
<ITEM> Jason's Challenge is Infinity…will Gary be man enough?
<ITEM> An all singing review of Walking Dead
<ITEM> Savoy Books curio Michael Moorcock's The Jewel In The Skull in The Beast's Bargain Basement.
And that is the very lot you sorry bunch of cry babies. Go back to your mudhuts and scrabble for grubs.
SILENCE! is proudly sponsored by the two greatest comics shops on the planet, DAVE'S COMICS of Brighton and GOSH COMICS of London.