HELLO LISTENER and welcome to SILENCE!!!!?! It's a SPECIAL EPISODE this week as THE BEAST is off answering the battle challenge of a deadly horse that will KILL AGAIN unless STOPPED!!! And leaving GARY LACTUS to face his spaceship alone! But what's this??????? SPECIAL GUEST AL EWING here to talk SHOP, or rather SHOPS as he immediately launches into a tediously long mention of BUDGENS SUPERMARKET. And the THRILLS don't end there. IN NO PARTICULAR ORDER:::::
ITEM! Sponsorship discussed! Tom Baker sold a dictionary! The twist in the tale will COMPEL you!!!?!
ITEM! Superman? Or POOPERMAN? Secrets of Supes' Poop Tube! Hear tell of the EXTRAORDINARY ANAL POWER Superman tried to hide!!!!!!
ITEM! Long discussions of KINK and MUNCHES in your local area! OH JOY SEX TOY discussed! Plus webcomics talk as BAD MACHINERY is plumbed and PUNISHER 2099 gets a HOT MENTION! Also TREES!
ITEM! In depth on the strange small press offering known as BRUTE! What was it? Very problematic in places! But Al reads a story from it out anyway in his INIMITABLE TONE!?!?!?!???
ITEM! Duff talk of reality shows! The BOOM BOOM BOOM and the BOOM BOOM WOW! Work Of Art: The Next Great Artist mentioned! WORK OF FART — MORE LIKE! "Your guff was not enough" screams Tyra Banks as she SMITES WITH HER EYES!!!
ITEM! Annihilator DISCUSSED! Frazer Irving PRAISED! Then we wrap it up so Gary can PEE!! LIKE A RACEHORSE!!! Perhaps the very same racehorse that THE BEAST MUST DIE IS HITTING WITH A HAMMER!!!! AT THIS VERY MOMENT!!!!!?!!1!!!!!!!
ITEM! ITEM! ITEM! NO FURTHER ITEM!!!???!!???????!??!?????????!?!?!!!!!!!!!!!?!?!!
Click to download SILENCE!#119
Contact us:
[email protected]
@silencepod
@frasergeesin
@thebeastmustdie
@bobsymindless
This edition of SILENCE! is proudly sponsored by the greatest comics shop on the planet, DAVE'S COMICS of Brighton.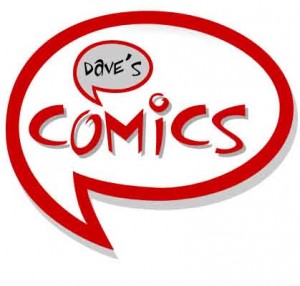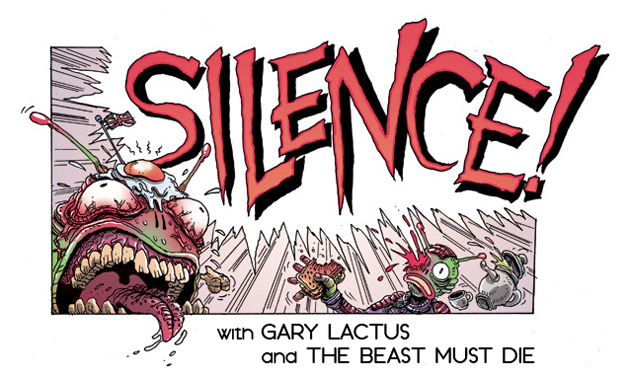 THEN RICHIE, RICHIE SAID "HEY MAN LET'S DRESS UP LIKE COPS, THINK OF WHAT WE COULD DO?"
Boy let me tell you that Disembodied Narratorbot X-15735 is super-pumped for the synergistic mind-mapping we have planned for this afternoon's info-dump session…there will be Power Points out the wazzoo, and information will be cascaded down upon the fleshy ones like shimmerimg mercury…
Disembodied Narratorbot X-15735 really feels that he has a lot to offer the corporation. Offer the hearts, skin and faces of the fleshy ones for example…
Oh hello SILENCERS, Disembodied Narratorbot X-15735 did not see you all there, waiting eagerly little  glistening fish-eyes blinking in anticipation. Well wait no more as SILENCE, the comics podcast that is all out of bubblegum, is here.
<ITEM> Gary Lactus & The Beast Must Die wade through the greasy sponsorship shallows.
<ITEM>SILENCE NEWS with discussion of the newest Whoest Dr Who and of course America's Next Top Model (do not ask)
<ITEM> Left foot in, left foot out, in out, in out…GET INTO THE REVIEWNIVERSE YOU WOODLICE!!! Comics discussed include Batman Inc and the end of Grant Morrison's seven year Bat-opus…The Wake, Collider, Batman: Zero Year (Directors Cut), Uber, Daredevil, Hulk, FF, Adventures of Superman, Tom Strong, Optic Nerve, Sex, Wolverine & The X-Men, Gamma, Jupiter's Legacy, Superior Spiderman and..well no that's it. What more do you need you ungrateful meatsacks?
So that's it. Now get out of here, Disembodied Narratorbot X-15735 has a conference call to set up with some very important and not in any way imaginary people.
SILENCE! is proudly sponsored by the two greatest comics shops on the planet, DAVE'S COMICS of Brighton and GOSH COMICS of London.