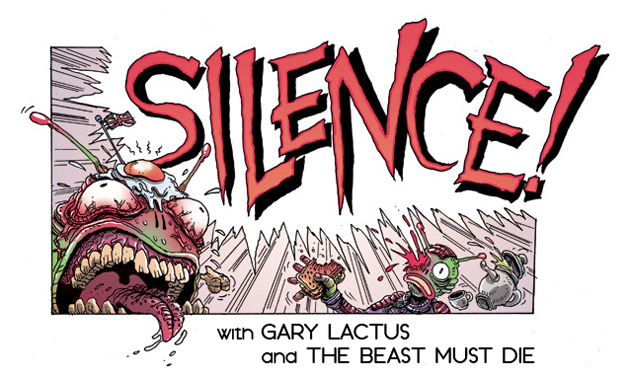 I'M CRUSHING YOUR HEAD!
This is it people – the ultimate listening experience you can do with your ears…comics, people, people talking about comics, comics talking about people, people talking about comics again….IT'S ALL HERE! IN SILENCE! no.32!!!
After the usual shit-bubbling from the two half-wits that pass for presenters on this farrago, the SILENCE! News comes and goes like a sex pest in the night, with a digression into Chuck Jones and Pat Mills. With nary a thought to listener safety or interest the podcasteers catapult themselves midrift first into the weeks comics. No muss, no fuss, let's do this:
James Stokoe's Godzilla, Justice League! no.0, Daredevil, Jordan Crane's Uptight, The Shadow, The Walking Dead, Ghost, Revival, AVX: The Avengers, and Nite Owl.
The SILENT Question comes from Frank Castle and the answer involves Jim Woodring's Frank, Jonny Ryan's Prison Pit and Zenith: Phase 1.
Lactus reviews his underpants in notcomics, and after that adventrure in undercrackers The Beast talks up Nick Abadzis' wonderful Hugo Tate collection and recalls Deadline in general. Then there's a nod towards a fascinating interview with Brit comics mover and shaker, Dave Elliott, and Lactus pimps his wares like the painted French tart he so clearly is, with another Comedy Spot.
SILENCE! is proudly sponsored by the two greatest comics shops on the planet, DAVE'S COMICS of Brighton and GOSH COMICS of London.