SPECIAL "LOVE UND ROMANCE" EDITION
As you've probably noticed, it's Valentines Day, and since we've already established that FEELINGS ABOUT COMICS ARE THE ONLY TRUE FEELINGS, I thought that it might be a good time to get a bit soppy about some of the comics I've read recently…
It's been hard to think loving thoughts about comics in the past week or so (because: WA2CHMEN, Gary Friedrich), but I'm a trooper, and I've got my good buddy Mister Attack (aka The Boy Fae the Heed, aka The Beast o'the Bar-G) to keep me company, so here it goes!
Winter Solider #1, by Ed Brubker, Butch Guice and Bettie Breitweiser
Fatale #2, by Ed Brubaker and Sean Phillips
It's a bit awkward to read these two comics back-to-back, and to find yourself preferring the one that's built on the soiled dreams of Jack Kirby, but it's also hard to pretend that clean hands make for good art when you're not a teenage boy.  The first two issues of Brubaker and Phillips' latest collaboration have proceeded exactly as expected – this is the sort of work (solid, well-crafted, "ugly things in the darkness/worse things in store") that makes it easy to under-appreciate one of corporate comics' best partnerships.
It's perfect pulp, in other words, but at their best these guys can suggest a whole city's worth of stories in one panel…
…and there's been nothing in the first couple of issues of Fatale that's hinted at that sort of imaginative depth. Winter Soldier #1 meanwhile, is absolutely full of potent images. Despite having a truly ugly, gurning cover – despite looking like a superhero book, basically – it's a sneakily great wee comic, all slick superspy action and unexpected quietness. This panel has caught the attention of a few other commentators…
…and rightly so.  Butch Guice's art here has a softness too it (and not just in the sense that it contains – ugh! – kissing) that couldn't stand out more in context if it radiated ethical integrity (ooh, burn – take that, comics!). If I was looking to get all thematic on your ass I'd point you in the direction of Clive Barker's comment that comics aren't good at making room for love, but I'm not feeling particularly clever today, so instead I'll  just note that while most individual images will yield lots of strange, abstract patterns if you crop them artfully enough, this image gives itself more readily to this treatment than most: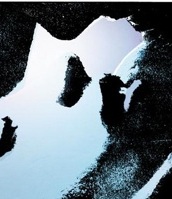 Look, I don't want to make too much of a prat of myself this early in the post, but there's something beautiful about the way that the boundaries between the two characters in this panel seem to have been gently and willingly collapsed, isn't there?
Yeah… there definitely is. Click here to watch me search for love in all the wrong places, like a character in a story with a blunt moral!
Illogical Volume: Okay, so the idea here is that we're going to do another one of these shit-talky back and forths, this time on DC's New 52 (I hate the whole Nu52 thing, smells like team Durst), with various diversions into non-DC comics for added flavour.  I don't know, I guess I've just read a veritable CUMPKINLOAD OF COMICS in the last three-and-a-half months and I feel the need to share my thoughts on them with both you and the rest of the world. Do you feel like enabling me big man?
Botswana Beast: Yeah, the nomenclature is – it's external, it is entirely New Metal (the first music I loved, forefathers: Faith No More, whose cassette album 'Angel Dust' was the first by a single band I owned, in fucking Christmas 1991/2, I did have Now 17 before that.) It should have an ümlaut ideally, because comics are nothing if not racist and utterly without taste.
But anyway, yes, I think I have some feelings about comics, still, in my one remaining nerve, the world passes me by in numb shock, but these – well, one can express oneself. Isn't it wonderful now everyone can express themselves via this technological medium? Wunderbar.
Illogical Volume: FEELINGS ABOUT COMICS ARE THE ONLY TRUE FEELINGS! So long as we can keep that in mind, we should do just fine here…
2000AD Progs 1750 – 1763
If I was writing about 2000AD like The Beast Must Die is was doing for a while there (note to The Beast Must Die: please write about 2000AD again soon!) I'd have the slight problem of wanting to repeat myself every week – there are two strips in here that are regularly worthwhile, you know what they are (Indigo Prime and Judge Dredd) and I can't think of much to say about the other strips.  Which is just another reason why TBMD >>>>>>>>>>>>>>>>>>>> me, obviously.
I'd feel like a total dilettante trying to say anything clever about Judge Dredd, so I'll focus on Indigo Prime right now, which… well, thanks for "making" me buy the Indigo Prime trade at Kapow!, Botswana Beast, because this is so exactly WHAT I WANT that I can't believe I hadn't read it all before.
The last strip in Indigo Prime's previous incarnation, Killing Time, also happened to be the best one. It's both From Hell as written by a skin-sick sensualist and (thanks to the bulgy brilliance of Chris Weston's art) a warped precursor to The Filth, which is to say that it's pretty close to comic book perfection.  This freshly relaunched series doesn't quite have the same queasy feel to, but that's okay.  If Killing Time was the blue meat you'd pick up from a bad butcher, these two new stories have had a sort of processed meat feel to them, more like something you'd buy from the local Spar on yr lunch break and instantly regret. Only, you know, good.
Regardless of the exact flavour of meat involved, it (the old and new incarnations of Indigo Prime) is (are) one (two) of my favourites. Yes.
Plus, also, Al Ewing and Brendan McCarthy are going to be working together on a new strip called Zaucer of Zilk for 2K, so you can consider me officially THERE for the New McCarthysim, as always…
Click here for more! An early Xmas Overload awaits, now with extra added Scottish!