CHARLIE, DON'T WANT ANOTHER BEER, TONIGHT I'M GONNA DRINK MY TEARS

<ITEM> What is this disgusting Graphic Novel craze that is haunting the nation's children?
<ITEM> Banish your shameful floppy addiction and get into the hardback stuff with this week's rollicking and rambling edition of SILENCE!
<ITEM> This week sponsored a lot by Library – the greatest bookshop there has been or could ever be…
<ITEM> The lovable but sadly now fully attached (sorry gels) The Beast Must Die is flipping still on his holy honeymoon, meaning Gary is forced to recruit bobsy for more of his baneful civilising influence!
<ITEM> There are some riveting personal questions to be had and then!
<ITEM> Gasp as The Tall and his thrall batter their way into the reviewniverse, there to discuss the unique and neglected phenomenonenom of the Graphic Novel – a new type of comic that isn't for kids! We cover such good'uns as Adamtine by local produce Hannah Berry, Cave In and Daybreak by the thundering Brian Ralph, Judge Dredd in Satan's Island by Wagner & co, before swimming over to Fishtown by Kevin Colden.
<AND> the mysteriously entwined nautical pair of Set to Sea by Drew Weing and Black Lung by Chris Wright.
<AND> then into a brief and tenuous discussion of Nobrow #7 and the same publisher's marvelous Jean Baptiste Baigorri 1: Cramond Island by Irkus M. Zeberio.
<ITEM> Normal service exists in the form of hasty reviews of monthly floppybooks Mysterious Strangers #4, Fairlaine the Goblin #1, Gambit #17, Sex Criminals #1, Sex #whevs, Wolverine and the X-Men and Jupiter's Cheggersy before we suddenly realise we'd rather get on with our normal lives, for a bit, at least.
<ITEM> Oh, and at the start we talk about Saga #14 too. SPOILERS: only liars and the brain-damaged like Saga, but if comics needs another TV show – and soon – in order to keep the concept farm open for another year then yes, by all means give it another award.
Contact us:
[email protected]
@silencepod
@frasergeesin
@thebeastmustdie
@bobsymindless
This edition of SILENCE! is proudly sponsored by the greatest comics shop on the planet, DAVE'S COMICS of Brighton. There are quite literally almost zero swear words to be heard in this episode of the world's finest comics podcast.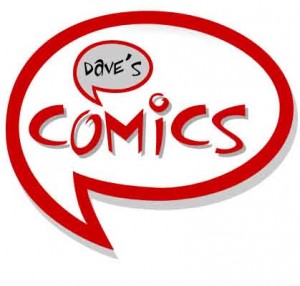 Oh, and GOSH!