p27
Adam: My, isn't that lava lamp… big.
In case you hadn't noticed that's Dr B Coote S.M.B.D: standing for sadism, masochism, bondage, domination one imagines, which sadly loses some of the flexibility of our real world formulation, BDSM. There you've got bondage, domination, sadism, masochism or bondage and discipline, dominance and submission, and sadomasochism. More… er… therapeutic options.
Amy: BDSM is considered by some people to be quite an effective form of, well not exactly therapy, but a way of containing and processing painful experiences, particularly those of a sexual nature. Mina has already engaged in mild BDSM with Allan (the infamous "Bite me" scene), probably as a response to the ultimate Dom/Sub relationship she shared with Dracula, so we know she's the perfect patient in some ways… Saying that, though, it's hard to imagine anyone as drugged up as Mina conclusively consenting to anything.
p29
Andrew: Notice the spy camera on the corner — a little incidental detail of how the world has changed since the last volume. We grow so used to these things, it's sometimes hard to remember that in a lot of ways we've been in a dystopian future since at least the mid-90s.
As promised, here's the Gilbert Shelton interview what I done with Tymbus when he came to Brighton to promote his Fabulous Furry Freak Brothers Omnibus.  In this podcast he talks about the Freak Brothers, Robert Crumb, Bungee Jumping and lots more.
Mr Shelton is considered by many to be one of the world's most influential underground cartoonists. You should listen!
Look here!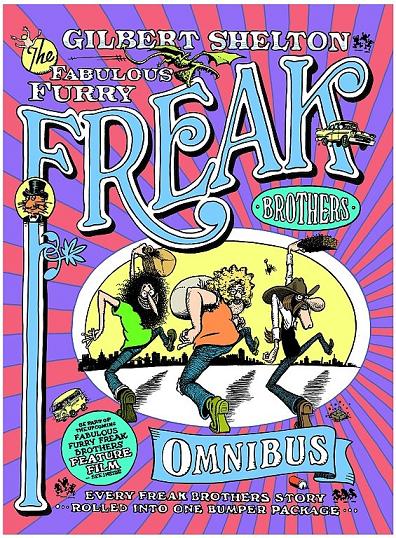 That's the recently published Fabulous Furry Freak Brothers Omnibus! It's got every single Freak Brothers adventure ever published plus a couple of previously unseen pages. Tymbus and I interviewed creator and underground comics legend, Gilbert Shelton and will be casting that pod in due course. First up though is this chat with Knockabout's Tony Bennett.