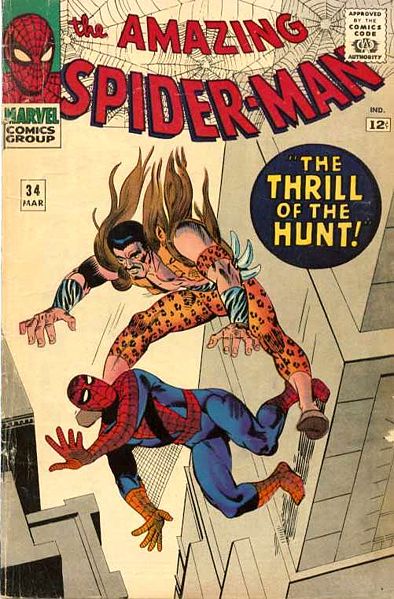 I don't know if it's a memory or if it's a wholly original invention (something I seriously doubt), but whenever I think of Kraven this scene plays out in my mind:
PANEL 1
HIGH ANGLE. A GLOOMY BUT LAVISH AND HUGE, WOODEN PANELLED CORRRIDOR, ITS WALLS ADORNED WITH STUFFED AND MOUNTED HEADS OF ANIMALS – BOARS, LIONS, TIGERS, CROCODILES, ETC EXTENDING INTO THE DISTANCE. AN ENORMOUS DISTORTED SHADOW DRAPES ITSELF ACROSS THE FLOOR AND THE SNARLING, PETRIFIED BEAKS, MUZZLES AND MAWS. WE CAN'T GET A CLEAR HANDLE ON WHO'S CASTING IT, BUT IT'S EMERGING FROM OUTSIDE THE PANEL
PANEL 2
POV.CLOSER IN ON THE SEVERED HEADS AS WE MOVE THROUGH THE CORRIDOR. ANIMALS GET STRANGER, MORE ALIEN. NOTHING WE RECOGNISE. MYTHOLOGICAL. MONSTERS. IS THAT A GORGON? IS THAT A VAMPIRE? FROZEN, LIFELESS EYES – RED, GREEN AND YELLOW – TWINKLE LIKE MARBLES IN THE DARKNESS.
PANEL 3
ANGUISHED HEADS OF MEN AND WOMEN CAUGHT IN THEIR DEATH GRIMACES.
PANEL 4
AND NOW B LIST SUPERHEROES AND SUPER-VILLAINS. THIS IS WHERE THEY GO WHEN THEY DISAPPEAR OFF THE MAP. ONE'S POWER, EVEN IN DEATH, IS STILL TURNED ON: HIS EYE-SOCKETS AND MOUTH BLAZE WITH ENERGY, HIS FACE CONTORTED IN A FIERY BLUE SCREAM. EMPTY MOUNT COMING INTO VIEW ON EDGE OF FRAME.
PANEL 5
STILL POV. CAMERA RESTS ON EMPTY GOLDEN MOUNT ENGULFED IN THE SHADOW OF A MAN WHOSE SHOULDERS ARE DRAPED IN A DISTINCTIVE, PLUMED, MANE OF FUR. IF WE PEER INTO THE DARKNESS WE CAN JUST MAKE OUT THE WORD ENGRAVED UPON IT: 'SPIDERMAN'.
Sergei Kravanoff is one mean sonovabitch.
The editorial team have attempted to integrate time and process into the spider-verse and ol' Sergei isn't with us any more, but screw that – Kraven's an eternal, evil muthafucka and in my imagination he's still sifting through the exhaust fumes and meaty wafts of hot-dog and hamburger cluttering the airwaves of the MU's New York, searching tirelessly for Peter Parker's unique scent so that the hunt can begin in earnest. That's it! There! His lip curls, and he's bounding over the rush hour traffic, literally running up the side of a building and disappearing into the New York skyline.
He's on Webhead's trail.
And here's why we should be very, very afraid:
Kraven's one of those characters it's difficult to get wrong. Most writer's don't seem to fuck it up that badly, so why should we bother rogue's reviewing him? Two words: he ROX. In the bad guy stakes, people who hunt other people rate pretty highly. They really are just horrid, aren't they? Check Sir Miles. Fuck that, check Tarquin! And of course there's that truly vile narrative – one that, in the West, we're all somehow complicit in, responsible and guilty for – the Great White Hunter.
The swaggering, Caucasian big-gamer is as offensive a symbol of colonial exploitation and vanity as I've ever come across. The macho, clean, civilizing, supreme English specimen, out to subjugate and ultimately suck the life – the vitality – out of his conquests. He's the Empire in microcosm, and claims the hides of Tigers and snakeskins for his trophy room, just as Great Britain claims the dark continent itself. Put in simple terms, the guy is a whopping great raping, pillaging fuck and he doesn't think of his property, the happy hunting ground of the African veldt, as possessing autonomy, rights. A perspective that, horribly, extends to its inhabitants too. Kraven, whilst ostensibly Russian, partakes of the atmosphere surrounding this demon of the African/Indian/whatever collective unconscious in a big way. To him, New York is simply another unfortunate creature to be tamed, killed, stripped, tanned and hung on his back like some kind of primitive business suit. When he strides onto the set, Kraven's expression should tell us all we need to know. He owns the place – the deli's, the subway, the back alleys, the rooftops…. God forbid he should catch up with Petey in Central Park. And Kraven's understanding of Spiderman is just as horrifically limited as his sense of the city he lives in. He's the supreme bigot, but his pathology is far more capricious, arbitrary and self-serving than that of a simple xenophobe, completely denying his victims all personhood just because it suits him to do so. I love the guy's costume, it's so horrible and manages to sum up Kraven's fundamental, raw perspective so well – the way his body peeks out of the skinned Lion's head he wears as a waistcoat. "Fuck you, Leo!", he seems to say "I WEAR you!" (and it's such a crime this alarming sartorial choice has been reduced by most artists to little more than a design motif, a vague nod to the, frankly, enormous terror of a beast, with a face the size of Charles Atlas's torso, that he must have stalked and slain all those years ago. It would have been one hell of a battle. I can just imagine them tearing at each other with their claws and teeth, silhouetted against an oversized African moon. Shit, there's a story there if ever there was one – Kraven's first kill? The Nemean Lion all over again…), and I'm sure Leo isn't the only monster to make a contribution to Kraven's wardrobe – you should see the scaly little number he wrenched from the bones of Fin Fang Foom's cousin (he only wears that'n when he needs to draw down the baddest juju – when it's Titan killing time), and, to return to the theme of dehumanization, the costume he'll be parading around in if he ever does sink his knife into Spiderman will bestow a whole new level of disturbing meaning to the idea of prismatic comic books.
One thing that strikes me writing this, is how well Kraven could hold his own comic. There's always room for a book spotlighting a ruthless, hardcore, gentleman bastard, and Kraven's raison d'etre makes him supremely versatile, so well suited to any genre, any environment. It's odd that more writers haven't jumped on the fact that in a universe where off-world travel is possible – indeed, common – a hunter like Kraven would have a field day. I can just imagine the opening scene – herds of weird cthuloid bat creatures grazing in the gloomy green nitrogen fields, bathed in lethal, bone splintering fog, when, suddenly, LIGHT! from above and an unholy bellowing:
"CTHGRGN fthgrgnARAAAAAAAAAAAAAAAAAAHGN!"
They look up in fear and then they start to run – ploughing into and over each other, tentacles flailing, as from the space-ship's docking bay Kraven silently plummets, barely dressed for the cold, a glowing knife smothered in elder signs jammed between his teeth. You should have seen him one night previous, sipping alien tokay around the Captain's table with the other guests, discussing the morning's hunt; and the way he insulted the Skrull dignitary by forgetting himself and accidentally sporting his favourite piece of formal wear: his boiling unstable dinner-jacket of many colours, fashioned from the hide of one of the Ambassador's super kinsmen.
Whoops!
Midway through Kraven explaining how the best way to irreparably damage a symbiote is to wait until its bonded with you and then seriously maim yourself, the Skrull decided it might be a good idea to simmer down, while his beautiful Inhuman lover hung on every word.
Don't you just love this shit?
Actually, I suspect Kraven's a bit of an interstellar celebrity. No, scratch that, he definitely is. The deeper I get into this the more convinced I am that the MU's hunter-killer extraordinaire wouldn't limit himself to bloody planet Earth. And neither would he limit himself to this dimension, or universe or timeline. The guy'd be just as at home leaping, sword raised, onto the back of a T-Rex in the Savage Land, as he would be ploughing through werewolves in the graveyards of Arkham or tracking a howling Demon across Mephistopheles' realm. He'd work perfectly in all these environments because he has a damn good reason to be casting a bloody swathe through them: wherever there's big game, you'll find Kraven.
And that's precisely why Spiderman drives him to distraction – why he's become practically an obsession. This is the guy who once pursued a particularly elusive victim's soul into the underworld (the idiot thought that in death he could escape Kraven's blade! Fool!), and yet he still struggles to snare and skin New York's Spiderman!?! Absurd! We can barely begin to imagine the murderous rage this induces in Kraven, not to mention the brain-defying incredulity. So, yeah, he wants to kill and stuff Parker like nobody's business, but as for offing himself upon succeeding, as I gather he did within the tired pages of some such bullshit comic recently, that's just utter bollocks. In a universe as wide and varied as Marvel's there's always something new to pursue, but for now he answers Spiderman's need to play the eternal victim pretty much perfectly, perhaps better than any other Rogue.
Anyway, what is it that makes Kraven so tasty in a scrap? Sure, he's not as obviously powerful as most of his opponents – he's often at a physical disadvantage – but like Batman the challenge appeals enormously to his vanity. The hunt just wouldn't be as fun if it was easy, would it? I'm a little suspicious, however, of the idea that he eschews weaponry altogether. Personally I'd imagine it'd depend on context. I can't imagine Kraven being anything other than a dab hand with a laser gun – certainly as proficient as he is with a bow and arrow – but he would just deem it dishonourable, inappropriate and, above all, boring to employ this kind of kit against Spidey. Each hunt has its individual requirements, and the blunderbuss only really comes into its own during a fine weekend of grouse and mutie shooting at one of Von Doom's 'pleasure castles' deep in the heart of Latveria's Black Forest: Kraven the Hunter in Drax drag, straight out of Moonraker… So the guy's supremely confident and has a lethal sense of occasion, but what else makes him so fearsome? Just take a look at him – the Transylvania arch to his eyebrows, the lupine glint in his eyes…. Are his teeth sharpened? Are those nails or talons? Everything's sharpened and honed and precision engineered to slice and stab. The tawny-owlesque shrieks, baboon-like whoops and hunting dog howls he emits when giving chase are designed to petrify and/or disorient. I once saw a documentary where an aboriginal tracker re-enacted a fight between a snake and another larger predator conjured purely from the markings their combat left on the ground. It put me in mind of shape-changing as he proceeded to bounce back and forth between roles, inhabiting the animals completely – all humanity vanishing without a trace. Well, that's Kraven when he's pounding after you, running like a jackal, leaping like a monkey, rending like leopard, sniffing you out like a bloodhound, nose buried in the dirt, perched atop the highest building and casting his eagle eye about the city for….. GOT YA! But there's one beast more terrifying than the rest, to whom their modes, tactics and evolutionary strategies are simply tools to be pillaged, hijacked and employed as just another weapon in its arsenal against them. Man. There's a deep, deep irony embedded in the idea of the Great White Hunter – In the end, the horrific Darwinian reality is that no matter how the English tried to dress it up, they were the biggest, baddest predators in the jungle – Civilisation being just another word for 'running water', and food that you don't have to slaughter, gut and hang yourself. The Hunter, Kraven, fascinates precisely because he embodies this contradiction – the noble human and primal tyger combined – but possessed of an overweaning hubris that confuses his animal desire to conquer with a mission to improve, to establish a rightful dominance. Kraven genuinely, but mistakenly, believes he is a man of honour, and he must always be as well mannered, courteous and civillised in polite society as he is ferocious and brutal in pursuit. A purring, dreadful, beautiful Shere Khan.
Further to one of the ideas above; you know the old truism about martial arts incorporating animal movements and fighting styles? Well, I'm not sure whether it would be within the range of Marvel's stable of artist's abilities to incorporate this idea, but it strikes me Kraven's approach to combat would be about as bestial and feral as it gets, giving all new meaning to terms like drunken monkey and crane kick. The reader should literally feel the animal take him over: posture, facial expression – everything. And what of the weird, mythological and alien life-forms he's studied and vanquished? Sometimes he should pull off a move that looks as bizarre and improbable as those freaky cowthulhus above. How far did his leg extend then? How fast was that kick? How many arms does he have? Most superhumans are lazy combatants, they never see this astonishing but viciously savage shit coming.
Finally, there's Kraven's super-serum. I love super-serums, they're just so….vague. Their origins, what they do exactly. Everything. Why don't more writers take advantage of the great big, blank canvas they offer? It's odd. Post Invisibles, I always enjoyed playing around with the notion that the stuff the superhero's parents were fed by the government in Zenith might be loaded with ultra-menstruum, that it was literally from out there, and whilst the special blend of roots, herbs, poisons and venoms that lends Kraven increased strength, speed, agility and heightened senses might not be quite as outlandish or glamorous, it's certainly as mysterious. Where did he obtain the formula? From his mentor, Gregor? The tribal chieftain of some faraway, lost city of gleaming technology and heathen black magic? The gibbering of monkeys, hissing of snakes and the wind stirring the roof of the rainforest? At the feet of the great lion he bowed before, learnt the hidden secrets of the jungle from and eventually betrayed and slew?
Again, don't you just love this shit?
And what does it feel like to be under its influence? Do the skyscrapers merge with the giant teak, balsa and mahogany trees of some primal ur-jungle of the mind? Do the window cleaners high above become chattering chimpanzees; the teeming office workers, a tidal wave of fire ants? The fleeing citizenry generally, the sheepish, soft denizens of the forest floor, cowering in the entrances to their burrows in the wake of Kraven's thundering passage? The potion, as it courses through Kraven's veins, gives new meaning to the idea of concrete jungle. Look! Tiny molecules of spider-webbing daubing the walls emerge as a trail of flattened grass left there by his quarry, careless with terror. Spiderman gasping for breath there on the roof top, a pin prick of sweat bubbles up between the fibres of his costume and drops, down, down, down – 10 storeys – dispersing along the way. until almost nothing is left, mostly gas, scent… But, like the moment with droplet of blood in the films, he feels it. And looks up.
The spider cannot hide in the great branches above forever.
You know, it's likely that under the influence of this concoction, Peter Parker very definitely does emerge as a giant tarantula. It's also quite likely Kraven doesn't see all that soap opera bullshit we expect with Spiderman at all. He understands the arachnid that's been the bane of his career as a frightening, dangerous, hugely powerful beast – all the things Spidey ultimately is – and there's no sentiment there, no underestimating of ability, no human frailty recognised at all. Sure, it's dehumanising, but perhaps it might be helpful for Parker to adopt a similar lens from time to time. All that self-doubt can get a bit tiresome when next minute we're watching him swing from building to building like he's having the time of his life.
But as we've already noted, Kraven moves through his environment with similar grace and ease. His proprioception heightened to such a degree, the labyrinthine system of his inner ear so akin to the perfect spirit level, that even the most daring, most acclimatized Mohawk never felt as comfortable, as solidly inside their own skin, as Kraven dancing, deerlike, from girder to girder above the low lying clouds. But not only that – the serum sees him swinging from stepladder to lamp-post to shop sign, an urban Tarzan, clambering up the sticky, sheer windowpanes of apartment stores like a gecko, and at last diving up and over the rooftops – man-cub, born of woman and panther. See now! The great cat's head growling and snarling, threatening to wrench itself from his gut! The animal straining to break free! And at last it does – bursting across the city like a roaring yellow spear, sloughing off its crumpled "humanity" and leaving it torn and tattered in the dirt.
Other spiderogue's reviews: The Vulture, Green Goblin, Spider-Slayers