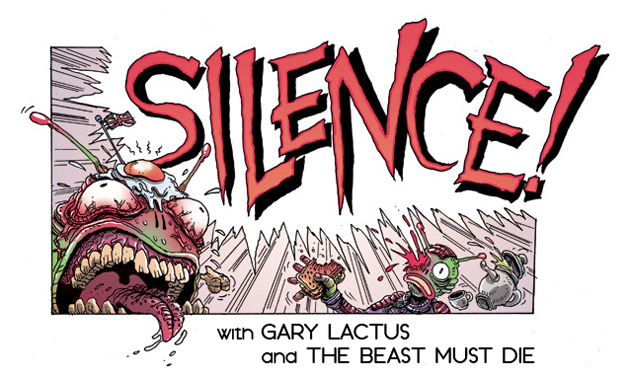 WHEN I GET HOME FROM SCHOOL EACH DAY, I FEEL MY TIME SHOULD BE MY OWN…
Listen. I'm celebrity guest host Jonathan Cohen from TV's Music Time. Gary Lactus and The Beast Must Die have asked me to add my special brand of gently sensible fun education to this very special SILENCE! Thought Bubble 2012 Special. Listen. Gary and The Beast went to Leeds with a bag full of dreams and sat at a table for two days trying to sell those dreams. Along the way they met a host of exciting folk like Al Ewing and Keiron Gillen. They talked about the things they noticed about the table, on the table, behind the table, underneath the table and beyond the table.
These things include Cosplayers, Deadline, Crisis, Fantastic Four, Walking Dead, Roller Girls, Breakfast, Dinner and John Wagner doing star jumps.
listen.
SILENCE! is proudly sponsored by the two greatest comics shops on the planet, DAVE'S COMICS of Brighton and GOSH COMICS of London.