One of the strange blessings of the internet is its ability to serve as an external memory system.  Thoughts that would once have been lost to time if they were even lucky enough to have made it out of your head are now preserved for an indefinite eternity in places over which you have little to no control.
For example, if I want to know how I felt about Brendan McCarthy's Doctor Strange/Spider-Man comic Fever after the first issue came out in 2010, a quick google search will turn up this flouncing defense of the book, written in response to a review by Sean Collins:
Say it Vibrational Match style: Where you see "inert physicality", I see a Spider-Man who's all harsh angles and elbows being squashed, flattened out, and a Doc Strange who's at home with the harsh geometrics McCarthy conjures up.

Where you read flat pastiche, I read Spider-Man as a jerk who gets shut the hell up by the story (his words like jutting elbows –> drooping limbs), and Doc Strange as a badass who can turn exposition into information with the right gestures (verbal, physical).

Also: the mystic spider dialogue is genuinely fucking creepy, for reals, when combined with the images, yes?

In lesser hands this would be mere set-up, but this issue had a whole lot of "?something else?" working for it — that creepy wee arachnid bastard, crawling up the Vulture's back, fr'instance!  Like something from Seven Soldiers, only (yes!) far more unsettling.

I saw the biggest, most bulbous-assed spider of the year last night, sitting on my windowsill. I'm a bit of a wuss when it comes to these wee beasties, but last night, after having read Fever? I tell you, I wanted to kiss the wee fucker!

The "hey, I'm a black guy!" dialogue was a bit cringey though, pastiche or no.
Looking at the book this week, I find myself agreeing with every point but the last one.
It's not that I don't find the dialogue McCarthy gave to the African-American comedy character cringe-inducing anymore – I do! – but that Brendan McCarthy's recent Facebook comments on race make me feel ashamed the structure supporting that final sentence.
Sure, I agreed with Sean Collins' assessment of the embarrassing nature of McCarthy's throwback characterisation, but I did so in a tossed off, casual way, after five paragraphs of flame flecked enthusiasm. The implicit message being that everyone should just chill out about this racist after taste and enjoy the "septic salsa" of the comic itself.
In 2010, the story of McCarthy was that he was that of the hero freshly returned from the wasteland, ready to save the kingdom from itself.  His new work confirmed his status as a trinity of psych-pop ghosts, the faces of Brit comics past, present and future combined.  What interest could a couple of dodgy panels hold against all that?  Solo #12 remains McCarthy's late period masterpiece, but even in lesser books like Fever there are moments of astonishing beauty.  The scene in the second issue where Spider-Man steps through a portal and into a crunchy insect killing field still burns bright in the light of its own toxic logic: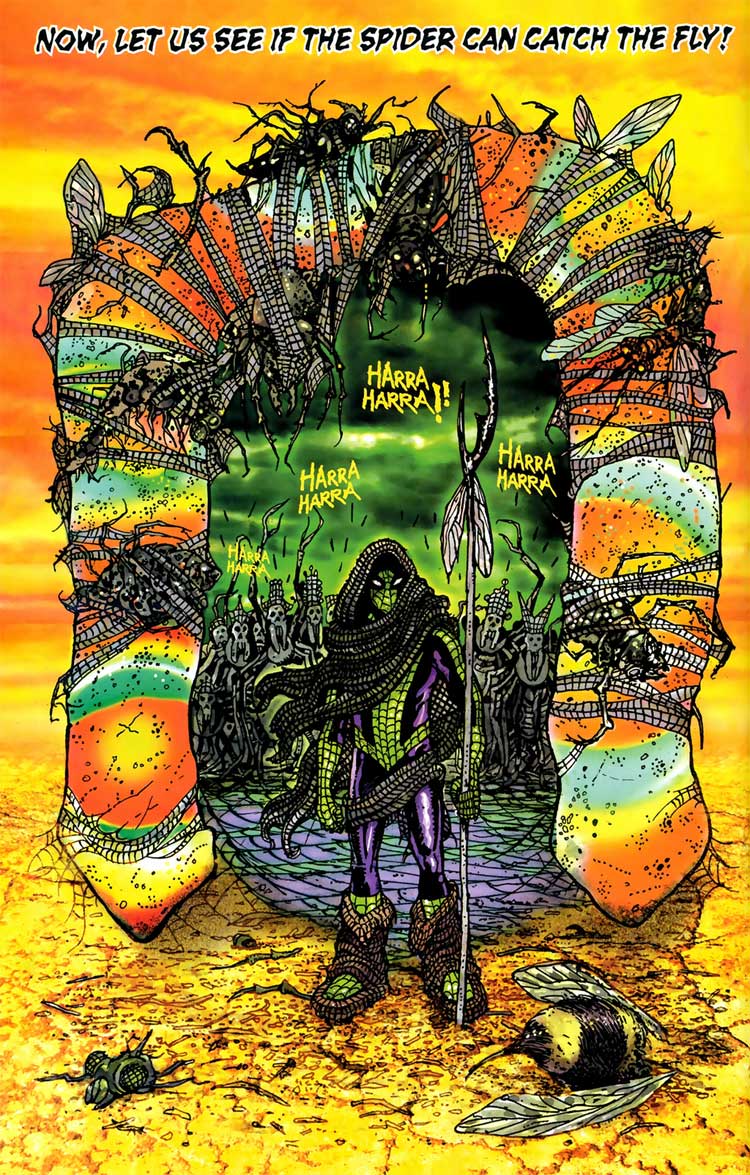 Who could argue against that sort of artistic firepower? Not me back in 2010, apparently. Click here to see how I get on in 2013!
ALTERNATIVE TITLE: WHO WILL SURVIVE IN AMERICA?!
Here's the soundtrack. You know what to do.
So, Deadpool Max then. Kyle Baker does the art,  David Lapham's on script duties.  Never mind the fact that Deadpool is a Rob "Fucking!" Liefeld character turned comedy Wolverine turned corporate ubiquity – is the comic any good?
Bloody right it is!
(Yeah, okay, it's a little bit late to write about these books as if they're a fresh discovery, I know.  As Marc Singer once said, "if you're going to review a new-release comic two weeks after it was a new release, you'd damn well better have something to talk about" – so, hey, just imagine how great this must be if I'm still willing to post it now!  On Christmas Eve!)
Find out what other secrets are stuffed in Santa's sack! You know you want to!
A weekly strip by Fraser Geesin
The book Dream Date by Tim Leopard and Fraser Geesin is available from Running Water Press or from Amazon.