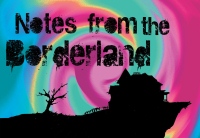 Note 4 – Empty Space: A Haunting
It's important to read new M. John Harrison novels while on holiday. No other author is able to describe with such alarming clarity the necessity of escaping yourself.
Harrison's latest novel Empty Space is the conclusion of a trilogy of science fiction novels that started with Light in 2002 and was continued in 2006′s Nova Swing.
Like both of its predecessors, Empty Space presents the reader with a future that dazzles with the romance of a thousand yesterdays: women who've chosen to be rebuilt with the "Mona" package, but who base their look on that of Marilyn Monroe; virtual fantasy lives that play out like an episode of Mad Men drained of all sex and drama (until, of course, that sex and drama forces its way on in there); covert action groups who, with their lattes and general sense of boyish intrigue, can't help but remind you of the sort of spooks you've never quite managed to catch out of the corner of your eye; Harrison manages to make all of these fantasies gleam briefly in the pages of this book.
This is an exhausted vision of the future, but it's still a vision of the future for all that, one that sees past the ever-present apocollapse and on to a possible reality that's like right now stretched out some more. Whether that seems like a hopeful vision or a dystopian nightmare is very much up to you.
What a joy it is to dance and sing…
…or so I seem to remember anyway.  This bloggy vessel has now entered the fourth decade of its journey towards oblivion, so you can look forward to it trying out its new "all whinging, all the time" persona as its mechanics starts to fail and its withered captain feels the need to overcompensate in a tragic bid for immortality.
From New X-Men: Riot at Xaviers, by Grant Morrison and Frank Quitely
But before I lose myself to that delightful journey, there's Ales Kot and Riley Rossmo's Wild Children, a comic book that couldn't feel more like a jolt from the nineties if it had come wrapped in a pair of novelty Spice Girls underpants and been delivered by a reformed Lee and Herring. Except that it's actually a lot more specific than that, because what Wild Chilren feels like is a a jolt from my nineties –  if you can imagine a version of Grant Morrison and Philip Bond's Kill Yr Boyfriend that tries to encompass all of The Invisibles, you'll probably be imagining something quite like Wild Children. Like The Invisibles, Wild Children is clearly built to be read in a circle, and if the first line of dialogue – "I still don't understand" – doesn't get this point across, there's another line on the third page to make the design even harder to ignore: "Some of you may think we're evil, but I don't think you'll miss the point this time."
From The Invisibles #1, 'Dead Beatles', by Grant Morrison and Steve Yeowell
All of which is typical of Wild Children's approach. Part story, part lecture, Wild Children is a swaggering, talky comic that positions its readers as adult hostages, drugged and held at gunpoint by the titular teens. Weapons are brandished that may or may not be weapons, speeches about the nature of reality are given, tragedy ensues.
Some people might object to being positioned this way – former wild children with fluff-encrusted blank badges in their sock drawers might find themselves wanting to be the ones giving the lecture, for example – but while I would have probably have got more out of the comic if Riley Rossmo had been given more action to draw,  the loose, unfinished quality of his line was enough to get me through a couple of reading cycles. And like I said, there's plenty of swagger in Wild Children's design.  From its carefully combusted cover on in, this is clearly the work of a couple of people who want to start something.
The only question is, what is it that they want to start, exactly?
Part one of our two part, spine chilling story,
THE TERRIBLE HAUNTING OF ANDREW AMUSING