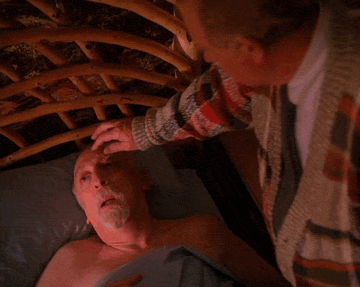 Welcome to Diane… #21
This week Rosie, Adam and Mark get tangled up in Twin Peaks episode 19, also known as The Black Widow.
When Dale Cooper handed in his badge and gun he, and we, lost more than his earthly raiment and authority. Twin Peaks lost a lightning rod, and  this week on Diane storms strike haphazardly in the fashion of everyday magic.
Ben Horne raises a monolith, Little Nicky is plagued by persistent random misfortune, and Lana Milford is bewitching. Our monitors are pointed at deep space but perhaps the messages we've been intercepting are coming from right here in the woods.
*
She guardeth the Abyss. And in her is a perfect purity of that which is above, yet she is sent as the Redeemer to them that are below. For there is no other way into the Supernal mystery but through her and the Beast on which she rideth.
The best: as in, you lot are. And we would love you to help us out: please  like, rate, review or otherwise make us famous. Cofffee and creamed corn-filled donuts for everyone who reviews us on iTunes.
The rest: subscribe to Diane on iTunes (US or UK), or follow us on Twitter and Tumblr. Find brand new episodes of Diane every Wednesday on Libsyn and this here flagrant misuse of electrons called Mindless Ones dot com.
Next episode: Can I have the check please mate?