I WAS A TEENAGE STAMP COLLECTOR I'D LAY ON MY BACK AND YOU'D STAMP ON MY FACE
There we go, that's the quote done. Now I have to do some sort of blurb. Gary Lactus here by the way. I was all excited about The Beast Must Die coming back from Croatia and Bobsy coming round to my space ship for a lovely 3 person podcast when illness and circumstance all struck at once! Let me tell you, I was all ready to give up on life when I thought, "Hey, there are more than three people who like comics and stuff" so I asked the internet. I Googled, "Pod Pals" and Kieron Gillen, James Baker, Steve Heller-Murphy and Matthew Craig fell out of my laptop almost instantly! Me and my new pals talked about things. Here is a list of them:
Witches, People Inside, Memetic, Six Gun Gorilla, X 23, X-Men, BendiXmen, Megaton Man, Aztec Ace, Reid Flemming World's Toughest Milkman, 2000AD and a whole load of other divergences.
Come join me on my interractopodical adventure…
Click to download SILENCE!#116
Contact us:
[email protected]
@silencepod
@frasergeesin
@thebeastmustdie
@bobsymindless
This edition of SILENCE! is proudly sponsored by the greatest comics shop on the planet, DAVE'S COMICS of Brighton.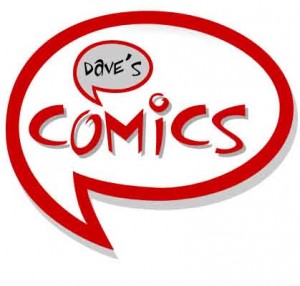 Dark Avengers #14 by Brian Bendis, Mike Deodato & Rain Beredo
The characters demonstrate the expected dialogue ticks, the speech balloons are bloated fit to burst, and the most powerful people on the planet don't kick anyone in the face or blow up any universes, but instead sit around having Important Conversations About Themselves. If you asked someone who didn't like Bendis's work to describe one of his comics this is exactly the sort of thing they would come up with. A move away from what the genre supposedly does best – ideas, iconography, adventure, action, scale – towards character psychology, character motivation, and character relationships. Read the rest of this entry »
When he woke up he thought he'd dreamed about a movie he'd seen the other day. But everything was different. The characters were black, so the movie in the dream was like a negative of the real movie. And different things happened, too. The plot was the same, what happened was the same, but the ending was different or at some moment things took an unexpected turn and became something completely different. Most terrible of all, though, was that as he was dreaming he knew it didn't necessarily have to be that way, he noticed the resemblance to the movie, he thought he understood that both were based on the same premise, and that if the movie he'd see was the real movie, then the other one, the one he had dreamed, might be a reasoned response, a reasoned critique, and not necessarily a nightmare. All criticism is ultimately a nightmare, he thought as he washed his face in the apartment where his mother's body no longer was.
– Roberto Bolaño, 'The part about Fate', p.234, 2666
This was originally notionally a piece called 'Justify yr pull-list', but I can't seem to think of a more absurd enterprise than that, on reflection.