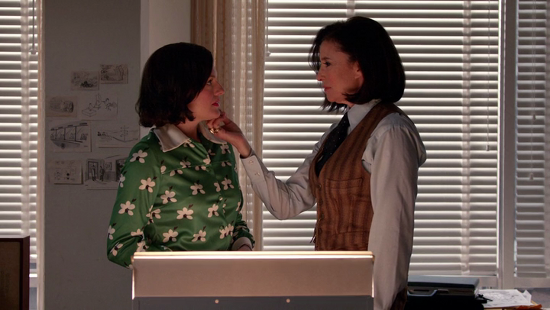 Pima Ryan, an emotionally opaque high end photographer with a control freak bent, was entertaining enough without delving into themes or subtexts. Her detached interest in her subjects both on and off camera, almost as though she were looking through the bars at animals in the zoo, was a real pleasure. As was her bland expectation that she should play a larger part in putting together the Cinzano advert for which her work had been commissioned. Most amusing of all though, was the way she set about trying to manipulate her SC&P contacts, Stan and Peggy, into making her a more permanent fixture.
Stan was easy pickings. The character's ongoing concern that his lack of photography chops will make him redundant was transparent right from the off – and Pima pounced immediately. First by prodding at his anxieties, then by confirming them. Only after this, when he was at his most vulnerable, did she fuck him. Not long afterwards Peggy was subjected to a slight variation on this mind-game, but this time with Pima deploying Peg's fear of being alone against her. Needless to say it didn't work. Later, when Peggy caught wind of what happened from a boastful Stan the whole thing backfired, Pima's seduction techniques called out for what they were, a cheap hustle to get more work, and any possibility of future freelancing was nixed for good. So as I say, all of this made for a very enjoyable 45 minutes, however it was also illuminating. Because Pima's real textual function apart from highlighting the concerns of Mad Men's supporting cast, was to hold a candle up to Don's behaviour, a guy who's a better hustler than she could ever hope to be.
What makes Don such a good liar? He believes his own bullshit. So when he tracked Diana down, we couldn't blame her for being taken in. The difference between us and Diana though, is that we've seen and heard it all God knows how many times before. The sorrowful looks, the illusion of deep communion he somehow conjures after having spent one night with his mark. All that sad fucking music. Urgh. That music doesn't mean what Don thinks it means, because its not about the beautiful tragedy of two lost souls finding each other, not anymore. It's about hopelessness. The worrying prospect that Don will never find a way out of his cycle, a stream of relationships doomed to fail before they start, all because he can't relate to his lovers as living, breathing people. Which is why Megan and Sylvia feature in this episode of course, to remind us where Diana and Don will wind up if by some outside chance they make a go of it.
It's really interesting actually, to see what time can do to Don's old tricks. Even though at the time many people saw Don's proposal to Megan for what it was, me included, at least back then the scenes between the two of them felt romantic, albeit in an adolescent way. Now there's very little charge whatsoever. Don's as eloquent as he ever was, his words perfectly timed, the content ostensibly moving, but when he tells Diana she "isn't the first thing to come along", that he's "ready", we know there's nothing underneath. Nothing but the cheap hustle of, in Megan's words, "a ghoul" looking to feed off a new prospect – just as Pima fed off Stan and Peggy.
Both Don and Pima put on a good show, but as Peggy and Megan point out it's all bluff. Just a suit (which, no, Don doesn't sleep in!), a swanky apartment and the whiff of soul. There's the illusion of substance, that there's something more going on, and oftentimes people fall for it, but… not this time. When Don finally gives Diana some breathing room, the spell wears off and the product is revealed for the tawdry thing it is. Two people in a room sharing what exactly? Some shared pain, some grief. Nothing to build a life on. A quick fuck in the dark, that's all it was.
*Peggy Olson, New Business