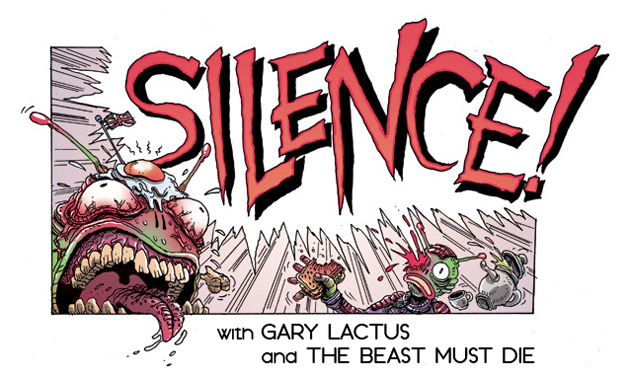 WHY DO WE STILL LIVE HERE, IN THIS REPULSIVE TOWN?
Blah blah blah fleshbags, Disembodied Narratorbot X-15735, podcastic postulations etc
BZZZZZZZZZZZZ>CLICK
<ITEM> No Silence! News, but much jinglage, in thanks to the financial resuscitations of the many SILENCERS out there. Beastman & Lactenberg come in from the cold next week, yes?
<ITEM> Sponsorship Special – The Beast Must Die (in his human skinbag form, Dan White) will be at this year's Free Comic Book Day at Gosh! Comics.
<ITEM>Wade up to your knees in comics in the Reviewniverse with 2000AD, Indigo Prime, Saga, Wolverine,    Batman, Avengers Arena, Walking Dead, Secret Service, Constantine, Hawkeye, X, Sex and a special consideration of giant cosmic toga-wearing baby, The Beyonder.
<ITEM> Then, wade a bit further out, till the broiling waters of the Hyperrevieniverse tickle your conkers…Avenging Spiderman, Age of Ultron, Avengers Assemble, Saucer Country, Thor, Uncanny X-Men and Fantastic Four.
AND NO MORE! So get out of here, go back to your flesh-pens and weep. Leave Disembodied Narratorbot X-15735 to his vintage basic-coding pornography and printer-ink martinis…
SILENCE! is proudly sponsored by the two greatest comics shops on the planet, DAVE'S COMICS of Brighton and GOSH COMICS of London.