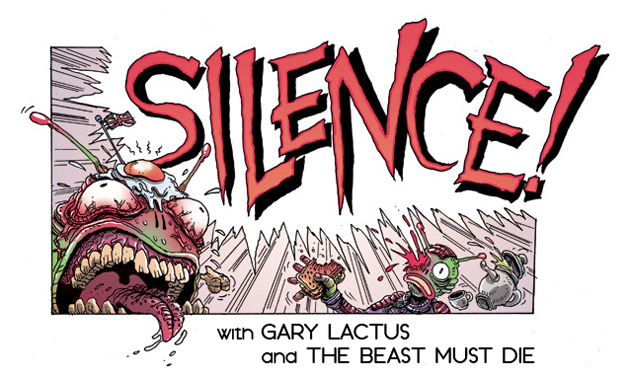 SUCK MY FAT ONE, YOU CHEAP DIME-STORE HOOD!
Lo! What light by yonder window breaks? It is the irradiated glow of the small town that Disembodied Narratorbot X-15735 has just obliterated with his I-Beams and patented Molecular Prolapsotron 5000! And all before breakfast? Disembodied Narratorbot X-15735 is a busy bee, make no mistake! But the fleshy ones did not come here to hear my genocidal grandstanding – no! They came here for the aural assault & battery charge that is….SILENCE!
<ITEM>The Silence! News arrives like a mugger in the park at night, makes off with your valuables but leaves you with ALL the hot headlines. Beastman & Lactenberg INFORM.
<ITEM>Shhhh. Quiet! Or we will wake the fledgling Reviewniverse. TOO LATE IT'S AWAKE!!! Look into it's eyes and you will see…Nemo: Heart Of Ice from Uncle Alan and Brother Kevin, Avengers: Age Of Ultron from Brian Ultron Bendis, Glory, Dial H, Red She-Hulk, The Answer, Justice League, Fashion Beast, the Walking Dead One-Shots, Legend Of The Dark Knight, Winter Soldier, and Building Stories (kinda). Oh, and Gary Gysin (the poet of our generation) reviews Joe Casey's Sex.
Okay, so that's that. Now Disembodied Narratorbot X-15735 has to do the washing up and think sad Morrissey-thoughts, so be off with you fleshy scamps. Happy listening!
SILENCE! is proudly sponsored by the two greatest comics shops on the planet, DAVE'S COMICS of Brighton and GOSH COMICS of London.