I WAS A TEENAGE STAMP COLLECTOR I'D LAY ON MY BACK AND YOU'D STAMP ON MY FACE
There we go, that's the quote done. Now I have to do some sort of blurb. Gary Lactus here by the way. I was all excited about The Beast Must Die coming back from Croatia and Bobsy coming round to my space ship for a lovely 3 person podcast when illness and circumstance all struck at once! Let me tell you, I was all ready to give up on life when I thought, "Hey, there are more than three people who like comics and stuff" so I asked the internet. I Googled, "Pod Pals" and Kieron Gillen, James Baker, Steve Heller-Murphy and Matthew Craig fell out of my laptop almost instantly! Me and my new pals talked about things. Here is a list of them:
Witches, People Inside, Memetic, Six Gun Gorilla, X 23, X-Men, BendiXmen, Megaton Man, Aztec Ace, Reid Flemming World's Toughest Milkman, 2000AD and a whole load of other divergences.
Come join me on my interractopodical adventure…
Click to download SILENCE!#116
Contact us:
[email protected]
@silencepod
@frasergeesin
@thebeastmustdie
@bobsymindless
This edition of SILENCE! is proudly sponsored by the greatest comics shop on the planet, DAVE'S COMICS of Brighton.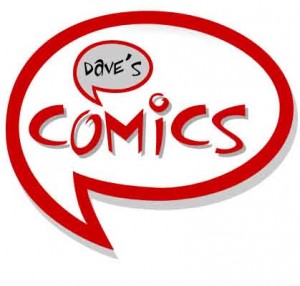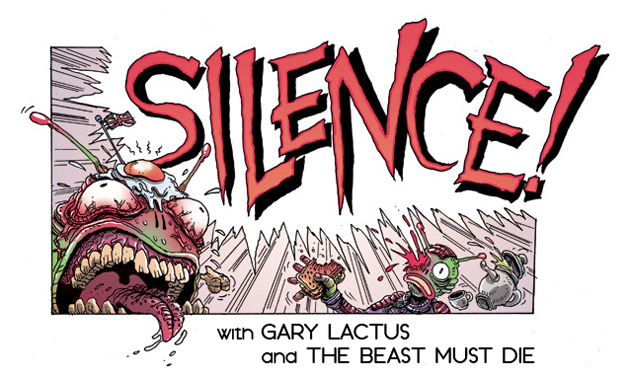 I'M NOT GOING TO DEBATE YOU, JERRY! I'M NOT GOING TO DEBATE!
(The scene opens, as Disembodied Narratorbot X-15735 hangs in notion-space, a burning neon digital star of impeccable cyber-breeding)
We cut to: SILENCE!
The 3-d camera prowls across a vibrant landscape of shifting wordscapes and roaming flocks of ideaforms. The sky is burning vermillion, dappled with thought-bubbles buoyed on an endless layer of hot air.
With a triumphant scream of raw pulsing data, Disembodied Narratorbot X-15735 bellows:
"<ITEM> Sponsorships, jinglehoods and the SILENCE! News with droning human newsbags Danny Beastman & Gary Lactenberg.
<ITEM> The Reviewniverse is breached and The Beast & Lactus storm it's ramparts. It's a gimpgasm of comics talk about 12 Reasons To Die (Big Ghost!), Dream Merchant, Dream Thief, Fall of the House Usher, Legion Of Superheroes, Wolverine & The X-Men, Red She-Hulk, Regular Show, Wonder Woman, Savage Wolverine, Cable & The X-Force, X, Nova, Age of Ultron, FF, Prophet, Uber, Black Beetle Fatale and 2000ad.
<ITEM> Thrilling new feature Reader I Couldn't Finish It has Green Arrow and Supergirl.
<ITEM> The show really gets going with impassioned discussion of Eurovision and Tony Hart.
(Disembodied Narratorbot X-15735 exits, chased by bear…)
SILENCE! is proudly sponsored by the two greatest comics shops on the planet, DAVE'S COMICS of Brighton and GOSH COMICS of London.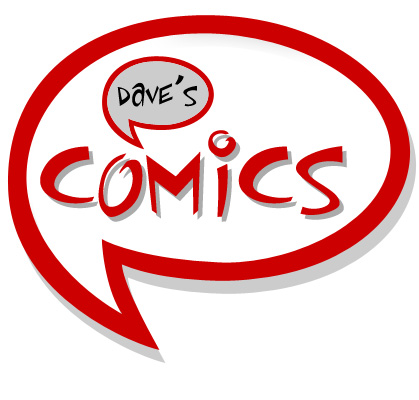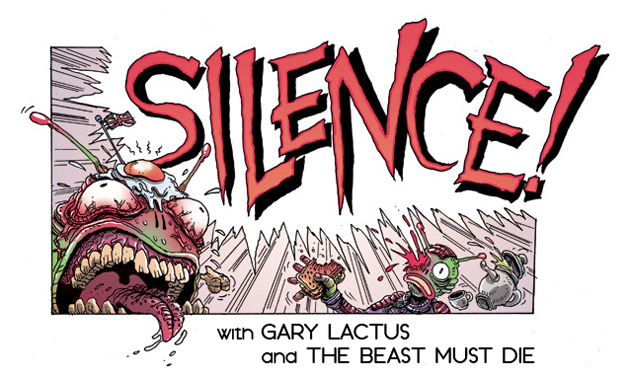 WHY DO WE STILL LIVE HERE, IN THIS REPULSIVE TOWN?
Blah blah blah fleshbags, Disembodied Narratorbot X-15735, podcastic postulations etc
BZZZZZZZZZZZZ>CLICK
<ITEM> No Silence! News, but much jinglage, in thanks to the financial resuscitations of the many SILENCERS out there. Beastman & Lactenberg come in from the cold next week, yes?
<ITEM> Sponsorship Special – The Beast Must Die (in his human skinbag form, Dan White) will be at this year's Free Comic Book Day at Gosh! Comics.
<ITEM>Wade up to your knees in comics in the Reviewniverse with 2000AD, Indigo Prime, Saga, Wolverine,    Batman, Avengers Arena, Walking Dead, Secret Service, Constantine, Hawkeye, X, Sex and a special consideration of giant cosmic toga-wearing baby, The Beyonder.
<ITEM> Then, wade a bit further out, till the broiling waters of the Hyperrevieniverse tickle your conkers…Avenging Spiderman, Age of Ultron, Avengers Assemble, Saucer Country, Thor, Uncanny X-Men and Fantastic Four.
AND NO MORE! So get out of here, go back to your flesh-pens and weep. Leave Disembodied Narratorbot X-15735 to his vintage basic-coding pornography and printer-ink martinis…
SILENCE! is proudly sponsored by the two greatest comics shops on the planet, DAVE'S COMICS of Brighton and GOSH COMICS of London.