HEY PUT IT DOWN, THAT'S DAD'S SWORD!
It's a Very Special Episode! The Beast Must Die is flying solo, with an episode-length exegesis on the myriad pleasures and horrors of the fabled Prestige Format Comic. It's an epic for our times for sure, and when you look at these times that tells you everything you need to know about this epic…
<ITEM>Okay gird your girdles, stop your grinnin' and drop your linen…here we go. The Beast talks about Batman: Gotham By Gaslight, Batman: Holy Terror, Batman: Full Circle, Batman: The Scottish Connection, Batman: Mitefall, Batman: Year 100, Batman: Manbat, Batman: The Cult, Batman: Run Riddler Run, Robin 3000, World's Finest, Catwoman Defiant, Cosmic Odyssey, Legend Of The Green Flame, Blackhawk, Deadman: Love & Death, Deadman: Exorcism, The Horrorist, The Golden Age, Hawkworl, The Books of Magic, Martian Manhunter: American Secrets, Adam Strange: The Man of Two Worlds, Twilight, OMAC, Justice Inc, Black Orchid, The Prisoner: Shattered Visage, Breathtaker, Black Mask, Gilgamesh II, The Nazz, My Name Is Chaos,  Clash, The Psycho, Skull & Bones, Tempus Fugitive, The Griffin, Grendel Vs Batman… sweet christmas… I need a lie down.
<ITEM> Normal business resumes soon.
@frasergeesin
@thebeastmustdie
You can support us using
Patreon
if you like.
This edition of SILENCE! is proudly sponsored by the greatest comics shop on the planet, DAVE'S COMICS of Brighton. It's also sponsored the greatest comics shop on the planet GOSH! Comics of London.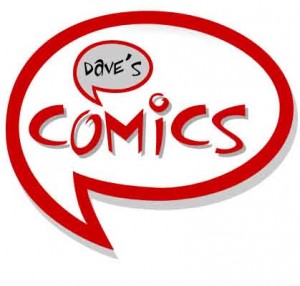 WE'RE GOING IN!!! IT'S THE RETURN OF THE BIG DOGS! WOOF WOOF!!!
Wait… sorry, where am I? Who are you people? WHERE AM I!?
Welcome then weary mortal to the 8th soul-scorching episode of the podcast that the internet is calling 'a podcast about comics'. The Beast is back in continuity and living it up as super-powered *ahem* teenager in the 30th Century. Lactus, meanwhile, unveils his mighty Rock EPIC 'Who He Is, And How He Came To Be'. Quake weaklings!
After the abortive SILENCE! news they hurl themselves face first into the morass of weekly comics, taking in Snyder and Capullo's Owl Comics no.7, Dominique Laveau Voodoo Child no.1, the always swell Prophet (with a minor Jonathan Lethem digression) , Secret History of DB Cooper (again), Justice League Jeans and the Jeansification of Captain Marvel, Wonder Woman no.7, Amazing Spiderman something-or-other, The absolutely awesome sounding Stan Lee's Mighty 7 (REALITY!). Lactus reaffirms his love of superhero dinners once again and the Beast compares Rocketeer Adventures to Band Aid. Then, in You Should Have Known Better, they tackle Mark Millar's latest pitch Supercrooks. Following that The Beast froths about his bargain-filled week and talks up Chaykin & Garcia Lopez's Twilight, Carol Swain and the simple beauty of Schulz's Peanuts (always with his finger on the pulse this Beast!). Factor in a trawl through next week's comics shizzle and you have a fat fist full of comics meat shoved right in your facehole. Suck it in you filthy rabble.
Also click below for the SILENCE! Gallery…
[audio:https://mindlessones.com/wp-content/uploads/2012/03/silence008.mp3]
Click to download
BRAKKA-DAKKA-THADOOOM!!!
Two  amazing podcasts!  One explosive post!  All these comics and more!
In #10 we look at the Marvel Heroes Power Lucky Bag that we bought in the pub along with a host of publications found in the recent reordering of the vault.  We select/reject gems/germs like Ultimate Fantastic Four, Mystery Men, Duplex Planet, A1, Hup, and more!
With #11 we review some recent comics including Wildstorm's Red Herring#1, Marvel's Lockjaw and the Pet Avengers, DC's Red Circle: Inferno and Doom Patrol #1. Then, lucky listener we look at some old copies of Buster from 1980 which Tymbus goes on about at such tedious length I've had to put a musical bed underneath it to sweeten the shitty pill.
Click for more pics and a whole episode of the brilliant Leopard from Lime Street…