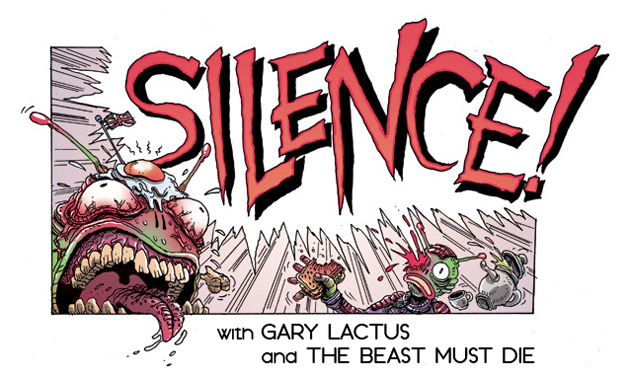 I'LL SHOW YOU THE LIFE OF THE MIND! I'LL SHOW YOU THE LIFE OF THE MIND! 
AAAAAAAAAAAAAAAAAAAAAAAAAAAAAAAAAHHHHHHHHHHHHH!!!!!
Ha ha! Hello SILENCERS! Under the brand spanking new SILENCE! banner from celebrity orc-peddlar James Stokoe, you will find the latest hot shot comics rot from notorious 4-colour sex pests The Beast Must Die and Gary Lactus. Quake, then, frail ones at SILENCE! no.19…special early morning edition.
A slightly frazzled and sleepy pair take on the release of the recent Dredd trailer for SILENCE! news, then the coffee starts kicking in and they barrel into some full-blooded discussion of comics, including 2009 the third volume of Alan Moore and Kev O'Neill's League of Extraordinary Gentlemen: Century series. Also spoken of: Saga no. 4, Hellblazer (Biz + werewolves), Secret history of DB Cooper no. 4, Journey Into Mystery, AVX something or other, and Daredevil. The Beast brings back 'You Should've Known Better' with his take on Tony Daniels' Detective Comics and then things peeter out as an over-excited Lactus realises he got up way too early.
It's an hour and ten minutes of comics shpoonk, and it comes in a handy ear-pill sized format. So jump up, jump up and get down with the comics podcast that the world believes might change everything for everyone….SILENCE!