Über #0-10, by Kieron Gillen, Caanan White, Joseph Silver, Kurt Hathaway and Digicore Studios
Kieron Gillen let the mask slip a little at the start, when he positioned this comic as the anti-ASS, as a refutation of Superman's central place in 20th Century history, in a spiel designed to mark Über out as being a comic free of the sort of self-commentary that defines so many modern superhero comics.  "It's probably the least ironic book I've ever written," he said:
It has nothing to say about superhero comics. In fact, its utter negation of that genre-criticism may be the closest it comes to commentary. I've read many books which seem to labour under the delusion that the conception of Superman was the most important moment in the 1930s. This isn't one of them.  My only interest is in how I can use this genre's conceit to create metaphors to explores aspects of WW2…
This comment, buried as it was in the mix of metatextual soul searching and historical gamesmanship of Über #0's backmatter, provides the key to understanding the uncanny dynamics of this comic.  In attempting to ward off irony and meta-commentary, Gillen negated any possibility of this comic escaping the superhero meta-conversation. Which, it turns out, is actually quite fitting in the end.  Carefully researched as Über might be, with everything from troop movements to weather conditions having been taken into account, this WW2 with superheroes fantasy is still a superhero fantasy, and as such it manages the odd trick of destroying both history and genre conventions and reinforcing them at the same time.
In contrast to the carefully composed alternate reality of All Star Superman – with its suggestion of a world where greed, imperialism and mortal panic exist but are never the only options – Gillen and White present an alt-modernity in which the foundational horrors of the mid 20th Century era are all there but louder.
IT IS HAPPENING…AGAIN…
IT IS HAPPENING …AGAIN…
…oh and didn't we all have the most super time when Lolly and Quincent drove down to the coast and we all got monstrously drunk on cucumber gin and then Freddy got his todger rammed into the knot of an oak tree and we all roared with laughter as the poor blighter had to be yanked like the rope in a ruddy tug o' war and then Barrance and Hoighty turned up with that dreadful spiv Mussie Cribbins and we had to endure bloody hours of stories about the halcyon russet flecked autumn days at St Pepworth's before Tabitha stood up announced that she was going for a swim and threw herself out the blooming window straight onto Otto and Spinks who'd passed out earlier after gorging themselves on the pork pies and drinking all the spiked ginger beer…and then we all climbed into Wimper's beaten up old banger and piled back to the old digs for one last round of saucy tennis and then the whole glorious mess of a weekend came tumbling to a close. Eventually it was just Lolly, Tabs and me, Disembodied Squiffybot X-15735 passed out in the bath together snoozing away and dreaming of less hideous times. Times when we'd all gather, freshly bathed, in front of Gramps' warming fire, the radiograph tuned into the happy droning tones…of SILENCE!
<ITEM> A simply super time is had as we dart through this week's admin, with only the briefest dalliance with diversion in the form of a consideration of Potsy Webber, Ralph Malph, and Captain Caveman and The Teen Angels.
<ITEM> Glad tidings abound as Gary Lactus & The Beast Must Die take a leisurely sojourn into the glades  of the Reviewniverse, taking in the sights, smells and tastes of such fine delicaces as Deadly Class, Black Science, Three, Revenge, jonathan Woss, Vandroid, Dazed & Confused, The Wake, Mega Force, Mike Beck, Wolverine & The X-Men, Fantastic Four, Sergio Aragones' Funnies, Hawkeye, Mighty Avengers, Superior Spiderman, Lois Lane, MIND MGMT and Walking Dead.
<ITEM> Time for a quick recommendation of both Inside No.9 and Stewart Lee's Comedy Vehicle, then it's all over, bar the ROFLing….
….and then Dancy dropped by to let us know that his Aunie's house was going to be free for the week, and the whole ruddy palaver started again…
US Naomi Campbell Face
Contact us:
[email protected]
@silencepod
@frasergeesin
@thebeastmustdie
This edition of SILENCE! is proudly sponsored by the greatest comics shop on the planet, DAVE'S COMICS of Brighton.
It's also sponsored the greatest comics shop on the planet GOSH! Comics of London.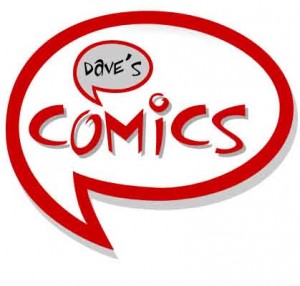 WE ARE THE 801, WE ARE THE CENTRAL SHAFT
Hello fleshbags. It's Disembodied Translatorbot X – 4451G I 'm the cousin of Disembodied Narratorbot X – 15735. I'm afraid Disembodied Narratorbot X – 15735 could not it due to illness so I'll be there ! Excuse my English is not so great – I hope I'm right! Welcome to another edition of SILENCE!
The two most lovable rascal Gary Lactus and The Beast Must Die returns with more views of champagne and jokes comics ! Rejoice .
<item> Management, talk about at the top of the program through sponsorship , a discussion of his upcoming appearance at the Thought Bubble in 2013 and Gary appeared in one of the next Dr Who based comedy night ! And do not forget to tune in The Beast Must Die ( Dan White in his alter ego ) interviewed by Alex Fitch of Resonance FM within its Panel Borders panel program ( full interview here)
<item> Then we take a trip to Reviewniverse the boys discuss the best recently released Best of Milligan & McCarthy Collection .
Then <item> business as usual with cartoon above Legends of the Dark Knight, After Life with Archie , Zero , Hawkeye , Uncanny X -Men, Avengers , Three, Fantomex MAX and more fun .. .
Then <item> The Beast Must check some of the younger children Comics issues , see Mega Man and Sonic , Spongebob Comics , Simpsons, and Herobear.
Well , I hope you like it! I really enjoyed that it was for my cousin got lost when he was sick. I hope to see you soon!
Contact us:
[email protected]
@silencepod
@frasergeesin
@thebeastmustdie
This edition of SILENCE! is proudly sponsored by the greatest comics shop on the planet, DAVE'S COMICS of Brighton.
It's also sponsored the greatest comics shop on the planet GOSH! Comics of London.