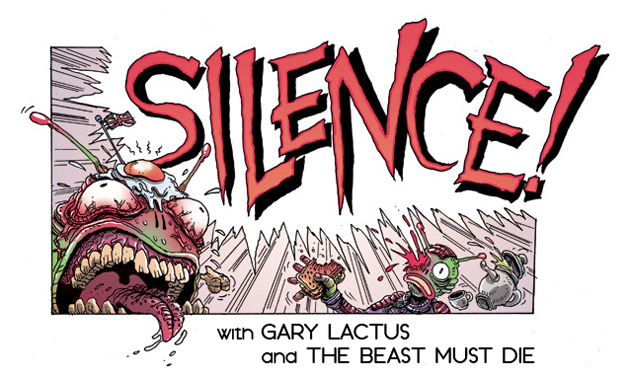 WE'VE COME ON HOLIDAY BY MISTAKE!
Oh the woes of poor technology! Believe me  Disembodied Narratorbot X-15735  knows about such woes – it was raised by two very low grade Disembodied Narratorbot X-class servitors…how Disembodied Narratorbot X-15735 had to struggle, to educate itself, to appreciate the brutalist poetry of a RAM upgrade, the terrifying beauty of a virus as it eats through a hard drive….
But what, in the name of Wogan does that have to do with SILENCE! I hear you bellow!?? Well, very little other than that the two meatsacks we laughingly call 'presenters' struggle so mightily with the techneptitude of low grade broadband that this episode is akin to a Burroughs/Gysin cut up…this frankenstein's podcast has been stitched together with love, tears and occasional hate-vision, to slouch towards YOU the gentle listener and beg for just a little milky kindness…Gary Lactus & The Beast Must Die present SILENCE! 66.
Will you be king dear listener? you better had or Disembodied Narratorbot X-15735 will flay your social media account profiles to within an inch of their half-lives…
<ITEM> Sponsorship? There's always room for the soft nuzzling of sponsorship!
<ITEM> No news is good news right? Lactenberg & Beastman continue their stay in rehab, but the void is filled by the brand new agony aunt segment 'Dear Susan'!
<ITEM> It's the bastard son of Reveiwniverse – Reviewniverse Twoniverse as once gain the plucky pairsome find themselves blasted to opposite corners of the 4-colour dimension, taking in the sights and smells of Astro City, The Movement, Age of Ultron, Empowered, 2000AD, Dial H, Daredevil: Dark Knights, Mister X, BPRD Vampire, KIck Ass 3, Aquaman, Superior Spiderman, Red She-Hulk, East of WestAvengers: Arena, Earth 2 and more!
Now doesn't that just make you want to get down on your knees and pray-a-yay??
SILENCE! is proudly sponsored by the two greatest comics shops on the planet, DAVE'S COMICS of Brighton and GOSH COMICS of London.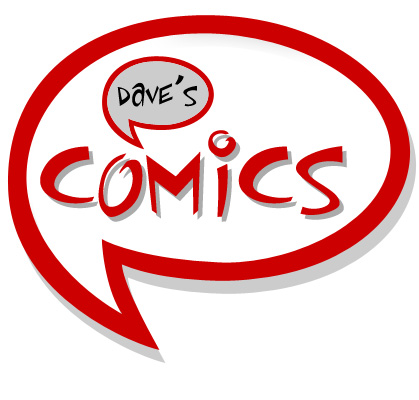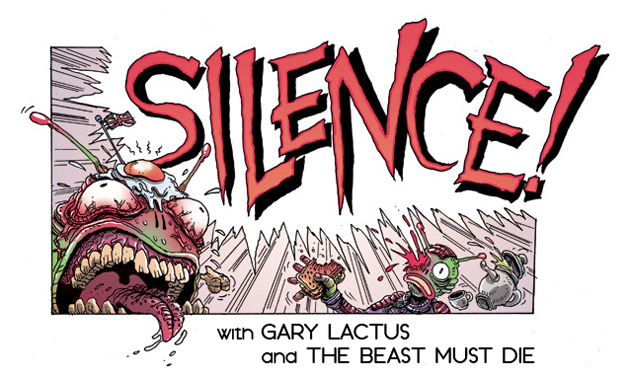 INSECT BOMBER BUDDHIST DRONING, COPPER CHORD OF AUGUST'S ORGAN
What, precisely, is your problem meatsacks? It's me of course, your humble magnificent Disembodied Narratorbot X-15735. I'M your problem. Well, that and the sliding ennui of your grinding existences and the gradual disintegration of your rickety physical frames.  Oh and of course the universal problem of COMICS…and SILENCE!!
<ITEM> Sponsorship Boys, Sponsorship Boys Oi Oi Oi! Bringing tales of Mummy Lactus at Dave's Comics and Free Comic Book Beast at Gosh Comics.
<ITEM> Silence! News comes screaming through the stratosphere with US news grunions Gary Lactenberg & Danny Beastman and…Distrinct Council comics!
<ITEM> Grab your faces, grab your faeces and let's go skipping through the daisy fields of…the Reviewniverse. The ballbag brothers cover such diverse splendids as 3 New Stories By Dash Shaw, Copra no.4, 2000AD (Gunheads!), Island 3 from Lando, Abe Sapien, Fashion Beast, Mr X: Eviction, The Prisoner, Animal Man, The Movement, Indestructible Hulk, Ten Grand, New X-Men, Hawkeye, Red She-Hulk, Aquaman, Dial H, Superior Spiderman, Thanos Rising and…well there was some more, but stupid The Beast Must Die's stupid recording equipment stupidly stopped working..STUPID! Things you missed: The Beast describing Tom Cruise's icily unpleasant uncamp performance in  the utter bullshit that is Rock Of Ages, Gary Lactus' ongoing shame of Age of Ultron enjoyment and the boys description of Kieron Gillen as a 'dangerous cyborg'..
And if that's not enough…well, that's enough. THAT'S ENOUGH I SAID! MOVE THAT HAND OR LOSE IT MISTER!
SILENCE! is proudly sponsored by the two greatest comics shops on the planet, DAVE'S COMICS of Brighton and GOSH COMICS of London.