LISTEN TO THIS I'LL TELL YOU ABOUT THE HEARTACHE. I'LL TELL YOU ABOUT THE HEARTACHE AND THE LOSS OF GOD

<ITEM> A girl was sick on the bus on the way home!
<ITEM> It's OK! I reached my stop before the stench got too overwhelming…
<ITEM> And it gave me something to start this post with, this post wot's all about SILENCE!#79 innit
<ITEM> bobsy's recent squat on Gary Lactus' spaceship comes to an end this week so the boy's go full blub and do some shoutouts to important chums and some other Mindless/Silence housekeeping before
<ITEM> Our tanned and rested bro (sorry for calling you bro) Beast Face Ghost Must Die Killah sends us a lovely message from beyond Bali and demands your listener love else he might not return – SILENCE! dies at dawn unless you touch him on the winky!
<ITEM> We spend a few mins flicking off bouncing Belgian Brecht Evens' marvelous The Wrong Place (Graphic Novel! Not For Kids etc!) before shambling rudely into the Reviewniverse, where we have a good old look at
<ITEM> In no particular order: Batman Black & White #2, The Witching Hour one-shot, Hinterkind #1, Trillium #3, Solid State Tank Girl #4 (comic of the week btw), Marvel Knights Spyider-Man #1, Forever Evil #2, Swamp Thing #24, Batwing #24, Superior Foes of Spyider-Man #4, Iron Man #16, All New X-Men #17, Daredevil Dark Nights #s4 & 5, Infinity #2 and then a few of the week's other floppies, but we rattle through them quite quickly.
<ITEM> Then Gary waves a lace hanky at bobsy as he wishes a fond farewell to – – yeah not really it's fine you'll enjoy it. Back next week with the big Beast!
<ITEM> Peace out cheers yo
click to download SILENCE!#79
Contact us:
[email protected]
@silencepod
@frasergeesin
@thebeastmustdie
@bobsymindless
This edition of SILENCE! is proudly sponsored by the greatest comics shop on the planet, DAVE'S COMICS of Brighton. This was bobsy's last time in the spaceship for a while so we (well, he) (well, me) went full swears on this, blue air all over the fucking shop, sorry Steve, love you X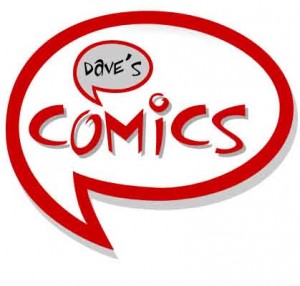 Oh, and GOSH!