FOXHEADS STALK THIS LAND...
Disembodied Narratorbot X-15735….LIVES!!
Wakey-wakey fleshy ones! It's time for your weekly comics suppository, SILENCE! After their blazing tour of ONE comics convention, Gary and The Beast settle into their respective grooves, cheeks a-quiver. Thank you yes,
After the ritual disappointment that is the SILENCE! News (with added Alan Rickman), the pair clamber aboard the slow-moving, wheezy old comics steam engine. Poop Poop! The Reviewniverse features top opinion nano-cloudforms about..
<ITEM> the new AMERICAN JUDGE DREDD COMIC…why I oughtta…
<ITEM> Captain America in Dimension Z (X actually), Inexhaustible Hulk from Waid and Yu (no, not you, YU! HA HA), Daredevil (hole is goal, yes), Hawkeye (no A-Ha jokes sadly), Clone, Comeback (what begins with C?), Conqueror Worm from Boobs Corben, Frankenstein Alive! Alive (o)! from comics sexform Bernie Wrightson, Dark Horse Presents (Dark Horse presence?), Number 13, Wonder Woman (it's a punderful life HA HA), Justice League (hunt the Super Sausage), Spiderman and Iron Gland, Wolverine & The X-Men, Rocketeer and Steed & Ms Peel…phew! Disembodied Narratorbot X-15735′s conceptual head is spinning. He is going to be sick and it will be a 4-coloured yawn.
The Silent Question comes from Archie & The Punisher, and the answers include Seth, Modulok and Death's Head.
All this plus nothing more!
Except for James Lawrence's Dangerine
Thank you fleshy ones. Hello. Hello. It's good to be back, it's good to be back. Hello.
SILENCE! is proudly sponsored by the two greatest comics shops on the planet, DAVE'S COMICS of Brighton and GOSH COMICS of London.
Share on Facebook
The Vulture was the first rogue Zom and I ever discussed giving the once over, long, long before Mindless Ones was even a glint in his eye – years ago in fact – so it seems a bit weird that we're only just now getting around to Mr. Toomes. I think of all the Rogues he's the one crying out for a bit of understanding – perhaps even a teensy makeover – and it feels really good to get stuck into him now. Because the Vulture is spooky as fuck really, and it's a crime nobody's really noticed or taken advantage of just how unpleasant this guy actually is.
I suppose Peter Parker's (like Clark Kent's) life can be reduced to two distinct stages: High School Spidey and Big City Reporter Spidey. Whenever we think of Spiderman the eternal teenager is always present, simply because the 60′s spider-mythos is so strong. Essentially, the character has never managed to shake off all that angsty moaning and groaning, inspite of landing a fantastic job, marrying one of his childhood sweethearts and finally achieving sexytime. As Zom's pointed out, like a teenager, he kind of enjoys playing the victim. The S&M dynamic is very strong between Spiderman and his enemies, but why do they lust after him so violently? What makes them want to play the dom, the aggressor? Is it simply because he's asking for it – which I'm sure it sort of is – or is something else at play here? Do they covet that youthful physique, just crying out to distorted, rent, violated? Is Parker the ultimate clean and proper surface – the supreme canvas – for Kraven's tusk-knives, the lizard's lashing tongue and Electro's scorching, cracking, death-heat? It's hard to put your finger on, however there's something of the brutalising abusive adult about the spider-villains. It's like they want to carve their petty hatreds, their insecurities and uglinesses into Spideman's flesh. His soul. They want to see him ravaged as they have been.
Especially the Vulture.
Why?
I always say this, but take a look at him.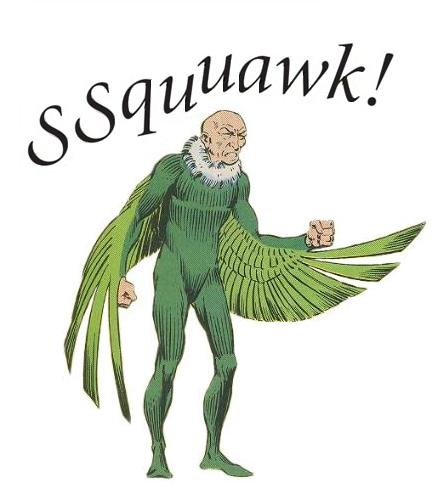 Share on Facebook
I don't know if it's a memory or if it's a wholly original invention (something I seriously doubt), but whenever I think of Kraven this scene plays out in my mind:
PANEL 1
HIGH ANGLE. A GLOOMY BUT LAVISH AND HUGE, WOODEN PANELLED CORRRIDOR, ITS WALLS ADORNED WITH STUFFED AND MOUNTED HEADS OF ANIMALS – BOARS, LIONS, TIGERS, CROCODILES, ETC EXTENDING INTO THE DISTANCE. AN ENORMOUS DISTORTED SHADOW DRAPES ITSELF ACROSS THE FLOOR AND THE SNARLING, PETRIFIED BEAKS, MUZZLES AND MAWS. WE CAN'T GET A CLEAR HANDLE ON WHO'S CASTING IT, BUT IT'S EMERGING FROM OUTSIDE THE PANEL
PANEL 2
POV.CLOSER IN ON THE SEVERED HEADS AS WE MOVE THROUGH THE CORRIDOR. ANIMALS GET STRANGER, MORE ALIEN. NOTHING WE RECOGNISE. MYTHOLOGICAL. MONSTERS. IS THAT A GORGON? IS THAT A VAMPIRE? FROZEN, LIFELESS EYES – RED, GREEN AND YELLOW – TWINKLE LIKE MARBLES IN THE DARKNESS.
PANEL 3
ANGUISHED HEADS OF MEN AND WOMEN CAUGHT IN THEIR DEATH GRIMACES.
PANEL 4
AND NOW B LIST SUPERHEROES AND SUPER-VILLAINS. THIS IS WHERE THEY GO WHEN THEY DISAPPEAR OFF THE MAP. ONE'S POWER, EVEN IN DEATH, IS STILL TURNED ON: HIS EYE-SOCKETS AND MOUTH BLAZE WITH ENERGY, HIS FACE CONTORTED IN A FIERY BLUE SCREAM. EMPTY MOUNT COMING INTO VIEW ON EDGE OF FRAME.
PANEL 5
STILL POV. CAMERA RESTS ON EMPTY GOLDEN MOUNT ENGULFED IN THE SHADOW OF A MAN WHOSE SHOULDERS ARE DRAPED IN A DISTINCTIVE, PLUMED, MANE OF FUR. IF WE PEER INTO THE DARKNESS WE CAN JUST MAKE OUT THE WORD ENGRAVED UPON IT: 'SPIDERMAN'.
Sergei Kravanoff is one mean sonovabitch.
Share on Facebook