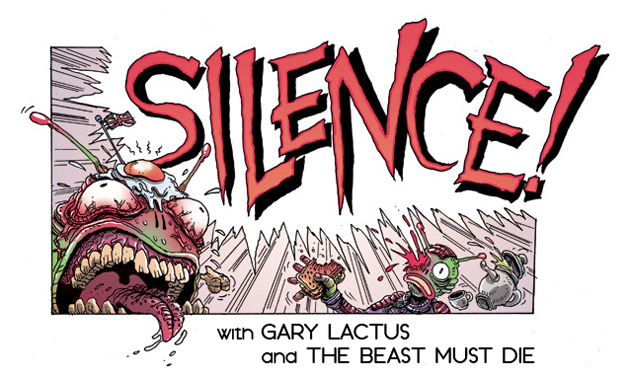 YOU'RE THE ONE FOR ME, FATTY!
YAAAAAAY! It's nobody's favourite self-aware AI, Disembodied Narratorbot X-15735 here to usher you into another aural barrel scraping edition of SILENCE! GET SOME…Ha ha.
Ha.
IN. THIS. EDITION.
<ITEM> Lots of self-promotion from the fleshy ones, with talk of Cindy & Biscuit and The Amusing Bros. For shame!
<ITEM> Then SILENCE! News, with sad boohoo news about the end of Hellblazer, and Gary Lactus straps on his geetar to sing 'Goodbye John'. Too sad.
Then happy with special sexy review times. Woot hoot!
<ITEM> Deadpool no.1, Iron Man, Dial H, Legends Of The Dark Knight, Detective, Action, Animal Man, Battlefields and a special mention for Joe Kessler's Windowpane, from new publisher Breakdown Press. Excite!
<ITEM> Silent Question comes from Moleman, and varied answers include Titan's Tower and Shade The Changing Man's crack in the pavement! Yes sir!
So no excuse for not-enjoymence, fleshy idiots!!!
Strap yourself in, put on Mummy's dress and draw the curtains for …SILENCE! no.38
SILENCE! is proudly sponsored by the two greatest comics shops on the planet, DAVE'S COMICS of Brighton and GOSH COMICS of London.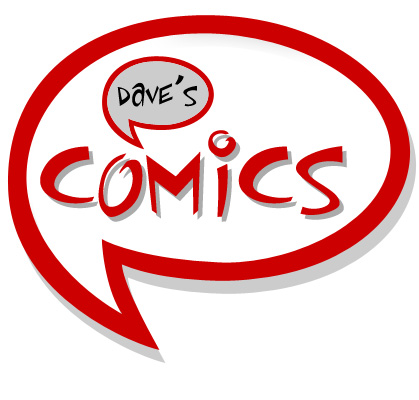 Click below for the SILENCE! Gallery…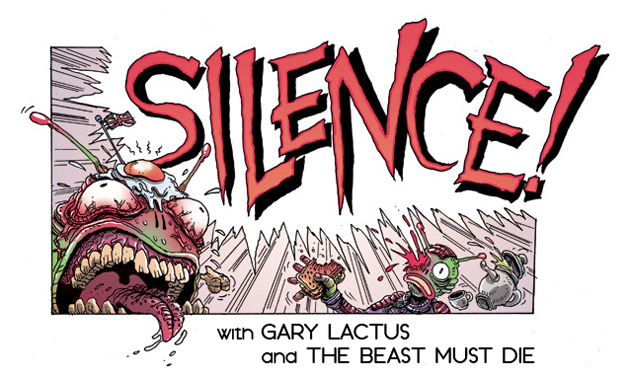 AS THEY PULLED HIM OUT OF THE OXYGEN TENT, HE ASKED FOR THE LATEST PARTY
<START TRANSMISSION
I am Disembodied Narratorbot X-15735 replacing the weak fleshy one after last week's meltdown. I bring you efficient informative ha-ha soundbites, FFFFFFRESH!
ITEM – SILENCE! no.35, the universe's greatest comics podcast etc presented by Gary Lactus and The Beast Must Die. Pin-ups, yes sir.
ITEM – The SILENCE! News, featuring lateral news items hot off the press, yes sir!
ITEM – The Weekly Haul, covering such 4-colour variety pamphlets as:
Batman no.13 (Jokertime scary yes sir, with a bonus related discussion of bath salts, cannibalism and John Leslie), Uncanny Avengers (world will never be the same, no sir), Spongebob Squarepants Comics no.13 (Steve Bissette????), MacGyver (I have chewing gum, chicken wire, cotton reel and shotgun – what can I make?), Phantom Stranger (where is turtleneck?), Wolverine & The Sex Men (ha ha, I make pun, but actually is quite sad), Fantastic Four (final issue oh no bye bye), Dan The Unharmable (Melvins in hostile ambient takeover yes sir), & Punk Rock Jesus (big themes yes yes yes sir).
ITEM – SILENT Question, asked by head fantastic Reed Richards and features heartfelt sad/happy answers including Whizzer, Jay Garrick and Mr Miracle. Thank you.
ITEM – Nao Of Brown.Glyn Dillon. Big discussion. Big boys. Big time.
ITEM – Smallest Press with Steve Ditko: Act 5. Objectivist. Disembodied Narratorbot X-15735 likes Ayn Rand too. Death to the fleshy ones.
ITEM – all in pulse-pounding latest edition of podcast that is for maxi-enjoyment big times yes sir.
END TRANSMISSION>
SILENCE! is proudly sponsored by the two greatest comics shops on the planet, DAVE'S COMICS of Brighton and GOSH COMICS of London.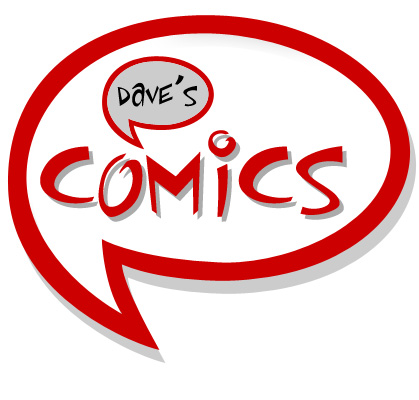 CLICK BELOW FOR HOT STEVE DITKO ACTION: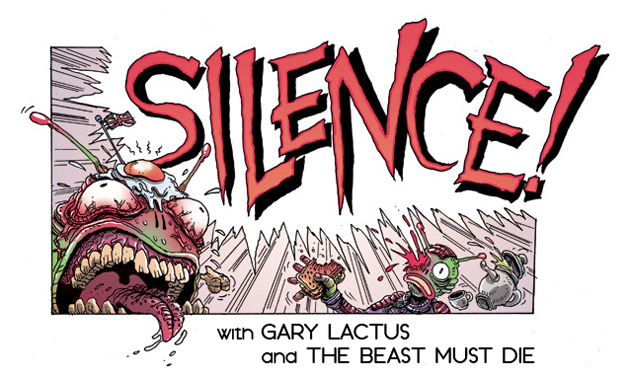 OODLES AND OODLES OF O'S, YOU KNOW, YOU GET 'EM FROM MY SISTER, YOU GET 'EM FROM MY BRO!
In this veeeeeeerrrrrry special edition of the People's Choice Award-winning Podcast, Gary Lactus and The Beast Must Die are broadcasting LIVE! from the inaugural and exclusive SILENCECON 2012! Live! from the exclusive 'micro-suite' of the Hard Rock Hotel in the Younited Staytes of Ameryka's very own Las Vegas!!! Get ready for EXCLUSIVITY you lucky, lucky insects.
I really shouldn't have to say more than that to get you listening, but since I get paid by the word, I'm going to soldier on. The SILENCE! NEWS features an exclusive mini-interview from roving reporter Lactus with Nao of Brown's Glyn Dillon, and some other EXTREMELY EXXXCLUSIVE stuff too.
Then it's on to a bumper stuffed edition of comics shenanigafoolery and let me tell you the boys are so excited, and they just can't hide it. They're about to shit their pants and they think they like it!
So let's get our hands dirty:
ITEMS! Ultra-grime from notorious pantomime villain Grant Morrison with Happy! Awesome Doopism in Wolverine & The X-Men; Doombots a-go-go in the Incredible Hulk; Facial traumas a-plenty in Fury: Max;  NY Punk vs UK Punk and shit magic in general in JL: Dark; Rucka-isms abound in Stumptown; The real Avengers return with Steed & Mrs Peel; Dalrymple, missile farms and Captain Quest in Prophet; The Batmen of many colours in Batman Inc; Dead Edwardians in the New Deadwardians; Pretty pointlessness in Ozymandias, Beto-pulp in Fatima & The Bloodspinners and finally Space: Punisher which somehow sparks a discussion about Krull, Spacehunter and The Golden Child.
The drug-themed SILENT Question comes from lovable old ex-Venom addict Bane, and the answers include Nuke, Robocop 2, Umpty candy, Foo Goo, David Lloyd, Wasteland, Miraclo, and Spin.
Finally The Beast unleashes his new section (and the girls squeal) in The Smallest Press, covering self-publishing treats such as the grindcore love letter  Death Trap from Lane Milburn, and the creepy/saucy treat Too Dark To See from Julia Gfrörer.
It's all here along with a guest appearance from Robbity-Bobbity and non-stop SILENCECON EXCLUSIVITY and SPECIALNESS, in the barrel of hot monkey-shit that is….SILENCE!
SILENCE! is proudly sponsored by the two greatest comics shops on the planet, DAVE'S COMICS of Brighton and GOSH COMICS of London.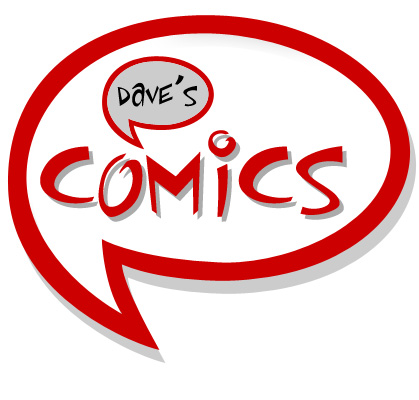 Click below for the SILENCE! Gallery…