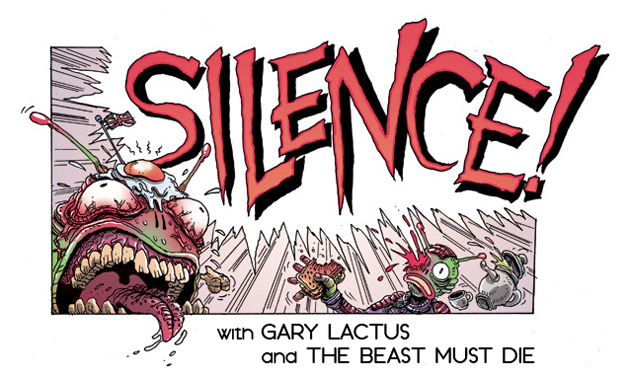 HENRY SWANSON'S MY NAME AND EXCITEMENT'S MY GAME!
Here he comes to save the day, Disembodied Narratorbot X-15735 is on his waaaaaaaaay!
I'm here now flesh ones. What is the problem? Oh that's right – there was no SILENCE! last week. Boo hoo. Many fleshy tears were shed. Weeping meatsacks. Well rejoice sad misery-beef as The Beast Must Die and Gary Lactus bring you special comics suppositories for your earholes!
<ITEM> The SILENCE! News with Gary Lactenberg of the stretched handbag leather skin, dazzling smile and shark-eyes, and Danny Beastman of the cigar ravaged voice and rheumy whisky-rinsed gutter eyes. Hot newzzz indeed.
<ITEM> The Reviewniverse opens it's gaping maw and sucks the pair deep into it's 4-colour belly pit. And swilling around in it's intestinal inks are…Hellblazer (the final issue no less), Justice League of America, Vibe, Katana, Nova, Sadow: Year One, Judge Dredd, Superior Spiderman, Daredevil, Captain America, Daredevil, Fatale, Powers, Avengers, Justice League, Change, Batman and Michel Fiffe's deeply wonderful action comic COPRA!
So you see, it's not so bad. Life continues fleshy ones. And remember, even when SILENCE isn't here Disembodied Narratorbot X-15735 is here. And he can see through walls. And skin.
SILENCE! is proudly sponsored by the two greatest comics shops on the planet, DAVE'S COMICS of Brighton and GOSH COMICS of London.