PREPARING REACTIONS TO THE NEWLY REDESIGNED DARKSEID DOT DOT DOT
Darkseid Is… An inaction figure/A "21st Century big bad"/A redesign of a redesign of a real design/A quaint plastic monster farting out an unclean sun.
Darkseid Is… Straining for relevance/A big Depeche Mode fan/Dangerously indebted to the robust sartorial choices of a certain Lex Luthor.
Darkseid Is… A dullard's idea of raw spectacle/Actually quite ripped underneath that hard shell/Pretending to be a pint man now, probably.
Darkseid Is… Representative of nothing/Reflective of nothing/Currently unable to smuggle meaning under his dainty little skirt.
Darkseid Is… Singing the Arkham City blues/A capitalist realist's dream/Safe now for renewed consumption.
Darkseid Is… Honestly, pretty fucking dull in this incarnation.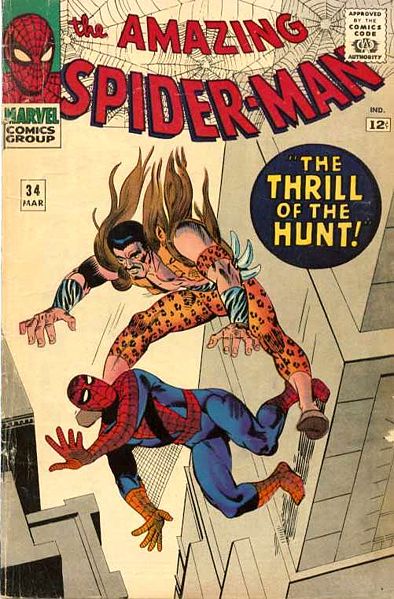 I don't know if it's a memory or if it's a wholly original invention (something I seriously doubt), but whenever I think of Kraven this scene plays out in my mind:
PANEL 1
HIGH ANGLE. A GLOOMY BUT LAVISH AND HUGE, WOODEN PANELLED CORRRIDOR, ITS WALLS ADORNED WITH STUFFED AND MOUNTED HEADS OF ANIMALS – BOARS, LIONS, TIGERS, CROCODILES, ETC EXTENDING INTO THE DISTANCE. AN ENORMOUS DISTORTED SHADOW DRAPES ITSELF ACROSS THE FLOOR AND THE SNARLING, PETRIFIED BEAKS, MUZZLES AND MAWS. WE CAN'T GET A CLEAR HANDLE ON WHO'S CASTING IT, BUT IT'S EMERGING FROM OUTSIDE THE PANEL
PANEL 2
POV.CLOSER IN ON THE SEVERED HEADS AS WE MOVE THROUGH THE CORRIDOR. ANIMALS GET STRANGER, MORE ALIEN. NOTHING WE RECOGNISE. MYTHOLOGICAL. MONSTERS. IS THAT A GORGON? IS THAT A VAMPIRE? FROZEN, LIFELESS EYES – RED, GREEN AND YELLOW – TWINKLE LIKE MARBLES IN THE DARKNESS.
PANEL 3
ANGUISHED HEADS OF MEN AND WOMEN CAUGHT IN THEIR DEATH GRIMACES.
PANEL 4
AND NOW B LIST SUPERHEROES AND SUPER-VILLAINS. THIS IS WHERE THEY GO WHEN THEY DISAPPEAR OFF THE MAP. ONE'S POWER, EVEN IN DEATH, IS STILL TURNED ON: HIS EYE-SOCKETS AND MOUTH BLAZE WITH ENERGY, HIS FACE CONTORTED IN A FIERY BLUE SCREAM. EMPTY MOUNT COMING INTO VIEW ON EDGE OF FRAME.
PANEL 5
STILL POV. CAMERA RESTS ON EMPTY GOLDEN MOUNT ENGULFED IN THE SHADOW OF A MAN WHOSE SHOULDERS ARE DRAPED IN A DISTINCTIVE, PLUMED, MANE OF FUR. IF WE PEER INTO THE DARKNESS WE CAN JUST MAKE OUT THE WORD ENGRAVED UPON IT: 'SPIDERMAN'.
Sergei Kravanoff is one mean sonovabitch.