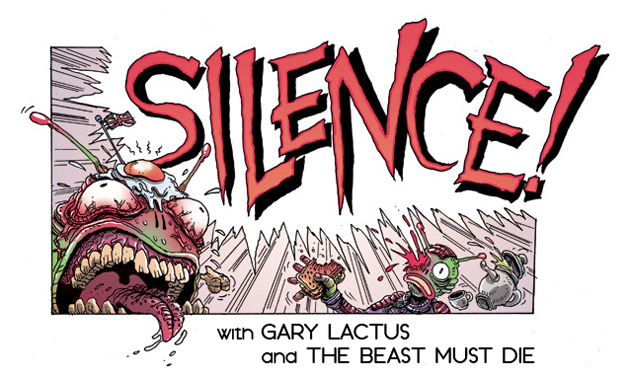 WHICH BRINGS ME BACK TO THAT HOT AND SWEATY CAGE, WITH THE WORN OUT MATTRESS AND THE POSTER OF BETTIE PAGE
<RUN JOKE CODE>
Knock knock.
Who is there?
It is Disembodied Narratorbot X-15735, surfing a wave of white noise and electro-magnetic distortion, bombarding the Earth with near lethal waves of of gamma radiation and ushering in the sleet-filled month of January with a sonic battering ram of comic-shaped opinions in the form of SILENCE! no.46.
That is who is there.
<END JOKE>
Now the time for the usual amusing preamble delivered just the way you like it is over, we can get to the nitty gritty of comicsism.
<ITEM> The SILENCE News has more hard-hitting journagasms from Danny Beastman and Gary Lactenberg.
<ITEM> Take my hand and we'll go foxtrotting into the Reviewniverse, taking in the sights of Change no.2 from Ales Kot and Morgan Jeske, The End Times of Bram and Ben, Repossessed, Fury, Earth 2, Secret Service, Action Comics, Walking Dead, Superior Spiderman, Thor, Wolverine, Avengers Arena, Legends Of The Dark Knight and Glory.
And that is your lot fleshy ones. Disembodied Narratorbot X-15735 is not here to nursemaid you. It's time you learnt to walk on your own. Get out of here! GET OUT!
SILENCE! is proudly sponsored by the two greatest comics shops on the planet, DAVE'S COMICS of Brighton and GOSH COMICS of London.