Written and drawn by Ramzee, tones by Liz Greenfield, cover art by Abigail Dela Cruz (self published, 2016) 
Here's how you know this is good before you even so much as look at the cover: it was the only self-published comic to be nominated for the Young People's Comics Award this year, and it lost.  I'm not saying that this automatically makes it the best comic on the list, but… face it, it probably does.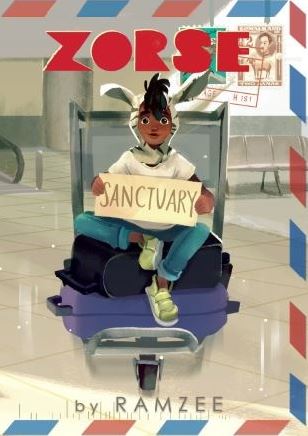 Anyway, it's worth checking this perception for yourself, looking past the soft, friendly cover (above) and into ZORSE itself, which somehow manages to live up to this charming initial impression while also channelling the frustration of Ramzee's phenomenal turn on the Diversity panel at SMASH in London earlier this year, that feeling that you're dealing with someone who is sick of people who… well, let's not mess around, people who look like me (white, male, middle class, probably with a beard and glasses) being heard to the exception of all others.
More than this: the feeling that you're dealing with someone who is ready to seize every opportunity to get those voices out there.