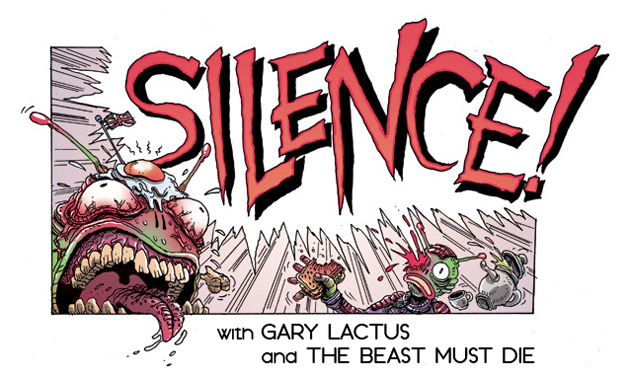 AS THEY PULLED HIM OUT OF THE OXYGEN TENT, HE ASKED FOR THE LATEST PARTY
<START TRANSMISSION
I am Disembodied Narratorbot X-15735 replacing the weak fleshy one after last week's meltdown. I bring you efficient informative ha-ha soundbites, FFFFFFRESH!
ITEM – SILENCE! no.35, the universe's greatest comics podcast etc presented by Gary Lactus and The Beast Must Die. Pin-ups, yes sir.
ITEM – The SILENCE! News, featuring lateral news items hot off the press, yes sir!
ITEM – The Weekly Haul, covering such 4-colour variety pamphlets as:
Batman no.13 (Jokertime scary yes sir, with a bonus related discussion of bath salts, cannibalism and John Leslie), Uncanny Avengers (world will never be the same, no sir), Spongebob Squarepants Comics no.13 (Steve Bissette????), MacGyver (I have chewing gum, chicken wire, cotton reel and shotgun – what can I make?), Phantom Stranger (where is turtleneck?), Wolverine & The Sex Men (ha ha, I make pun, but actually is quite sad), Fantastic Four (final issue oh no bye bye), Dan The Unharmable (Melvins in hostile ambient takeover yes sir), & Punk Rock Jesus (big themes yes yes yes sir).
ITEM – SILENT Question, asked by head fantastic Reed Richards and features heartfelt sad/happy answers including Whizzer, Jay Garrick and Mr Miracle. Thank you.
ITEM – Nao Of Brown.Glyn Dillon. Big discussion. Big boys. Big time.
ITEM – Smallest Press with Steve Ditko: Act 5. Objectivist. Disembodied Narratorbot X-15735 likes Ayn Rand too. Death to the fleshy ones.
ITEM – all in pulse-pounding latest edition of podcast that is for maxi-enjoyment big times yes sir.
END TRANSMISSION>
SILENCE! is proudly sponsored by the two greatest comics shops on the planet, DAVE'S COMICS of Brighton and GOSH COMICS of London.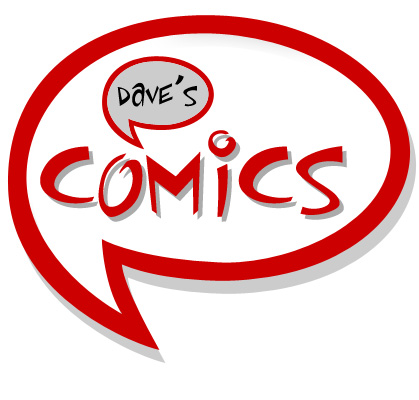 CLICK BELOW FOR HOT STEVE DITKO ACTION: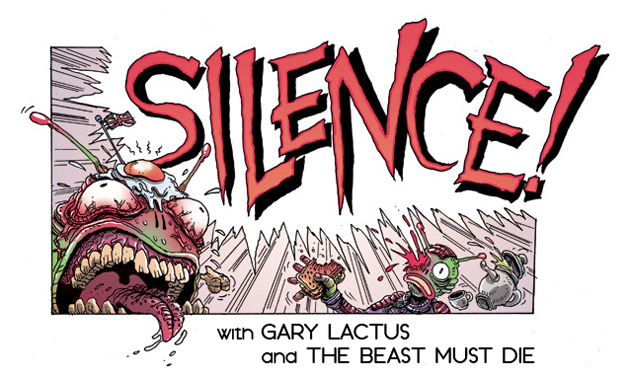 WHAT ABOUT YOU MACREADY…YOU BELIEVE ANY OF THIS VOODOO BULLSHIT?
Yesyesyesyesyes…them boys will do us proud! Watch now as they lead us skipping merrily towards the churning, swirling waters of the River Styx…with the nudest podcast in comics, SILENCE!
Firstly Lactus has his guitar unsheathed and isn't afraid to use it. Then it's the SILENCE News (which is in all honesty an extended pimp session for Glyn Dillon's Nao of Brown as well as a big-up of Brit comics hero Paul Gravett). THEN, the newly sponsored Beast and the always sponsored Lactus barge into the week's comics like a couple of burly lady wrestlers.
And there's a whole heap of comics to talk through too, like, oh let's see…Rocketeer Cargo of Doom, the beautiful looking Winter Soldier, Saucer Country, Wolverine & The X-Men, Uncanny X-Force, AVX, AVX: Uncanny X-Men, Avengers Assemble, Shade, Incredible Hulk, The Creep, and Frankenstein Agent of SHADE.
Then there's a special guest review of Batman #0 from friend of the show The Wange, and the SILENT Question is brought to you from Machine Man (and the answers involve Ultron, Herbie, Call Me Kennneth, GI Robot and the ABC muthafuckin Warriors).
Add in ANOTHER Dredd (3D) review from The Beast and a recommendation to listen to the Nerdist podcast with Henry Rollins and you have a truly revolutionary audio-visual-taste explosion in 4-D…it truly is SILENCE no.31 and you're not.
SILENCE! is proudly sponsored by the two greatest comics shops on the planet, DAVE'S COMICS of Brighton and GOSH COMICS of London