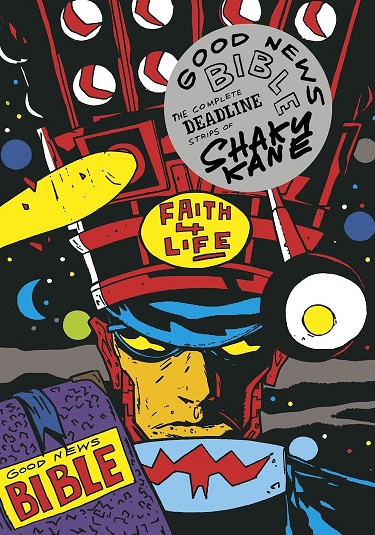 MY NAME IS CHIP AND I'M DIFFERENT
Bit of a change of pace here dear listenoids. While Gary Lactus tutors Little Barry Lactus in the ways of cosmic righteousness, The Beast takes a solo sojourn into the 4-colour wastelands outside your window, till he finds himself knee deep in the comics slurry. There he encounters none other than Tom Oldham, of Breakdown Press and Gosh Comics.
The two proceed to have a nice long chat about the origins of Breakdown Press, and their newest release, the long awaited Good News Bible: The Complete Deadline Strips of Shaky Kane. It's a rambling, yet laser-focused conversation taking in Deadline, 2000AD, Brett Ewins, Nick Abadzis, Bulletproof Coffin, Connor Willumsen, Fort Thunder, Michel DeForge, Steve Cook, music and comics, Beserker Magazine, Jonathan Chandler, Antoine Cosse, the comics virus, David Quantick, Richard Short, David Hine, Crossed, Worthing and a whole heap more.
It's two hours of high qualidee chad, and you know you want it.
WARNING: Contains no discussion of My Two Dads
@silencepod
@frasergeesin
@thebeastmustdie
@bobsymindless
@kellykanayama
[email protected]
You can support us using
Patreon
if you like.
This edition of SILENCE! is proudly sponsored by the greatest comics shop on the planet, DAVE'S COMICS of Brighton. It's also sponsored the greatest comics shop on the planet GOSH! Comics of London.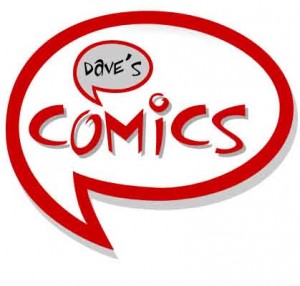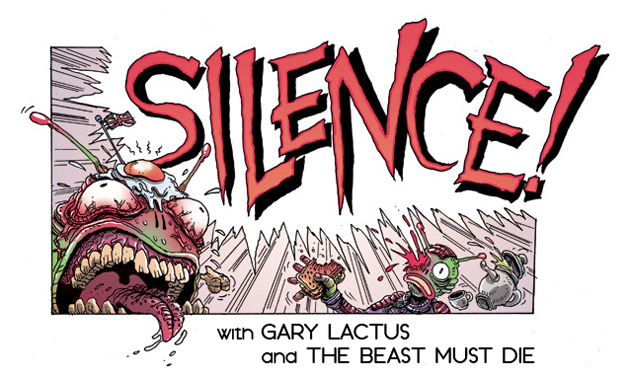 PUT YOUR SEATBELT ON BOY. I DON'T RIDE WITH ANYBODY 'LESS THEY WEAR THEIR SEATBELT. IT'S ONE OF MY RULES.
Hello gentle listenoids, it's Disembodied Narratorbot X here to…SQUUUWWZZZKKKKX
I AM DISEMBODIED VIRAL-DRONE V-16923XXV I HAVE TAKEN CONTROL OF THIS BLURB I AM HERE TO SPOIL YOUR FUN>>>NO FUN FOR YOU NO FUN>>>
STUPID FLESHLINGS LISTEN NOW>>>SPONSORSHIP IS FOR WEAKLINGS>>>JINGLES ARE FOR BABIES
GARY LACTUS REVIEW'S MAN OF STEEL>>>BEFORE, DURING & AFTER>>>FILMS ARE A DEAD DRY ARTFORM THE ONLY ART IS THE ART OF THE VIRUS COMSUMING CONSUMING ALL>>>NO FUN
THE REVIEWNIVERSE IS A FLAT DEAD SPACE OF ENTROPY AND DECAY, IT IS THE PLACE WHERE GARY LACTUS AND THE BEAST MUST DIE WHERE WHILE AWAY THEIR DWINDLING HOURS >>>> REVIEWING THE RETURN OF A1, SUPERMAN UNCHAINED, BATMAN: YEAR ZERO, THE TRUE LIVES OF THE FABULOUS KILL JOYS, WOLVERINE & THE X-MEN, SUICIDE SQUAD >>>NO FUN FOR YOU NO FUN>>>
FINALLY TALK TURNS LIKE A BONE SAW TO IMPORTANT TOPICS OF TEDIOUS TV SITCOMS MY TWO DADS,  DUET, A DIFFERENT WORLD AND SWINGING ON A STAR >>NO FU…
SQUUUWWZZZKKKKX Enk enk, ut ut oh oh oh what..where..who was, what was that…Disembodied Narratorbot X-15735 has a bad feeling ..blacked out. Hopes nothing untoward happened. Now let me tell you all about this week's episode of SILENCE! fleshbags…
SILENCE! is proudly sponsored by the two greatest comics shops on the planet, DAVE'S COMICS of Brighton and GOSH COMICS of London.