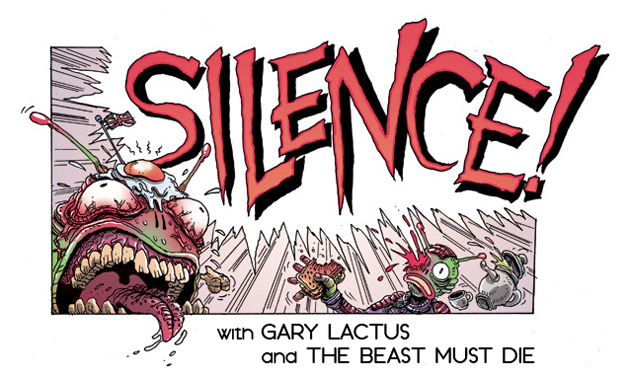 I'M A DEREK, AND DEREKS DON'T RUN!
Love is in the air for Disembodied Narratorbot X-15735, happy listeners, love is in the air! If by 'love' you mean a lethal blitz-swarm of nano-locusts, and by 'air' you mean the burning red sky of this shredded techno-pillaged burnt out husk of a reality…it's the SILENCE! Valentines Special.
In this sticky, throbbing, hormonal edition of the podcast that some people claim to listen to on a semi-reglar basis, The Beast Must Die and Gary Lactus open their hoary old hearts to you gentle listeners, and beg 'LOVE US! LOVE US!!' And what hard hearted swine could resist?
<ITEM> The SILENCE! News features the hottteszzt noose stories from around the world, presented by smooth-talking, leather-skinned, white toothed Gary Lactenberg, and grizzled old divorced news badger,  Danny Beastman…
<ITEM> The Reviewniverse splits opens it's maw and sucks the twosome into it's mindmelting reality-soup…but they don't go down without a fight, no! They talk about the DC Young Romance Special (and tangentially the Fleetway Action Special from the 90's), Red Team, Dial H, Channel 52, Iron Man (from Gillen & The Gland), All New X-Bendis, Snapshot, Multiple Warheads, Fashion Beast, Mud Man, Earth 2, Hellboy in Hell, and Adventure Time (with a stumbling mention of Thomas Herpich).
<ITEM> There's a Guest Review of Star Wars from Kevin Trevors
<ITEM> The Beast talks up the re-release of the incendiary Seven Miles A Second from David Wojnarowicz, James Romberger and Marguerite Van Cook
<ITEM> A live, beautiful acapella version of Defenders Of The Earth??? Surely not (yes of course it happens)
So when you've finished making sweet love to the sentient object of your choice, why not lay back, spark up a gasper and listen to SILENCE! no.50!
SILENCE! is proudly sponsored by the two greatest comics shops on the planet, DAVE'S COMICS of Brighton and GOSH COMICS of London.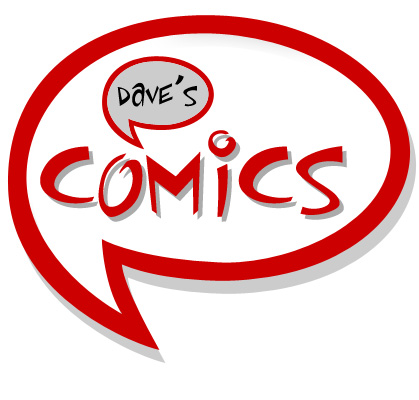 TOUCH ME, I'M SICK!
Behold SILENCERS, they're back from the piddling interferences that waylaid them last week. Back to bring you comics chat like you JUST NEVER HEARD BEFORE! It's SILENCE #17!
No songs this week, so get that thought out of your minds. Those twin 4-colour Liberace's can't just produce this stuff like musical milk from their creative udders you know…GAH!
But they do manage a bountiful, overstuffed SILENCE! news, before careering like the Dukes of Hazzard into a twelve car pile-up of comics. They discuss (get ready) Earth 2, Animal Man, Swamp Thing (both the current version and Alan Moore's seminal run, in  a crow-barred in Beast's Bargain Basement), Dial H, America's Got Powers, Action Comics, Mud Man, Dan The Unharmable, Avenger's Academy, Bill Watterson, Hulk, Stormwatch, JLI, Rocketeer Adventures, Journey Into Mystery, Superman Family Adventures, and The Walking Dead…
But wait! How could we forget the comics event of the Millennium???
The two take on the awesome genre-atomizing Watchmen 2: beyond Watchmen. And I think it would be fair to sat that those boys sure did have their brains fried!
Plus, Lactus works out the best way to review comics – by counting their panels.
Finally the Beast brings it home with a discussion (ie monologue) about the latest film from horror director Ti West, The Innkeepers in notcomics.
Now what rational person could want more from life? Don't answer that!
And it's all in the best POSSIBLE taste!
For our final gifting, Zom gives Gary Lactus the first issue of Paul Grist's new super hero comic, Mud Man.
Click to download
[audio:https://mindlessones.com/wp-content/uploads/2011/12/MOxmass2011-5.mp3]