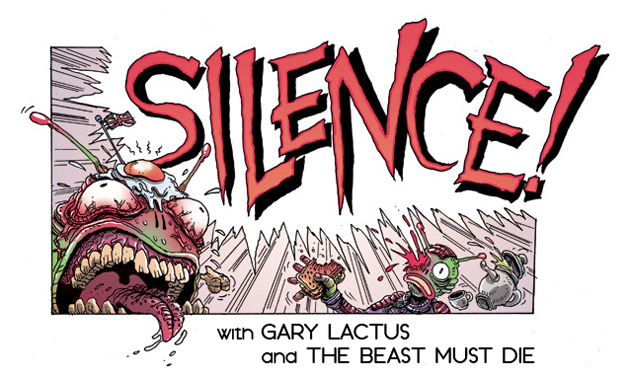 AS THEY PULLED HIM OUT OF THE OXYGEN TENT, HE ASKED FOR THE LATEST PARTY
<START TRANSMISSION
I am Disembodied Narratorbot X-15735 replacing the weak fleshy one after last week's meltdown. I bring you efficient informative ha-ha soundbites, FFFFFFRESH!
ITEM – SILENCE! no.35, the universe's greatest comics podcast etc presented by Gary Lactus and The Beast Must Die. Pin-ups, yes sir.
ITEM – The SILENCE! News, featuring lateral news items hot off the press, yes sir!
ITEM – The Weekly Haul, covering such 4-colour variety pamphlets as:
Batman no.13 (Jokertime scary yes sir, with a bonus related discussion of bath salts, cannibalism and John Leslie), Uncanny Avengers (world will never be the same, no sir), Spongebob Squarepants Comics no.13 (Steve Bissette????), MacGyver (I have chewing gum, chicken wire, cotton reel and shotgun – what can I make?), Phantom Stranger (where is turtleneck?), Wolverine & The Sex Men (ha ha, I make pun, but actually is quite sad), Fantastic Four (final issue oh no bye bye), Dan The Unharmable (Melvins in hostile ambient takeover yes sir), & Punk Rock Jesus (big themes yes yes yes sir).
ITEM – SILENT Question, asked by head fantastic Reed Richards and features heartfelt sad/happy answers including Whizzer, Jay Garrick and Mr Miracle. Thank you.
ITEM – Nao Of Brown.Glyn Dillon. Big discussion. Big boys. Big time.
ITEM – Smallest Press with Steve Ditko: Act 5. Objectivist. Disembodied Narratorbot X-15735 likes Ayn Rand too. Death to the fleshy ones.
ITEM – all in pulse-pounding latest edition of podcast that is for maxi-enjoyment big times yes sir.
END TRANSMISSION>
SILENCE! is proudly sponsored by the two greatest comics shops on the planet, DAVE'S COMICS of Brighton and GOSH COMICS of London.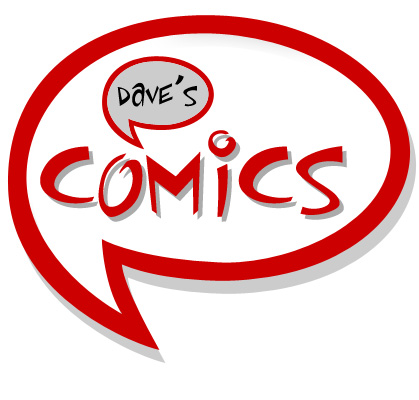 CLICK BELOW FOR HOT STEVE DITKO ACTION:
And so ends part one of our batbook. I hope you like it. I can't tell you how fun it is writing this stuff, and in my not so humble opinion, it's a million times better than most superhero comics out there. But then, like all fan-fic people, I'm writing it because it's what I want to see. This one over-runs by a few pages, but hopefully the book'll be so popular by the time we get to the fourth installment DC editorial won't mind! I know I should've reigned this monster in, but I want you to be able to read the uncut version. And I wasn't ripping off Grant – I wrote it before…. YOU KNOW ALL THIS……
There's lots of fighting this time. Some secrets are revealed. Others will have to wait. There is an overall arc to this stuff.