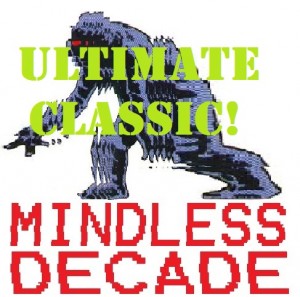 I often find myself being drawn into arguments where I know almost every example of the thing I'm defending is bad yet still feel compelled to argue for what I believe to a worthy principle.
"Text section in comic books" is one example. People can tell me that they're often bad (they are!) or that good comics writers aren't always good prose writers (they aren't!) but no matter how many pointed examples they come up with I'll still find myself determined to argue that they're closing off possibilities we can't afford to lose.
Carla Speed McNeil's Finder provides a good, if typically atypical, counterargument.  Every time I read the comics sections I find my brain racing in a million new directions, lost, determined to find answers to questions I'm struggling to formulate.  Every time I read McNeil's annotations I find myself presented with answers to a whole other set of questions, all of which are equally mysterious to me.
This shouldn't work.
It does.
Finder is two different comics every time I read it…
Share on Facebook
A collaboration with Edinburgh based artist and ghost merchant Lynne Henderson, Cut-Out Witch contains twenty five pages worth of lost souls and lo-fi monster magic – imagine a teen goth Terminus and you'll be on the right track.  Lynne provided the pictures, I added the words, but if you want to cleanse yourself with holy water after reading then I'm afraid you'll have to bring your own bottle.
"Cut-Out Witch is really good… Lovely creepy stuff" – Twitter's own James Baker

"Almost every page made me laugh or smile or feel things" - comics' own Ales Kot

"You do seem to be able to dash such things off quite easily, I kind of wish I could do that…" - A Trout in the Circus' very own Plok
The original print run has sold out, but Cut-Out Witch is now available for FREE in PDF format!
CLICK HERE TO DOWNLOAD CUT-OUT WITCH!
If you read the comic and enjoy it, please have a look at the Young Leith Ghost Team site for more of Lynne's work and consider donating some cash to the Scottish Association for Mental Health (SAMH).
Share on Facebook
With Grant Morrison's Multiversity finally on the (candyfloss)horizon, he's been doing some interviews in support of the book on The Comics Internet. You remember The Comics Internet, right? That place you used to go to discuss comics after you got sick of chopping up old issues of Wizard and randomly inserting snippets of inane commentary underneath pictures of classic (#classic) alt comics in TCJ, but before you resorted to gnomic twitter commentary and/or listening to a seemingly endless supply of podcasts while wanking/doing your housework/riding the bus?
The topic of the Prismatic Age of comics came up during one of these press adventures, with only a little bit of prompting from the interviewer from Comics Alliance:
Grant Morrison: Unlike Seven Soldiers… that was a lot more modular. This one is more of relay race, that was the structure we built because each universe is reading the comic books from the previous universe, and that's how they learn about the threat, basically. It's more like a chain. It doesn't have the same intricate jigsaw pattern as Seven Soldiers. It's quite linear, this one. I wanted to do something quite linear and simple and everyone could "get" this time. This one is for people who've never read DC before but want to get into this gigantic maelstrom of characters and versions of characters; the prismatic world of DC.

Comics Alliance: They call it the "prismatic age."

GM: Yeah!
As long time Mindless readers will already know, this term originated in a couple of posts by our own Botswana Beast.  Good little virus that it is, the idea of The Prismatic Age has infected comics fans and academics alike, and if you've so far managed to avoid contagion, I'd recommend you do what all the cool kids were doing six years ago and expose yourself to the Bottie Beast!
Here's a pre-amble, in which BB talks useless taxonomy in A Hall of Mirrors!
And here's the main event, in which The Prismatic Age is… well, if not born, then at least recognised for what it was!
A tasty wee taster, just to get you started:
The ideology of the Prismatic Age, what it insistently moves toward, is that all parts are active, all of the time. While not necessarily visible monthly, nor are they hidden or overwritten – this was the notion of Hypertime, never fully realised but approached in the much-loathed-for-rule-breaking Kingdom. Summary of all incarnations, a distillate. This is partly what I find so terribly aggravating about the PopMatters piece that set me on this path many moons ago, apart from its attempts to cloak in inscrutable terminology a daft enthusiasm for two largely consequenceless and really quite markedly shit event-books from last year, is the lack of understanding of either superheroes or, really, the postmodernism it touts. Postmodernism is largely about (oh-ho-ho, I am going to tell you what postmodernism is "largely about" on a comics blog,) textually, shifting loci on a subject, a lack of definitiveness in portrayals and readings – to read Civil War(!!) as somehow having achieved a permanent destabilisation of the superhero archetype because it wasn't about a binary black & white bone of contention?! No: that ship had long since sailed, it was a pirate ship in a comic read by an African-American child beside a fire hydrant, and the sole difference was that it was big duopoly franchise comic events that were dealing, ham-fistedly of course, with the supposed issues: none of which were terribly worldly, one of which was sort of, if you squinted, slightly topical. Boring, kneejerk Dark Age scions, really – Civil War literally ordains the Keene Act, for Rao's sake! The spirit of this age seems to me throughout to have been essentially one of recapitulation and of remixing, in this case 2006 remixed 1986 badly – but this is also how you end up with Batmite as a Jungian portent of impending demise.
Check back tomorrow from more Multiversity pre-amble, because apparently I quite like The Comics Internet, when I remember that it still exists!
Share on Facebook