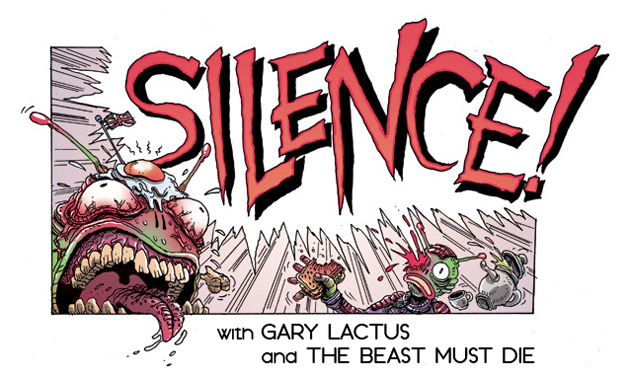 HELLO? IS ANYBODY HOME? WELL YOU DON'T KNOW ME, BUT I KNOW YOU.
Please Disembodied Narratorbot X-15735 don't hurt 'em! Sorry fleshy ones I cannot promise this. Let's just say that for the duration of this blurb I promise not to burn out your retinas or strip-mine your DNA. 'Kay? Kay.
So everyone put down your pens/phones/rail guns and point your ears towards the internet, and listen to those animal men Gary Lactus and The Beast Must Die,  as we circle the drain that is…SILENCE!
<ITEM> The SILENCE! News has some VERY SERIOUS matters of which you need to pay attention – the future of SILENCE! depends on it. With those greasy capitalist hams Gary Lactenberg & Danny Beastman.
<ITEM> Full fathom five, as we plunge neck, teeth and hips first into the Reviewniverse as the pair tackle Timewarp, East of West, Age of Ultron, BPRD: Vampire, Batman Inc, FF, Wolverine & The X-Men, Uncanny Avengers, Young Avengers, Fury, Guardians Of The Galaxy, Hawkman, Crossed: Badlands, Fatale and Mr X. With added digressions over the M-Word, VHS Rental shops and Lucio Fulci.
<ITEM> Well isn't that a treat fleshy ones? Aren't you glad you stopped looking at pornography to read this? (Personally Disembodied Narratorbot X-15735 finds the sight of meatsacks bashing against each other immensely settling. The sensual curve of a sine wave is far more erotic. Or a ZX-Spectrum in suspenders.
click to download SILENCE!#56 .
SILENCE! is proudly sponsored by the two greatest comics shops on the planet, DAVE'S COMICS of Brighton and GOSH COMICS of London.